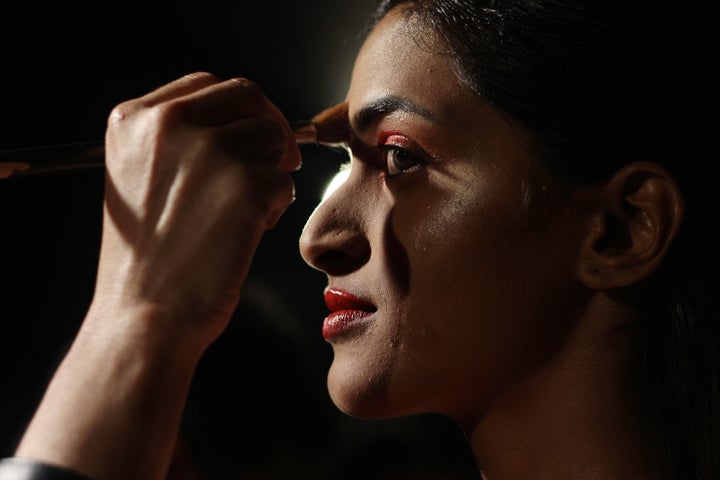 A young, talented beauty blogger walks into a small, neighbourhood beauty parlour. It is nothing like the salons we've had the privilege to visit. No funky lighting, no massive mirrors, no speakers blasting the latest hip-hop hits. The walls are a chalky yellow, and the seat a simple chair ― none of the plush, revolving sofas you get at expensive salons.
So why is a woman — who regularly posts make-up tutorials with top end products and has a few thousand followers on her social media handles — at this parlour?
She told HuffPost India that she was at the salon as a part of a social media challenge which involved getting make-up done by the 'worst reviewed makeup artist in one's city'. Akanksha Komirelly thought it was a fun idea to take the challenge up — especially since it seemed to have gone viral around the world. She Googled parlours in her city and found the one with the least number of stars and reviews.
Komirelly is not alone, there are a bunch of such videos where young, affluent women shoot themselves getting make-up done at modest neighbourhood salons and take digs at the make-up artist's skills, the products used and the general state of the parlour.
The almost nine-minute long video, filmed secretly by the blogger in a parlour which she said has "bad lighting", features her exaggerated disgust at the artist "touching (her) hair with her wet hands (sic)", and takes potshots at the artist's drugstore products. The comments are not made while the video is being shot, but as text added to the video while editing — as a result the subject of her criticism doesn't get to know that she is being mocked.
One of the comments appended to the video reads: "Looking at my friend helplessly cause she was using Vaseline to clean my face (dead) (sic)". She goes on to call the shiny bindis that Indian women widely wear "iconic" with obvious sarcasm. She asks her friend to "be sneaky" while recording the video, and then chortles, "We're going to hell for lying."
In another video with over 1.2 million views, YouTuber Nilanjana Dhar and her blogger friend Ria are seen making an opening mono-vlog about how 'scared' they are to get makeup done by the 'worst reviewed makeup artist' they identified in their vicinity.
They then proceeded to walk through the broken, rusty doors of a small enclosure that houses a local beauty parlour, but not before guffawing at its dilapidated condition. "Neeche toh dekho," she says in her voice-over to point at the rusty, broken bottom half of the door. She scrubs off the remnants of the cream the beautician applied to her face in revulsion, and acts fake-impressed by the fact that the artist had a beauty blender and does not use "cheap products," saying, 'didi bilkul bhi cheap cheezein use nahi karti hai'.
Immediately after, she starts chuckling at the artist's accent and calls lipstick 'lip-i-stik'. All this, peppered with giggles and eyerolls just to remind her subscribers every so often how much she loathed being in that setting. Another blogger we watched seemed aghast at another artist's 'ten rupee lip gloss'.
Is this 'fun'?
From the 'LOLs' the videos seem to have gotten in their comments section, it is perhaps fun for a great number of people to watch a woman roll her eyes as her cheeks are getting painted a bright pink and her lids green. They are also not the first to have indulged in this kind of 'humour'.
A popular social media trend of jokes is to photograph menus of roadside dhabas, small eateries and stalls and share the erroneous English spellings on them for laughs. While some of them simply are pictures of hoardings and menu cards, like on this Buzzfeed article, there's a photo of a man standing with his momo cart.
This challenge, however, is way more problematic as it singles out people in a social group that is anyway at a disadvantage. Going by the products used by them and the state of the studios, it is clear that the women the videos target enjoy fewer economic privileges than the bloggers making these videos.
The makeup artists Indian vloggers have picked on predominantly come from economically weaker backgrounds, and work at the kind of local establishments that typically cater to customers with lower budgets.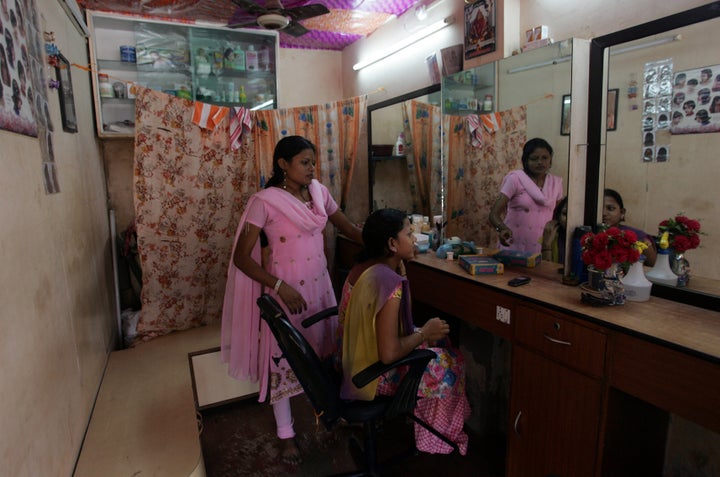 Komirelly, an articulate makeup blogger, runs a fairly new channel and posts elaborate, fun tutorials about everyday makeup from what appears to be her room. Nilanjana Dhar, is another young YouTuber, seemingly from around Kolkata. She blogs in Hindi and occasionally Hinglish, and makes videos about shopping hauls, makeup and states in one of her videos how she always 'tries to make her subscribers laugh'.
Komirelly told HuffPost India that she did not intend to 'put down weaker background people'.
"I totally understand that everybody has their own audience. Many amazing artists work around the same cost. I am obsessed with drugstore products too. My video's intent was only to educate people on how bad it could get if the artist's approach is not correct or if they lack experience and knowledge. It's just sad that she calls herself as a bridal mua and charges people (Rs. 1500) for it when she is not really good at it. I was only pointing out that my experience with her was really bad," she said. In one video uploaded by Dhar as make-up done by a highly recommended artist, she was told that bridal make-up costs anything between Rs 12,000 to Rs 20,000.
"I was only pointing out that my experience with her was really bad"
But here's the problem. Like Komirelly had a chance to explain her stance, the woman in her video is not given a chance to explain where she learnt make-up from, who she caters to, how much she charges usually and if she is willing to learn if someone like the blogger tried to help her.
The video is not an average product review since Komirelly's target viewer — English speaking social media users — is least likely to use the services of this woman. It is clear that the woman was not apprised of the intent when the girls visited, and chances are she doesn't even know that this video exists about her.
The classism did not, however, go completely unnoticed. A user named Randeep Kaur commented on Dhar's video: "Honestly i didn't like the main entrance fun,, if they are poor that s why the gate is broken,, plz girls don't make fun of someone s poverty,,(sic)". Some others reiterated Kaur's sentiments. HuffPost India has reached out to Dhar, the article will be updated if she responds.
But the number of views on this trend are supremely telling. In fact, Dhar made two videos on the challenge, both of which clocked over a million views each.
Naturally, Komirelly wondered, why 'everything has to be offensive these days and can't simply be funny'.
Not 'Funny'
The disparities in the lives of the two women — the make-up artistes and the bloggers — are glaring in every frame of the videos. The quintessentially bright coloured cement walls of local parlours, adorned with vintage posters of Aishwarya Rai staring at you with the full might of her blue eyes, Sushmita Sen in coffee and gold-coloured lips and Karisma Kapoor with her spunky big-haired phase from the 90s are clearly indicative of the demographic of the clientele they appeal to, as opposed to the shiny white marble-floored salons the more privileged frequent, for their weekly self-care fix.
"The video is not an average product review since Komirelly's target viewer — English speaking social media users — is least likely to use the services of this woman."
And most of these videos almost exclusively target women trying to make a living, rather than men.
In fact, this article on an institute's website also references the fact that working at a parlour and training to become a make-up professional are two entirely different approaches to navigating the beauty services industry. The latter makes you much more poised to earn the rumoured big-bucks in the ever-burgeoning beauty services industry, by granting you access to a more "elite" clientele.
The women who work at parlours, on the other hand, take on these gigs often treating them as odd jobs because they have to make ends meet, and then learn the craft on the job. The beautician in one of the videos, in fact, lives on the floor above the parlour she ran, and supposedly juggles her time between being upstairs and downstairs, to care for her young child.
Given this context, for a makeup professional in India to break their fourth wall, so to speak, and interact with the other side - populated with women who never had the wherewithal to get trained - not to uplift, but rather, to ridicule, is an obscene show of privilege.
Take on someone your own size
A fair translation of this trend would have been for the Youtubers to find other artists with backgrounds similar to their own - in that they identify trained artists who received every bit as much opportunity as they did - and challenge them to a face-off. Critiquing the work of someone who was always withheld from having the same proficiency as you - even for the sake of entertainment - is not only unfair, it's terribly insensitive.