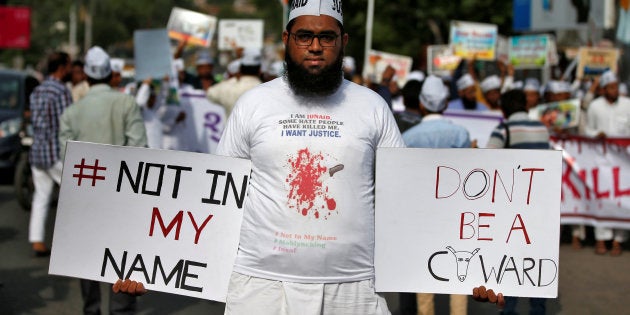 In 2015 Mohammad Akhlaq was hounded out of his home in Uttar Pradesh's Dadri village by a mob which suspected him of keeping contraband meat in his refrigerator. In the hours that followed, he was brutally assaulted and killed for the 'crime' of possessing beef.
It took Prime Minister Narendra Modi well over a year after Akhlaq's murder to condemn cow vigilantism. Now, weeks before the second anniversary of Akhlaq's death, the government of Maharashtra has launched beef detection kits for its police force, presumably to make their lives easier.
In a state with a total ban on cow slaughter as well as the sale and consumption of its meat, these devices should come in handy for the custodians of law and order. Costing about ₹8,000 per kit, with a capacity to test around 100 samples each and deliver the results in under 30 minutes, these devices are expected to save both time and funds. (Ordinary DNA testing in a laboratory takes much longer and costs about ₹750.)
The only thing these kits are unlikely to save, however, are human lives.
There is reason behind such scepticism, given the latest trail of mob lynching India has witnessed, leading to the #NotInMyName protests observed across seven cities. In the case of 15-year-old Junaid Khan, whose murder in Haryana sparked the public outcry, just the possibility of him being a 'beef-eater' was enough to instigate his killers. Similarly, in the killing of Akhlaq, the merest whiff of a rumour escalated into mindless violence, leading to a murder.
Or think of Pehlu Khan, the dairy farmer in Rajasthan's Alwar, who was attacked by gau rakshaks as he was transporting cattle, and killed on the suspicion of being a slaughterer. Or remind yourself of another dairy farmer in Jharkhand, Usman Ansari, who was beaten up by a mob, after a mischief-maker left a dead cow in front of his house.
Such examples are a dime a dozen. A recent survey by data journalism platform IndiaSpend indicated that there's been a steep rise in the number of incidents of violence related to cow vigilantism since PM Modi's government came to power in 2014. About 52% of such tragedies were estimated to have been inspired by nothing other than rumour.
Faced with such overwhelming trends, is it even realistic to hope that beef testing kits will be able to stop a marauding mob, baying for blood? If hearsay is sufficient incitement for a people to kill a fellow human being, it is unlikely that they would be willing to pause for half an hour, consider the merits of the result of a scientific test, before proceeding to carry out their mission or give up the hunt (as the case may be), in a situation already tense and rife with undercurrents of violence.
Recently, on the day PM Modi made a rousing public statement against the rise of 'cow terrorism', a meat trader in Jharkhand called Alimuddin, aka Asgar Ali, was lynched by a crowd. The police claimed that the reason behind his killing was not beef politics but rather the fact that he had a criminal record. What may appear to be a case of straightforward anti-beef violence is often undercut with hidden realities of class, caste, economic background, social character and personal (or local) enmities.
A fundamental truth about intolerance is that it is usually based on utter unreason or insidious reasoning, usually both. When a group of people agrees that the penalty for eating meat that is forbidden by their religion or distasteful to them should be nothing less than murder, then no amount of scientific evidence will be likely to dissuade them from carrying out their will. There are laws in the penal codes to deal with offenders who consume beef or kill cows against the State's regulations. None of them stipulates the death sentence, at least not yet.
Ultimately, the actions of a lynch mob show up the failure of the police force to act quickly and without hesitation. It's ironic and unfortunate that armed with robust laws, the police have so far been unable to stop the murderous zeal of the crowds. Hopefully they will have better luck with scientific kits, since they will not have any more excuses to hide their failures.
As far as priorities are concerned, apart from making sure no one gets away with making mischief or taking the law in their hands in the name of protecting the cow (or the nation or religion or whatever they prize), the State may consider spending its funds on matters like road safety, checking rash driving and on making the streets more secure for women.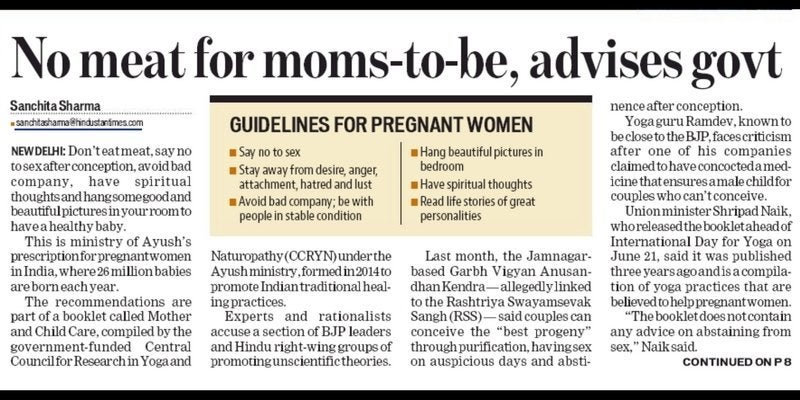 How Different Newspapers Covered The Ayush Ministry's Advice To Pregnant Women
Popular in the Community