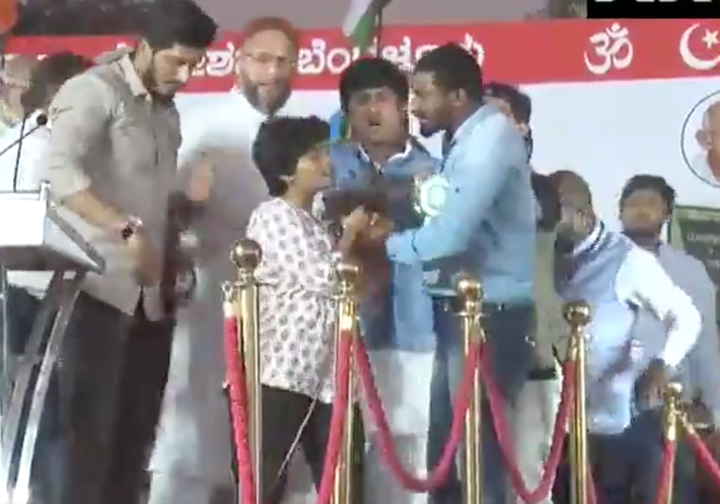 A young woman who raised "Pakistan Zindabad" slogan at a protest event against the CAA, NRC and NPR in Bengaluru was arrested on Thursday evening and charged with sedition. She has been sent to 14 days in judicial custody.
In a video of the incident, the woman, identified as Amulya Leona, is heard saying her "Pakistan Zindabad" thrice as she takes stage on the event organisers' invitation to address the gathering.
AIMIM chief Asaduddin Owaisi, who was present on stage when the woman began to speak, shook his head and interrupted her to say "Kya bol rahein hain aap (What are you saying)?".
As Leona tried to continue speaking, other men—including the event organisers—surrounded her, attempting to take the mic away and remove her from the stage.
Amidst the commotion, she then said "Hindustan zindabad" while a man said "Aap nahi bol sakte (You cannot speak)".
As men on stage tussled with her to take the mike away, Leona held on and said,"I will speak... the difference between 'Pakistan zindabad' and 'Hindustan zindabad' is that..."
While she attempted to finish her sentence a few times, Leona was stopped and dragged away from the stage by a group of men, which included police officers.
Owaisi, who addressed the gathering later, said he did not agree with the woman, whom he described as "so called liberal" and asked all liberals to refrain from any events involving Muslims.
"Neither me nor my party has any link with her. We denounce her. The organisers should not have invited her here. If I knew this, I would not have come here. We are for India and we no way support our enemy nation Pakistan. Our entire drive is to save India," the AIMIM MP said, according to PTI.
He then asked people to stay away from liberals. "If they (liberals) were so concerned about the Muslims and CAA, they should have their own Shaheen Bagh kind of protests," he reportedly said.
Kavita Krishnan, activist and politburo member of the Communist Party of India (Marxist-Leninist), said Leona's words must be seen in the context of a Facebook post she put up on February 16, in which she wrote, "Hindustan Zindabad, Pakistan Zindabad, Bangladesh Zindabad, Sri Lanka Zindabad, Nepal Zindabad, Afghanistan Zindabad, China Zindabad, Bhutan Zindaba. Be it any country Zindabaad to all Nations."
NDTV said that Leona was denied bail and sent to judicial custody for 14 days. Her bail petition will be heard in court on Monday.
According to The NewsMinute, Leona is a student of NMKRV College in Bengaluru and was among the three women who asked Mahesh Vikram Hegde, founder of the fake news website Postcard News, to sing 'Vande Mataram' at the Mangaluru airport in January.
Both the BJP and the Congress condemned the woman's actions.
The Akhil Bharatiya Vidyarthi Parishad (ABVP) members and Karnataka Rakshana Vedike (Praveen Shetty faction) staged separate demonstrations in Bengaluru, demanding the externment of Amulya Leona.
Meanwhile, at the anti-CAA event, Owaisi slammed the BJP government in Karnataka for charging a parent and the headmistress of a school with sedition following an anti-CAA play staged at a school in Bidar.
On CAA, Owaisi said it "smacked of governments hatred" towards Muslims and was against poor. "The law is aimed at making Muslims stateless," he charged.
Popular in the Community