Every year on 1 January, thousands of Dalits gather in Bhima Koregaon, on the outskirts of Pune city, to mark the anniversary of a battle won by a British army, largely comprising Dalit soldiers, against an army of Peshwas in 1818. In 2018, the commemoration of the 200th anniversary of the battle was marred by violence, carried out allegedly by Hindutva groups carrying saffron flags. The resulting riots led to one death and hundreds of Dalits were injured. Over 1-2 January, public and private property was destroyed by protesters in Bhima Koregaon and Maharashtra was paralysed by a bandh called by Dalit groups on 3 January.
The Maharashtra police have blamed the violence on 'seditious and inflammatory' speeches made at the Elgar Parishad, a conference held on 31 December 2017 at the Shaniwarwada palace in Pune. They claimed the Parishad was organised by Maoists and arrested ten lawyers and activists under several provisions of the Unlawful Activities (Prevention) Act. While many protests have been held over the arrests, the ten people still remain in jail.
Former Supreme Court justice P.B.Sawant has disputed the police's claim, saying that the Parishad was organised by his NGO Lok Sashan along with former high court judge BG Kolse Patil and cultural organisation Kabir Kala Manch.
Sawant, who was also the chairman of the Press Council of India after his retirement in 1995, told HuffPost India in an interview that no one associated with the Elgar Parishad had any links with Maoists and that the activists had been arrested because they criticised the government.
He also rebuked Maharashtra police for considering an informal discussion as his statement and attaching it with a charge sheet in the case against the activists.
The former judge, who was part of a commission which visited Gujarat after the 2002 riots, said that the BJP-led governments at the centre and the state were protecting Hindutva activists Manohar Bhide and Milind Ekbote, who were named in the FIR but have not been arrested yet.
Who organized the Elgar Parishad last year?

Last year i.e. on 31st December 2017, we organized it in association with Kabir Kala Manch. We had been organising such programs under the auspices of our NGO Lok Shashan since 2015.

But the government claims the Elgar Parishad was funded and organized by Maoists and their frontal organization...
What can we say about these allegations. We had nothing to do with Maoists. Police claim that Kabir Kala Manch, which was one of the organizers with us, have people who have links with the Maoists. We have absolutely no knowledge whether they (Kabir Kala Manch) had any links with the Maoists. So far as we know, they didn't have any links with the Maoists till today.


But police have arrested ten activists and they claim that these activists helped arrange funding for Elgar Parishad and had a role to play in the riots that broke out at Bhima Koregaon. Do you think they have been implicated falsely?

Our conference had no funding from any other source. Shanivarwada (the venue of Elgar Parishad) is a readymade platform. All that you have to spend on is mics, loudspeakers, and lights.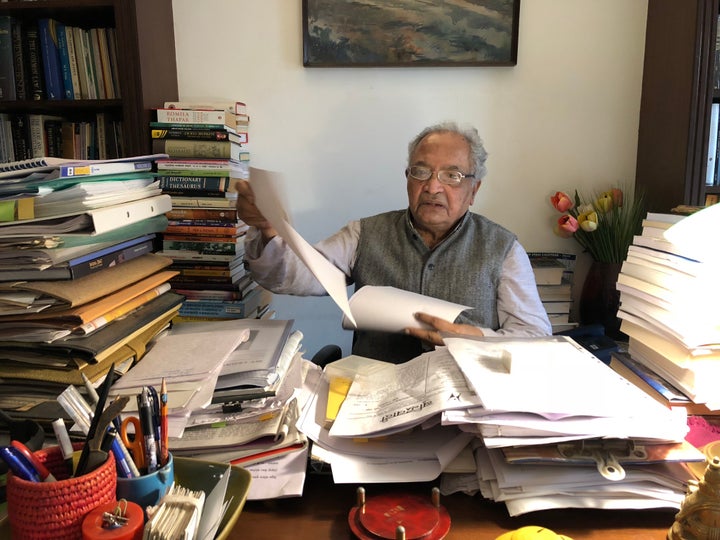 But the police claim that there were seditious speeches made from that platform.

I was unwell and got hospitalized on 29 December and was in hospital till 31st December. I did not attend the conference and I came to know of those who spoke there after the conference. On 31st, MLA from Gujarat Jignesh Mevani and activist Sudhir Dhawale joined the programme. They have associated Sudhir with the Maoists and arrested him as well. He also spoke at the conference.

Do you think they made seditious speeches, as the programme which was telecast live on social media? Do you think these people have or had connections with Maoists as the police claims?

Even from the speeches which were reported to me, I do not find that there was any connection between the speakers on that day and the Maoists. There were fiery speeches, particularly Mevani gave a fiery speech, but they have nothing to do with the Maoists. It is very strange that when you criticiise the government or use strong words against the government you become immediately a Maoist as if that is their (Maoists') monopoly and nobody else can talk in the same language.


But arrests have been made, searches have been carried out, and the police say whatever happened in Bhima Koregaon on January 1 was because of Elgar Parishad.

Those speeches had more to do with the Constitution of India than the reference to Bhima Koregaon. As far as we are concerned, we had organized a conference for saving the Constitution, which continues to be our theme.

"I would not be surprised if there was complicity of the police in protecting Hindutva forces who were attacking the Dalits in Bhima Koregaon. I cannot say the government directed them but I would not be surprised if it did, because this is the history of Modi and Shah"
Was there any connection between the Bhima Koregaon riots and Elgar Parishad?

Absolutely nothing. In fact, it is really tragic to hear that from the police. Nothing happened in the past (in Bhima Koregaon). There is no reason why those who come here as pilgrims will indulge in violence. They go there to pay their respects. Last year two gentleman, belonging to Hindutva family, Manohar Bhide and his disciple Milind Ekbote, had organized meetings in that area. Bhide has been conducting camps in Sangali (district of Maharashtra) for over 25 years now, indoctrinating teenagers from non-Brahmin communities, distorting history and inflaming them against the Muslims in particular. His only object is to spread hatred against the Muslims. On January 1, stones were collected at the houses (in Bhima Koregaon) to pelt at the Dalits. There is a reason for that. This battle (Bhima Koregaon) was between Brahmin and non-Brahmin forces. Peshwas committed many atrocities in the name of Hindutva. The battle was the victory of Dalits against Brahmin Peshwas. Bhide and Ekbote, both Brahmins, had every reason to resent this pilgrimage and last year, it was the 200th anniversary of that victory so a large number of Dalits were going to come for celebrations there. There is a victory column there where people pay their tributes. That was the anger of these two gentlemen. They particularly organized non-Dalits at Bhima Koregaon to pelt stones and create violence against those visiting it. Dalits gather there in an organized manner. But Bhide and Ekbote's intention was to create chaos. It (riot) was no doubt organised.


Are you saying that Bhide and Ekbote organized the riot?

Yes, Yes.

But there has been no action against Bhide and Ekbote has been granted bail. Bhide has almost been given a clean chit and the entire blame for the riot is put on your Elgar Parishad.

For years these pilgrims had been going to Bhima Koregaon, no incident happened. Why did it happen last year only? Our sources tell us that these two people (Bhide and Ekbote) were working at least two months before the violence there because they knew many people were going to come because of the 200th anniversary.

But why do you think the government is taking this stand?

This government wants to protect the Hindutva forces. They have been consistently trying to protect Hindutva activists who had indulged in violence.

"This government wants to protect the Hindutva forces. They have been consistently trying to protest Hindutva activists who had indulged in violence."
Are you talking about the Devendra Fadnavis government or Narendra Modi government?
Both. They belong to the same party and organization.

A riot doesn't happen unless the authorities are ignorant or complacent. People have blamed the police for not doing enough to stop the violence. Do you think it happened last year?

Whether it was complicity or apathy, if the people knew about the activities of Bhide and Ekbote, is it suggested that they (police) didn't know?

Are you saying that the police knew about Bhide and Ekbote's activities?

Of course they knew. If they say they didn't, then they (police officers) don't deserve to remain in their posts. What is the police there for if they didn't know what was going on?


You said that the government is protecting Bhide and Ekbote, but do you think the government also played an apathetic role in this violence?

If I know the history of Modi government in Gujarat, I would say they (government) were not only passive but active. Who fomented the riots in Gujarat in 2002? It was at the instance of Modi and (Amit) Shah. I was a member of a commission which went there after the riots. We had recommended prosecution of Modi and Shah in our report. It was this report which prevented Modi from visiting any foreign country (Modi was denied a US visa in 2005 and visited the country only in 2014, after he became prime minister).
I would not be surprised if there was complicity of the police in protecting Hindutva forces who were attacking the Dalits in Bhima Koregaon. I cannot say the government directed them but I would not be surprised if it did, because this is the history of Modi and Shah. They can survive only by creating divisions. They are consistently trying to divert people's attention from the real problems and the crimes committed by Hindutva forces.

You have also given a statement to the court in this case.

Three policemen in plainclothes came to my place in October and had an informal discussion with me. On 29th November I came to know that my statement has been attached to the charge sheet in the case. I was shocked. They (police) had not noted anything at my home.


Everyone associated with Elgar Parshad is being blamed or questioned for the violence. But why have they not questioned you yet?

I don't know. But I have no trust in our investigating agency. Look at it now. They made a statement out of an informal discussion and presented it to the court. What they wanted to prove was that Kabir Kala Manch was an organizer of Elgar Parishad and that I did not know who were the speakers. Till today, I say that they (speakers at Elgar Parishad) are not associated with the Maoists.

What responsibility does the judiciary have now, when you say you don't have faith in investigating agencies?

It is all the more so now because this government is adamant on punishing its critics and protecting the Hindutva activists.