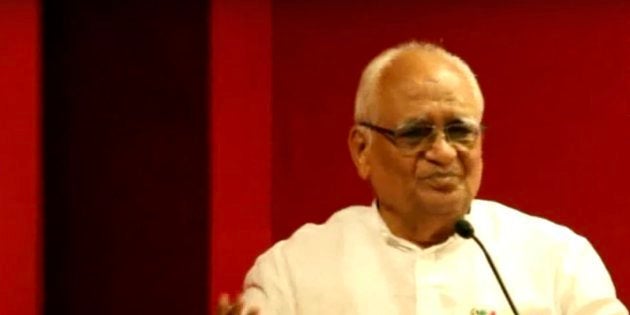 NEW DELHI -- The organiser of the Elgaar Parishad, the 31 December, 2017 gathering of Ambedkarite groups in Pune, has refuted Union Minister of State for Social Justice Ramdas Athawale's claim that people with links to the banned Communist Party of India (Maoist) attended the event.
"Nobody was member and nobody was organizer except myself and Justice (Retd) P B Sawant," said Justice (Retired) BG Kolse-Patil, the event's main organizer, refuting Athawale's claims on Tuesday.
Justice Kolse-Patil said he had invited over 200 organisations from across the country to gather in Pune and take an oath that they would never vote for the Bharatiya Janata Party (BJP). Their opposition to the BJP, he said, was the reason those who attended the Elgaar Parishad were being described as Maoists, or Naxalites.
"This present regime doesn't tolerate opposition, doesn't tolerate battle of ideas, and therefore they tried to connect us with Modi's murder as well as Naxalites," Kolse-Patil said in an interview with this reporter.
The retired judge also took exception to Athawale's claim that, "(Members of) other Ambedkarite organisations who (attended the Elgaar Parishad) have not been arrested but only the (Naxalites) have been arrested."
Kolse-Patil said the organisers know only one of the arrested activists, Dalit rights activist Sudhir Dhawale. Dhawale was arrested in January 2011 and jailed for over 40 months on charges of waging war against the state, only to be acquitted of all charges in 2014.
"Dhawale got acquittal from Sessions Court as well as High Court," Kolse-Patil said, speaking of the 2011 case. "That is honourable acquittal not even benefit of doubt."
Kolse-Patil said he reached out to Dhawale in October 2017 to ask him to participate in the Elgaar Parishad event held in December.
Dhawale was arrested once more in June this year as part of a controversial country-wide crackdown on lawyers and human rights activists. The police claim the arrests are part of a wider investigation into an urban network of Maoists. Opposition party members and civil liberties organisations have accused the government of targeting its critics under the guise of fighting Maoism.
Kolse-Patil clarified that, in principle, he was not against the police taking action against activists on the basis of a credible investigation based on hard evidence.