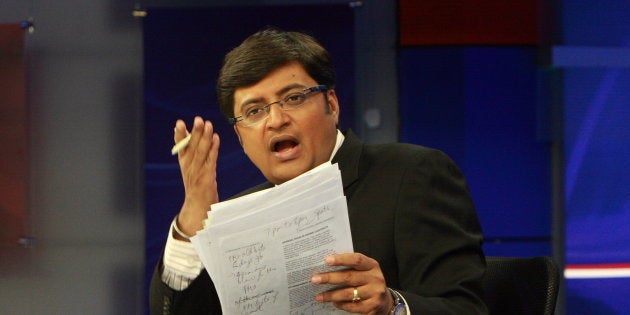 The day police raided the homes of activists across the country and arrested Sudha Bharadwaj, Arun Ferreira, Vernon Gonsalves, Gautam Navlakha and Varavara Rao, Arnab Goswami-led news channel Republic repeatedly flashed 'IndiaVsMaoists' and 'UrbanNaxals' at the bottom of the TV screen.
On Twitter, the channel's handle shared clips of 'debates' and reports around the arrests of the activists with the hashtag 'NationalistsVsMaoists'. A majority of the tweets shared about The Debate — a 9pm show headlined by Goswami — were quotes from people backing the government and police's actions.
In one clip, advocate Arjun Sheoran is seen holding up a placard with the words 'Dissent is Democracy' scribbled on it. "I knew he would try to cut me off or mute me, so I used the placard," Sheoran told HuffPost India. Predictably, the clip shows Goswami interrupting Sheoran constantly as the latter tries to speak and then saying condescendingly, "Don't misuse the word (dissent)."
"I knew he would try to cut me off or mute me, so I used the placard."
While TV news in India has leaned towards being sensationalist and outrageous over the past few years, Republic TV's reckless attacks on people critical of the Bharatiya Janata Party government has been especially rattling. 'Urban Naxals' — a term frequently used by the channel to describe Bharadwaj and her peers — was originally coined by filmmaker Vivek Agnihotri, who has written a book with the same name and is currently in the news for asking "some bright young people" to make a list of "urban naxals". Agnihotri is known to attack people critical of the Hindutva right wing or the BJP and often calls them "urban naxals" or "fake feminists".
"I find it hard to believe that anyone who watches Republic TV doesn't know that it has a political agenda," said Pratik Sinha, founder of fact-checking website AltNews.
REPORTERS OR INSTIGATORS?
A statement issued in July by 54 activists, lawyers, academicians, artistes and filmmakers, spoke of their "utter disgust, contempt and outrage" after the channel branded arrested activist Bharadwaj an "urban Maoist" who "plotted to break India" after claiming to have accessed a letter where Bharadwaj apparently identified herself as 'Comrade Advocate Sudha Bharadwaj'.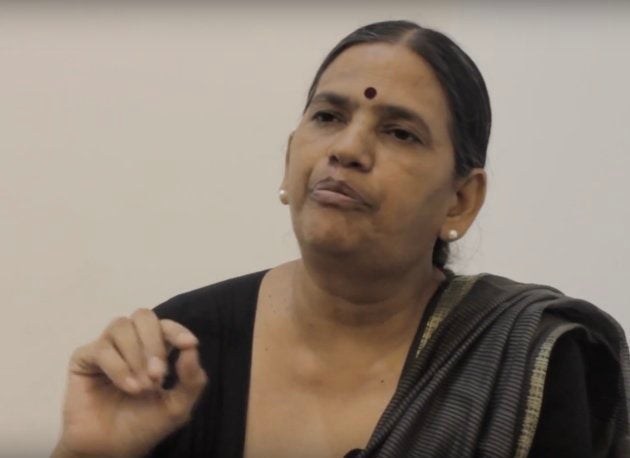 Filmmaker Saba Dewan, a signatory to the letter, told HuffPost India that as far as she knew, even the police couldn't produce that letter as evidence against Bharadwaj in the court. Yet, Goswami's channel went ahead and dissected the letter, trying to suggest that people like Bharadwaj, who have fought for the rights of the poor and marginalised, are hatching plots against India's security. Bharadwaj had sent a legal notice to the channel refuting the claims made by Goswami.
"I firmly refute all the allegations that the Republic TV has made against me, defaming me, causing me professional and personal injury. In its programme, the Republic TV has not revealed the source of such a letter. I find it curious that a document purporting to contain evidence of such serious crimes should first surface in the studio of Arnab Goswami," Bharadwaj said in her statement issued in July.
Republic reportedly responded to Bharadwaj's legal notice by accusing her of trying to 'tarnish' Arnab Goswami's image
Republic reportedly responded to Bharadwaj's legal notice by accusing her of trying to 'tarnish' Goswami's image and refused to reveal the source of the 'super exclusive' letter, which they said was the result of investigative journalism by its reporter. Bharadwaj issued a second statement based on the channel's response but the matter didn't reach the court.
Former JNU student Shehla Rashid — a regular target for Goswami and Republic— said that news channels have often compounded the abuse she and her peers receive on social media. She recounted an instance when a group of Indians in London organised a protest march against mob lynchings in the country and Times Now ran a primetime bulletin on Rashid's role in coordinating the march. "They used photos from my Facebook profile without my permission and accused me of "conspiring against the nation", Rashid told HuffPost India.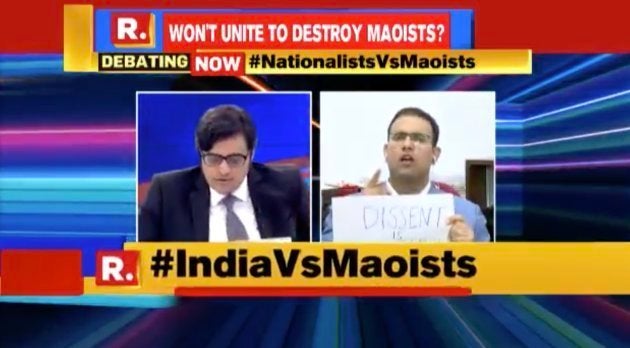 Rashid said that the role of channels like Republic was to demonise people who harboured political opinions unfavourable of the government. She also attributed the attack on JNU student Umar Khalid to the hate campaigns by these channels.
Her thoughts were echoed by advocate Colin Gonsalves, founder of the Human Rights Law Network, who said that it is a "criminal offence to create ill will and division among communities".
"The arrests that have been made in June and now have been in connection with the Bhima Koregaon incident in Pune, which was an agitation spearheaded by Dalits," said Gonsalves, adding that the channel's relentless attempts to vilify the protesters and their defenders was an attempt to divide the country by demonising one community.
"Arnab had called Sudha Bharadwaj a Naxalite to which she robustly objected. Today, as if the police took their cue from Arnab, Sudha is in jail, accused of being a Naxalite."
Filmmaker Anand Patwardhan, whom Goswami had accused in 2016 of "not taking Times Now's calls", said that the State and the channel seem to be working together. "Arnab had called Sudha Bharadwaj a Naxalite to which she robustly objected. Today, as if the police took their cue from Arnab, Sudha is in jail, accused of being a Naxalite," he told HuffPost India.
Sinha of Alt News said Republic is following the same "dangerous" agenda Goswami had begun at Times Now. "The way he has targeted people like Umar Khalid and called them tukde tukde gang, he can endanger the lives of people," Sinha said.
Both Sinha and Dewan added that along with Republic, one must also look at the vast reach of vernacular media which spread fake news with impunity.
"I just saw a clip from a Hindi newspaper which says in the headline 'Maoist Sudha Bharadwaj arrested'. This is more dangerous because it reaches way more people than Republic does," Sinha said.
Patwardhan said that Republic "is a part of the machinery that defends the present ideology in power at all costs". He added that the channel was "even more directly connected to the BJP/RSS".
Republic TV is owned by ARG Outlier Media Asianet News Pvt. Ltd, whose directors included Goswami, businessman-politician Rajeev Chandrasekhar and two others. However, Chandrasekhar resigned from the board of directors on 2 April after he joined the BJP. Chandrasekhar reportedly invested Rs 30 crore through his company Asianet Outline.
According to data from the Broadcast Audience Research Council (BARC) India, Republic's viewership is ahead of other English news channels. Republic was the most-viewed TV channel with 11.81 lakh impressions between 18 August and 24 August. Its closest competitor was Times Now with 10.49 lakh impressions in the same period.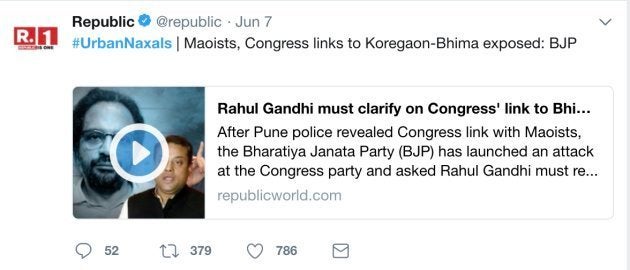 Lawyer Gonsalves said that it is high time that people took concrete action against the likes of Republic TV. Bharadwaj sent the channel a legal notice and Congress MP Shashi Tharoor sued it for defamation, but Gonsalves thinks that's not the right approach.
"Defamation is a bailable offence. What he is doing is more dangerous than defamation. He is riling and instigating communities against each other with misinformation, which is a threat to national security. He should be sued for hate speech," he said.
Various sections under the IPC — like 153A and 295A — carry jail terms of up to three years for hate speech.
Dewan adds that people targeted by television channels like Goswami's should perhaps take a leaf out of the right wing's books and be prolific about filing FIRs.
"You'll see how they file FIRs at the drop of a hat over anything critical about them. Republic is leading a dangerous, organised propaganda. People should be more proactive about taking legal recourse," she said.
(HuffPost India has emailed Republic for the channel's response to the allegations. This story will be updated if and when they respond.)
Popular in the Community