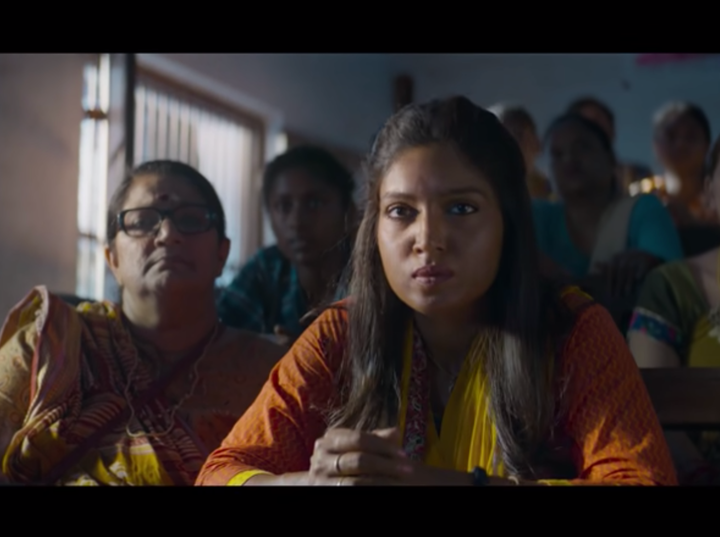 ″Pagal ho jaun, jab tu ho rubaru; na uncha lamba, gora chitta, phir bhi dil mein tu (I go crazy, when you are near, you're not tall, or fair and handsome, yet you are in my heart)," Bhumi Pednekar, painted a dozen shades darker than she actually is, sings to Ayushman Khurrana's character in Bala in a promotional track that landed on the internet a few weeks back. Within a few days, the whole Instagram ecosystem was all over the song with beauty bloggers showing glam eye looks while the song played on the background and dance influencers announcing classes to teach the choreography of the song. As I scrolled through my feed, the song kept popping up over and over again: "na gora chitta, phir bhi dil main tu″. Now, I am dark-skinned and it's been a few years that I have stopped giving "only gora chitta = beautiful" business any of my few damns, but the song made me think: what would a younger me feel? Or what would younger girls, at the beginning of the long, exhausting, infuriating road to self-acceptance and love, feel as the song played on a loop on their social media feeds and blasted from shared cabs and buses?
The operative word here is "phir bhi", as if it's unusual for a non-fair person to be loved or desired. While from the trailer, it seemed the film aspires to break stigmas around dark skin, it's almost impossible to understand how they could instead end up reinforcing them by hiring a light-skinned Bhumi Pednekar to play a dark-skinned woman.
The lyrics brought back unpleasant childhood memories of discussions about my skin colour. "Gayer rong chapa hole ki hobe, mukhta toh mishti (so what if she is dark skinned, she has such a sweet face)," I remember my aunts saying as they discussed my matrimonial prospects. It was as if my "sweet face" was the saving grace for the bane that is my dark skin, because otherwise who would marry me? And no, I wasn't preparing for marriage, I was about 8 or 9 years old. As a child these conversations stayed with me — "must be fair skinned to find a man to marry me". Casual remarks about my dark skin by friends, family, classmates were something that I had to get used to. I remember feeling like less of a human being, always a step away from perfection, and who was never, ever going to get the best of everything because of my skin colour. I was lucky that my parents would tell me over and over that I was perfect just the way I was. But the negative voices always rang louder. Now I know that all the anxiety and fears I had as a child were triggered by outside voices, they were triggered by other people's anxieties about my apparent husband-less future.
The problematic nature of tying a woman's worth to a husband aside, casting Pednekar as a dark skinned woman brought back flashes of those conversations. Was a dark skinned woman not good enough to play a dark skinned woman in a Bollywood movie? Apparently not.
[Read our review of Bala here.]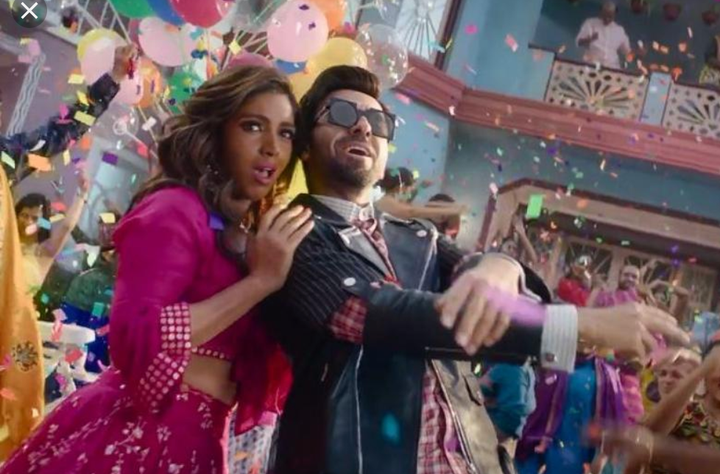 Bollywood can't get it right
Now, it's no secret that Bollywood isn't the place for body positivity. Once, I watched Naseeb Apna Apna on Zee Cinema, while my nanny took her afternoon nap and I was left to my own devices. A fair-skinned Rishi Kapoor is married off to Chandu (a brown-faced Raadhika). Kapoor is repulsed by her complexion, so he marries Radha, played by Farah Naaz. He only accepts Chandu back when she goes to a parlour and returns with her hair straightened out and her skin significantly fairer.
Imagine watching that and then trying to believe my parents who insisted that beauty did not matter. It wasn't entirely easy. The popular female actors of my time — women I watched with wide-eyed adoration — were all fair skinned. Madhuri Dixit, Monisha Koirala, Juhi Chawla, Karishma Kapoor were light skinned, and somehow, I never thought anyone with my skin colour could be like them — glamorous, popular, successful. Then, when Kajol started making headway into the industry and newspapers hailed her as the 'dusky' beauty, relatives and acquaintances often chatted about how fair-skinned her mother Tanuja is. "How is her daughter so kaalo (dark)? But she is a good actor," I've heard aunts, neighbours and friends say countless times, as if her acting talent was a welcome respite from the colour of her skin.
All this, despite my parents' protestations made me think that I was not enough. Which is why I keep circling back to Pednekar in Bala. Even though she is a fabulous actor, it's impossible to believe that makers couldn't find a single dark skinned female actor from across India to play the role. For some young girl in some corner of India, it may seem like you have to be a light skinned woman to even play a dark skinned woman in Bollywood.
Not just Bollywood, the whole pop culture narrative around films exhorted women to look 'fair'. Articles in magazines told women to put cucumbers, potatoes, dahi, tomatoes to look like their favourite actor.
"Beauty gurus" who wrote on Sunday magazines had a solution for all sorts of darkness — dark knees, dark elbows, dark armpits and dark knuckles. Rub, scrub, dunk yourself in food products to attain your best, beautiful self, they told women. I won't lie, I did try some of them. Once a friend's mother advised that I must put ubtan on my body to attain fair skin. My skin violently broke out in rashes. Even ubtan failed.
Caste and class aggressions
The portrayal of dark skin in cinema and society's ideas of what qualifies as "beautiful" is also intrinsically linked to caste and class. My aforementioned nanny would often joke that I was not my parent's child. She would say I was a homeless child who had been picked up from the road by my parents. Proof was my dark skin, many shades darker than my mother's. Years later, when I was in Class 7, the boy who sat behind me in class called me "shaontal meye" or tribal girl.
I had to get over the obnoxious caste and class importance that privilege had gifted me to understand that there was nothing shameful in being called this. This took many more years of reading and interacting with teachers, classmates and friends who knew better.
It wasn't just in everyday conversations among irresponsible and ignorant adults that skin colour was made out to be some sort of an important caste and class marker.
In Satyajit Ray's Aranyer Din Ratri (1970) — a film considered a seminal document on India's politics then, a very fair skinned Simi Garewal was cast as Duli, a Santhal girl. The film was shot in black and white and when I watched it as a 20-year-old in college it was clear that her complexion had been darkened considerably. "Has she been dunked in a barrel of tar?" I remember thinking.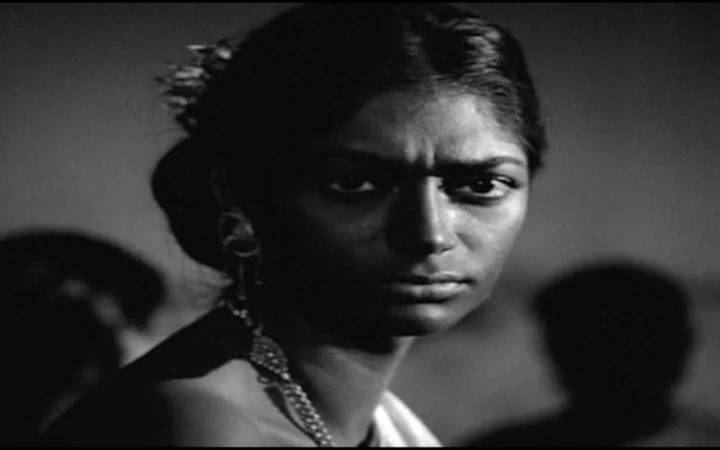 Dark skinned background dancers in tribal clothes chanting "jhinga lala hurr" or other such pretend tribal lyrics was quite common in the 80s and 90s. Think Hum Befawa (Shalimar), Hawa Hawai (Mr India), Saat Samandar Paar (Vishwatma) and Oye Oye (Tridev). Some of the dancers were brown faced as well.
It's 2019 and "woke" Bollywood continues to paint its actors brown instead of casting people with actual dark skin. One wonders why, because we are a country of dark skinned people. Alia Bhatt, who albeit acted really well, was brown faced in Udta Punjab, Ranveer Singh was many shades darker than his usual skin tone in Gully Boy and Hrithik Roshan was doused in bad bronzer in Super 30. The list is endless. A-list Bollywood actors like Deepika Padukone and Shah Rukh Khan have endorsed fairness creams too. And till today, leading Bollywood actors continue to be generally fair skinned.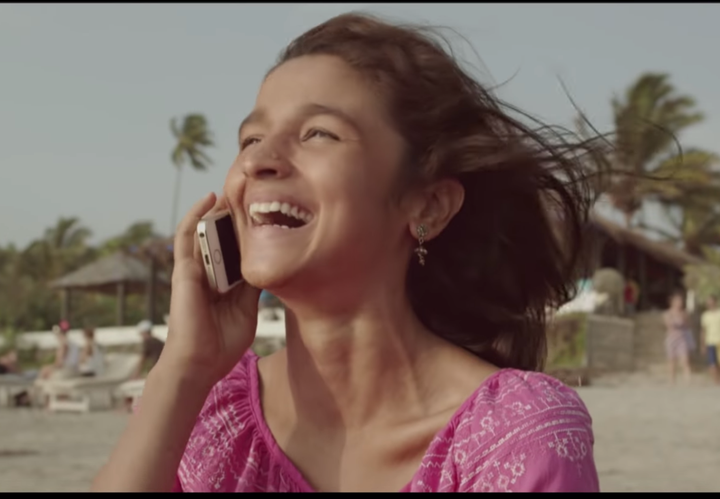 By the time I went to high school, I was a bit more aware, for want of a better word. I had slowly began to see the unfairness of this bias against dark skin. I watched Oprah on Star World at 2 pm everyday. She told me to turn my "pain into power" and warned of men "who were just not that into you". Turn my pain into power, I did, in a way a 15-year-old knew best. A large part of it involved overcompensating for my apparent "lack" of "good looks". I was exceptionally good at everything else I did. I won prizes in fests, I carefully made myself "cool", boys paid me attention and in some ways my self-worth grew from that male validation.
Thanks to internet, and college, I found feminism and feminist writers and that literally lit something inside me. A few years later, Facebook and Twitter had arrived, bringing with it the voices of other women who had felt the same way as I did when they were young, who had been otherised on the basis of their appearances. It made me realise that I didn't need to be desired by men who thought I should be fairer, that I did not need to desired by a man to feel good about myself. Period.
Amid widespread criticism after the Bala trailer release, Pednekar defended her brown face. She told IANS, "See, that was the character. When people see the film they will understand that it is not making fun of colour. It is a film that is trying to break the basic bias or the obsession that people have with fair-skinned India."
Bala releases at a time when several actors have cried hoarse about the colour bias that runs deep in the film industry. Nandita Das, who has been part of several campaigns that tries to break the bias against dark skin in India, has spoken several times about the discrimination she has faced in the film industry. "When there is a role of a rural woman, or a Dalit woman, or a role of a slum-dweller, then my skin colour is fine… But the minute I have to play an educated, upper-middle-class character, invariably someone comes up to me and says 'I know you don't like to lighten your skin, but you know this role is of an upper-middle-class educated person'," she said while launching the India's Got Colour campaign last month.
Malaika Arora said recently that she had been put into the "dark skin" category when she joined the film industry. "I came at a time in the business when this whole thing about dark-skinned, fair-skinned was so prevalent and I was always put into the dark-skinned category so that was always there initially so ya that bias was always there," she told Neha Dhupia in an episode of #NoFilterNeha Season 4.
Watching the trailer of Bala affected me very little, but made me realise that the bias against dark skin is alive and thriving. While the comments on my skin tone and the bullying I faced as a child made me more sensitive, empathetic and aware, it also took a lot of time away from my childhood that I could have spent doing constructive things. It took away precious time that I could have spent enjoying my life instead of worrying about how I looked.
If Bollywood is going to milk our lives for melodrama and profit, it should at least have the decency to walk its own talk. It must accept that brown facing its actors is nothing but blatant racism.
Popular in the Community