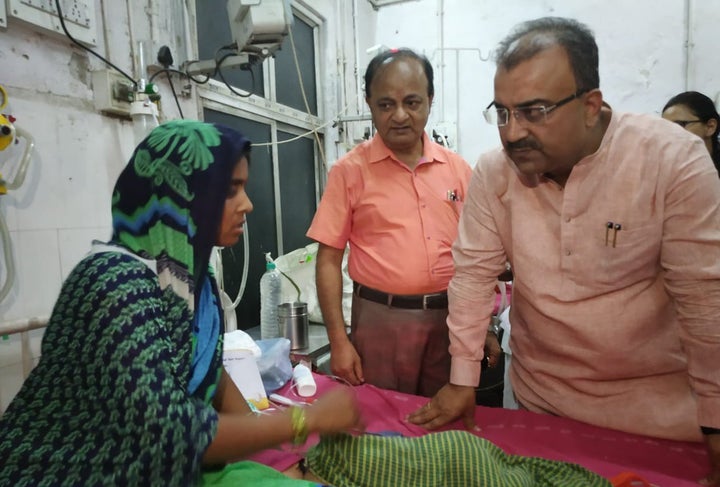 MUZAFFARPUR, Bihar — As the death toll of children suffering from Acute Encephalitis Syndrome (AES) in Bihar shows no sign of abating, Muzaffarpur's overworked doctors and nurses are struggling with another malaise — VIP visitors, whose presence demands a full-kitted out ambulance accompany their entourage at all times — even when convoy protocol does not allow for it.
Over the past week, Bihar's health minister Mangal Pandey and the Union Health Minister Harsh Vardhan — both from the Bharatiya Janata Party (BJP) — have both visited Shree Krishna Medical College and Hospital (SKMCH), which has witnessed at least 83 of the 103 recorded fatalities.
When Pandey visited Muzaffarpur on 14 June, HuffPost India learnt that an ambulance managed by a doctor, a nurse, a blood bank technician, an emergency medical technician and a driver, was sent to accompany his convoy.
The ambulance met Pandey's convoy at Fakuli, which is near the Muzaffarpur-Patna border, and stayed with him almost four hours, which included his visit to the SKMCH hospital.
Prior to Harsh Vardhan's visit to Muzaffarpur on Sunday, an order for an ambulance was issued, but it was canceled as the AES situation had spiralled out of control and every ambulance was needed to ferry sick children.
The order for the ambulance is passed down from the District Magistrate to the Civil Surgeon to the District Programme Manager, who is in charge of the District Health Society.
This convoy protocol is extended to the President, the Prime Minister, the Chief Minister and the Governor of the state, Alok Ranjan Ghosh, the District Magistrate of the Muzaffarpur, told HuffPost India.
It is unclear why the protocol was extended to the state and union health ministers at a time when doctors and ambulances are in short supply.
Ghosh denied that ambulances were ordered for the ministers.
Of the 47 ambulances in Muzaffarpur, seven are being used by SKHMC, which is handling the bulk of the AES cases in the district. Two ambulances, one from the Primary Health Centre (PHC) in Saraiya and the Community Health Centre (CHC) in Sahebganj have been called to SKHMC to share the heavy load of AES patients.
A doctor, speaking on the condition of anonymity, said that the AES crisis made it necessary for the ambulance to be deployed at the panchayat level in order to reach people living in the hinterlands as quickly as possible.
Earlier, HuffPost India reported on how a shortage of trained doctors in Bihar had meant that fully equipped AES wards in government hospitals and clinics were lying empty, even as the few places with enough staff were forced to squeeze two or three children onto each bed to accommodate the influx of patients. At least 800 children have lost their lives to the disease in Bihar since 2013.
HuffPost India spoke with doctors who said that deploying ambulances to accompany VIPs was a matter of routine in Bihar, even when trained medical staff are stretched to breaking point.
One doctor, who had accompanied Jatin Ram Manjhi when he was chief minister of Bihar, said that he had to taste his food to make sure it was not poisoned.
"This is India... They behave like Maharajas."
"This is India," he said, seeking anonymity as he feared reprisals from the state government. "They behave like Maharajas."
To be sure, "convoy duty" is an established part of VIP security protocols, where an emergency team of medical and security personnel accompany ministerial convoys. Yet in his inaugural address to his freshly-inducted cabinet, Prime Minister Narendra Modi had instructed his ministers to shun "VIP Culture".
Service Doctors and PG Association, a Tamil Nadu-based organisation, which protects the rights of doctors, has called for ending the practice of sending trained medical staff on convoy duty.
In Tamil Nadu, the practice was restricted to the President, Prime Minister, Chief Minister and Governor, said P. Saminathan, Gen Secretary of the organisation, adding, "never for a state minister."
Commenting on the ambulance and medics deployed for Mandal on Friday, Saminathan said, "When a 100 children have died, and there is a shortage of doctors, it should be avoided."