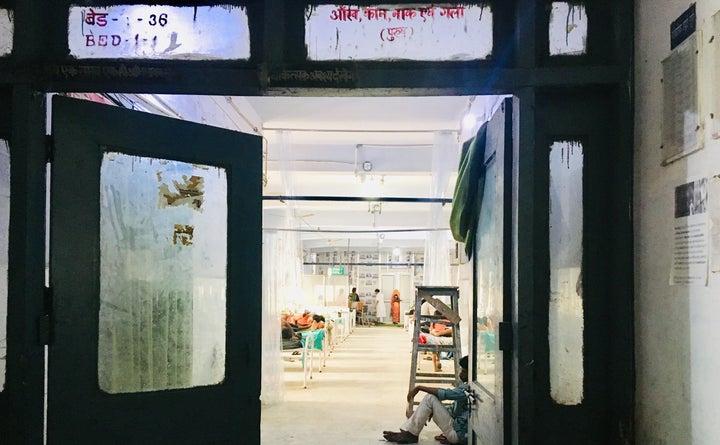 MUZAFFARPUR, Bihar — With the health crisis showing no signs of abating in Muzaffarpur, and public outrage against the Bihar government growing, a "prisoner ward" with 36 beds at the Shri Krishna Medical College and Hospital (SKMCH) has been converted into a children's ward to accommodate patients who have Acute Encephalitis Syndrome (AES)
The four Paediatric Intensive Care Units (PICU) had a total of 34 beds. There were two, sometimes three children to one bed.
Bihar Chief Minister Nitish Kumar who visited the hospital for the first time on Tuesday announced that the number of beds in the hospital would be increased from 600 to 2,500 in the next one year. He also promised that beds in the PICU would be increased to a 100.
Kumar visited the hospital following visits by Union Minister Harsh Vardhan and State Minister Mangal Pandey.
Hospital officials told HuffPost India that prisoners were housed in the ward until as late as Tuesday. The prisoners have now been transferred to the Sadar district hospital, which is about six kilometres away from SKMCH.
They did not say how many prisoners were in the ward.
Earlier, doctors at the Sadar district hospital told HuffPost India that they had a ward equipped with eight beds to accommodate AES patients, but only one paediatrician.
Doctors at Sadar did not say how many prisoners had arrived at the district hospital, saying they were being "processed." Sadar District Hospital presently has no AES patients.
The prisoner's ward at SKMCH appears to be in poor condition. Guards posted outside its dirty door are not letting journalists enter the ward. Following a rampage by TV journalists inside the hospital on Tuesday, guards have been posted outside the PICU rooms with AES-hit children.
Guards are also not allowing journalists to enter the office of SKHMC's Medical Superintendent Sunil Shahi, who was until Tuesday accessible to the media.
The number of AES patients admitted to SKMCH stands at 365 as of 19 June. Ninety-six children have died at this hospital since January, 2019.
NDTV reported that AES has killed 130 children across Bihar so far.