MUZAFFARPUR, Bihar — As the piercing sound of a heartbeat flatlining filled the children's intensive care unit of a government hospital in Bihar, doctors and nurses fell silent.
Many of them had heard it far too often over the past few days, but that didn't take away from the sadness and regret they felt.
This time, the sound marked the death of Khushi, a three-year-old with a shock of unruly hair, from AES (Acute Encephalitis Syndrome), a deadly inflammation of the brain that kills hundreds of children in India every year.
Her mother, a thin woman in a green sari, let out a wail as she clasped her daughter's small frame, entangled in gauze and tubes. Her father, a frail man with sunken eyes, did not make a sound as he squatted near the foot of the bed, which his daughter had been sharing with a girl named Julie.
There are only 34 beds for AES-hit children at the Shree Krishna Medical College and Hospital (SKMCH) in Muzaffarpur, around 90km from Patna.
Gasping between sobs, Sunita Devi, in her early 20s, said, "She was playing last night. The seizures started in the morning, and now she is gone. She is gone in a few hours."
More than 100 children have died in Muzaffarpur district, the epicentre of AES or "chamki bukhaar" (brain fever), widespread in poor communities that don't have access to nutritious food and sanitation. Apart from Khushi, at least 82 other children have died just in SKMCH this summer.
AES kills children in Bihar and Uttar Pradesh every year, but long heat spells and humidity make some years worse than others.
This is the deadliest AES outbreak in Bihar since 2014, when 355 children died—117 at SKMCH alone.
Now that the national media has turned its attention to the hundreds of AES-related deaths in Bihar, the Nitish Kumar government is scrambling to save face, and failing.
The government's unpreparedness can be traced to multiple factors: apathy, a healthcare system crippled by a lack of doctors and its failure to educate the most vulnerable communities about AES.
This year, say stakeholders, the situation has been particularly alarming.
Tamanna Hashmi, a social activist from Muzaffarpur, said, "They do next to nothing to prepare communities for AES, but because of the election this year, they actually did nothing."
J.P. Mandal, a doctor at SKMCH, said, "AES is endemic here, but right now it is an epidemic. We were not prepared."
Another doctor at SKMCH, who was examining a patient's chart when Khushi died, said, "I have seen so many children die."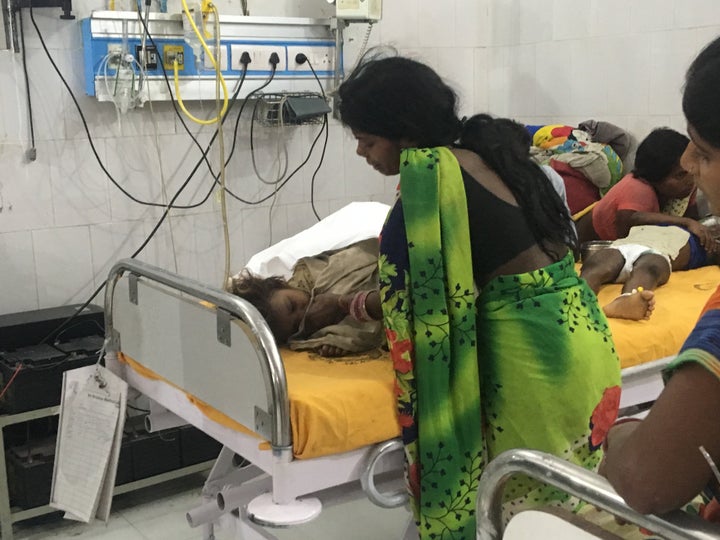 Khushi's journey to the hospital
There was no chart for Khushi, who had died within two hours of being admitted at the overcrowded SKMCH on Friday.
From the time that they had first seen her convulsing at five in the morning, it had taken her desperately poor parents five hours to get her to the hospital from Kankatti, the village where they were living temporarily while working on a construction job.
Her father Amarnath Manjhi, a labourer, rushed her to someone he described as a "private doctor", who gave her an injection. This, however, did not help her.
For the next hour, the 25-year-old went scrounging for the Rs 100 that he would have to pay for transporting her in a shared "tempo" over 60 kilometres. He eventually borrowed it from his maalik, the contractor who hired him for the construction job.
To get a tempo, Amarnath had to cycle four kilometres to the main road, with his wife sitting behind him, holding their convulsing daughter in her arms.
"She was playing last night. The seizures started in the morning, and now she is gone. She is gone in a few hours."
After the first tempo dropped them off at a place called the "zero mile" point, six kilometres from SKMCH, it took another shared tempo, five rupees and 20 minutes before they reached the hospital.
Why didn't Manjhi dial 102 to call an ambulance to Kankatti village?
Why didn't he rush his daughter to the closest Primary Healthcare Centre (PHC), located in each block of the Muzaffarpur district, instead of undertaking a three-hour long journey?
To both these questions, Manjhi had one answer, "I did not know."
PHCs, set up in each block of a district, are meant to be the first port of call for those living in the hinterlands to seek medical treatment.
Since 2015, two decades after the first major AES outbreak in Bihar, PHCs have been fitted with air-conditioned AES wards, with oxygen cylinders, a ready supply of medicines and two beds.
"They do next to nothing to prepare communities for AES, but because of the election this year, they actually did nothing"
Visiting the closest PHC to "stabilise' AES-hit children can save lives, but people rarely go, preferring the tertiary facility in the big city.
HuffPost India visited three PHCs — in Motipur, Mushahari and Kanti — which had all the facilities, but no patients.
It doesn't help that over the years, PHCs have garnered a reputation for being a waste of space, lacking both manpower and resources.
That's the thought that stopped Khushi's father from taking her there.
"We thought that the hospital in Muzaffarpur is a big one and it would be best to take her there," he said.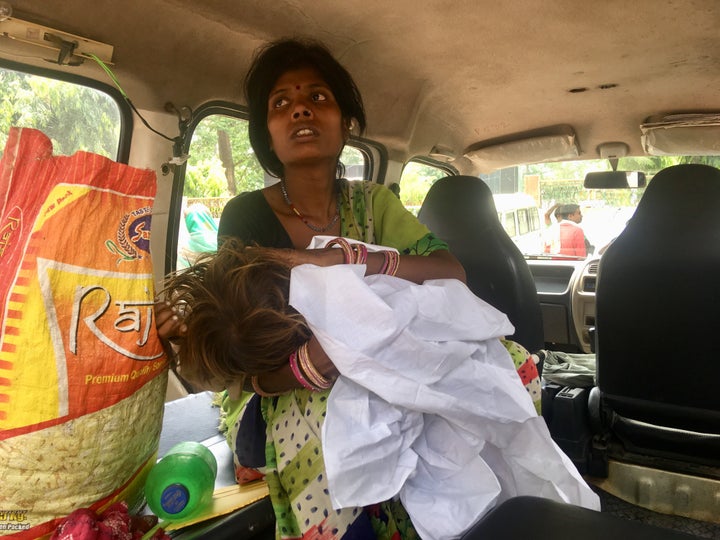 Walking out of the hospital
Brijesh Kumar, a young man in a black T-shirt, who maintains the logbook at the SKHMC, looked tired as he scrolled up and down the figures on the computer.
"Today, it is too many. Tomorrow, if there is no rain, it will be more," he said matter-of-factly.
There are presently two children, sometimes three, lying on the beds meant for AES-hit children at SKMCH. The hospital needs every spare bed to cope with the incoming patients.
Two attendants waited for a minute before urging Khushi's mother to step aside so that they could remove her body.
"AES is endemic here, but right now it is an epidemic. We were not prepared.""
When she refused to let go of her daughter, Khushi's father stepped in, moving her aside gently. He wrapped his daughter in a white sheet and lay her on a stretcher.
As they wheeled the stretcher down two floors, Khushi's mother walked behind the attendants, her wails echoing through the hospital corridors.
Tears rolled down her cheeks as she stood near the hospital entrance, waiting in the searing heat for the ambulance which would transport her daughter's body to their own village, Raja Pakkar, around 60km from Muzaffarpur city.
Hovering protectively around the stretcher, she covered her daughter's face with a loose end of the white sheet in which she was wrapped. Twenty minutes later, as she bundled up her daughter in her arms and tried to clamber into the ambulance, she was surrounded by journalists.
As cameramen poked their cameras inside the ambulance to get a close-up shot of Khushi's body, reporters asked her parents, "Did your daughter die from AES? Where are you from? When did she get sick? When did you get here?"
The couple looked stunned and mumbled a few replies, barely audible.
Sanjay Kumar, the ambulance van driver, cursed the journalists.
"This is crazy. We have to go very far and I have to come back quickly. There will be more dead children when I get back," he said.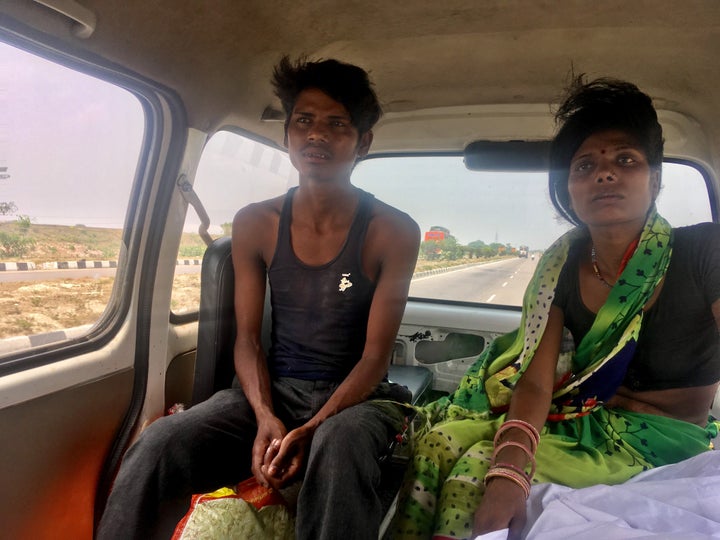 What's the government doing?
On Friday, the medical superintendent of SKMCH, Sunil Kumar Shahi, fielded calls from senior official in Bihar and Delhi.
"It's been three since the morning, sir," he said on the phone.
Turning to the journalists who were sitting around his desk, he said, "The situation is changing minute to minute."
If the heatwave persists, Shahi fears the death in 2019 is likely to cross 2014.
Last week, as news of the AES deaths was breaking, officials in the Bihar government said it was not AES, but hypoglycaemia — a condition by low blood sugar — that was killing children.
"There will be more dead children when I get back."
Shahi, however, made it clear that low blood sugar was just "one finding" in children suffering from AES.
"These are AES cases. There could be many causes and many symptoms, but these are all in the AES group," he said.
People are rapidly losing patience with the Nitish Kumar government's inability to deal with the crisis, which has erupted year after year. On Tuesday, the chief minister was met by protests by angry relatives when he visited Muzaffarpur. Bihar health minister Mangal Pandey has also been the target of much criticism after a video surfaced in which he was seen asking the score for the India-Pakistan cricket match during a state health department meeting on the crisis.
HuffPost India also found that overworked government doctors and nurses are struggling to accommodate VIP visitors such as Pandey, whose presence demands that a full-kitted out ambulance accompany their entourage at all times, even when convoy protocol does not allow for it.
On Sunday, Union health minister Harsh Vardhan, part of the JD(U)'s ally BJP, visited Muzaffarpur and promised to build a 100-bed paediatric ward to fight AES, but as the empty beds in many hospitals prove, what Bihar needs right now are trained doctors more than empty hospital buildings.
The government is now looking for band-aid solutions to tape over the endemic issue. The Bihar government has issued an advisory against eating litchis on an empty stomach, saying that the chemical — methylene cyclopropyl-glycine (MCPG) — affects the brain when sugar levels are low.
On whether the present outbreak could be blamed on litchi consumption, Shahi asked, "Is this the first year that Bihar is growing litchis? Is this first year that children are eating litchis? Have they not eaten litchis before?"
A Muzaffarpur-based paediatrician, who has been following AES for more than 20 years, told Down To Earth, that it was absurd to blame litchis, and that the fruit was only a triggering factor for malnutritioned children.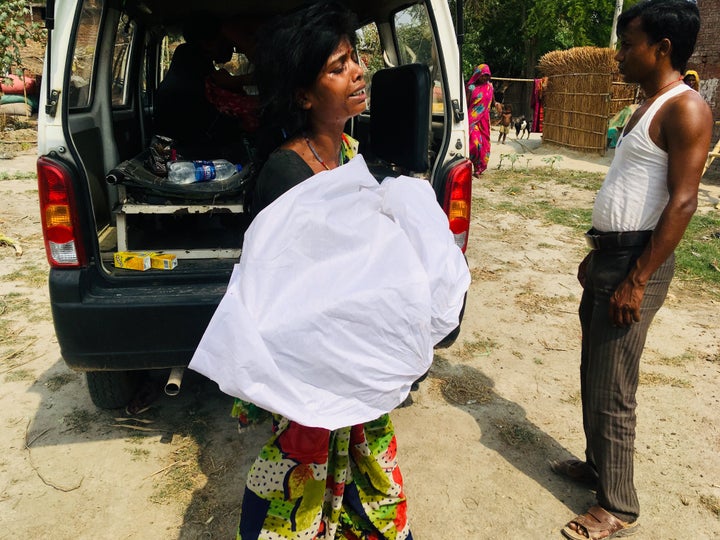 Taking Khushi home
Khushi, her parents said, did not eat litchis, but she did sleep on an empty stomach on Thursday night.
Staring out of the window of the ambulance which was transporting his daughter back to their village, Manjhi said, "There was dal and roti, but she was playing all day and then she fell asleep."
His eyes red and swollen, Manjhi said, "She was always playing. She was a cheerful girl. Why did she die so young?"
Hearing his words, Sunita, who had been patting the sheet that covered her daughter's body, began to cry.
"Is this the first year that Bihar is growing litchis? Is this first year that children are eating litchis?"
Sanjay Kumar, the ambulance driver, said, "Don't cry, don't cry.... I'm hearing so many parents crying these days. It is too much."
Ignoring his pleas for silence, Sunita cried harder, holding her daughter's body steady as the ambulance jolted over the potholes on the road leading to Raja Pakkar village.
As she carried her daughter to her thatched hut, Sunita was joined by other women from the village. As the circle of onlookers — mostly children — grew, the women wailed together.
Standing at a distance, Manjhi replied to Sanjay's questions — name of the deceased, father's name, mother's name — which the ambulance driver wrote down in a register.
Turning to this reporter, Manjhi, who has two more children, said, "I will go back to work tomorrow. We have no money."