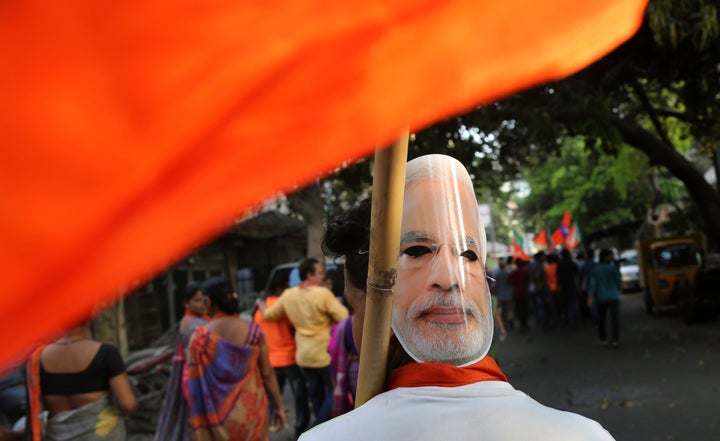 BENGALURU, Karnataka — The Bharatiya Janata Party (BJP) has been using a Jaipur-based private company, Sarv Webs Pvt Ltd, to push political propaganda through mass-messages on WhatsApp, HuffPost India can confirm.
This could be a violation of Indian election norms, although lawyers say it is a grey area. HuffPost India spoke to Raman Chima, Asia Policy Director and Senior International Counsel at Access Now, an international non-profit, human rights, public policy, and advocacy group dedicated to an open and free Internet.
"If it's advertising media pushed to people who didn't sign up for it, it might potentially infringe the guidelines," said Chima. "But not if it's a service that people have opted into. Generally, this is a somewhat unclear area." HuffPost India has written to the Election Commission for more information and will update this copy if the commission responds.
While newspapers have previously reported on WhatsApp groups run by BJP "volunteers", HuffPost India can establish that the party is also using paid private vendors to run its social channels.

HuffPost India established this link by triangulating BJP campaign expenditure statements submitted to the Election Commission of India, where the BJP said it paid 'Sarv Web Pvt Ltd' Rs 23,60,000 for messaging and voice services during the 2017 Gujarat campaign, interviews with a serving Sarv employee who confirmed that the company is still working with the BJP, screenshots shared by a source on the condition of anonymity, and Sarv's own declaration on its website where the company said it works with the BJP for "improving information flow to mass scale".
Given that WhatsApp messages are encrypted, there is no way for WhatsApp or anyone outside these groups — including the Election Commission of India — to monitor the content of these messages.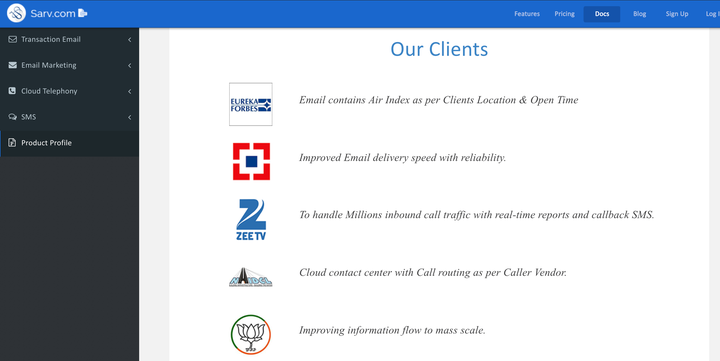 Sarv and the BJP did not respond to a HuffPost India email seeking comment. In an email, WhatsApp characterised such behaviour as abusive and said the platform removes over two million accounts per month for bulk or automated behaviour.
"Attempting to distribute content en masse on WhatsApp requires users to work around the design of our platform. Doing so exhibits signals that we use to identify abusive accounts," the company said.
"When we are confident that an account is abusive, we ban the account from WhatsApp altogether. We then use the information available to us to reverse engineer past behavior to prevent similar abuse in the future."
Whatsapp's efforts to curb bulk-messaging, the company said, "are particularly important during elections where certain groups may attempt to send messages at scale."
This case, where the "certain groups" in question happens to be India's ruling party, illustrates the challenge facing Facebook and WhatsApp, its subsidiary, in attempts to curb the viral transmission of fake news and propaganda on its platforms.
While Silicon Valley platforms were once praised for advancing free speech and expression around the world, over the past few years, Facebook and WhatsApp have been accused of allowing bad actors to influence elections and even trigger riots against vulnerable groups.
"So our numbers get blocked from time to time but we have backups, and you can be sure your messages will get through," the Sarv employee said.
Meanwhile Indian political parties — and the ruling BJP in particular — aren't particularly interested in curbing fake news when it can be harnessed to their own ends. Earlier this month, HuffPost India revealed how the BJP has set up its own secretive political consultancy to spread fake news by operating networks of fake Facebook accounts.
How Sarv Works
According to a current Sarv employee, the company maintains a huge cache of mobile SIM cards and sends the messages through multiple registered numbers.
As WhatsApp restricts the number of participants per group, each number is used to set up multiple groups, according to screenshots shared with HuffPost India. He also claimed that it has systems in place to beat WhatsApp's automated checks (mostly).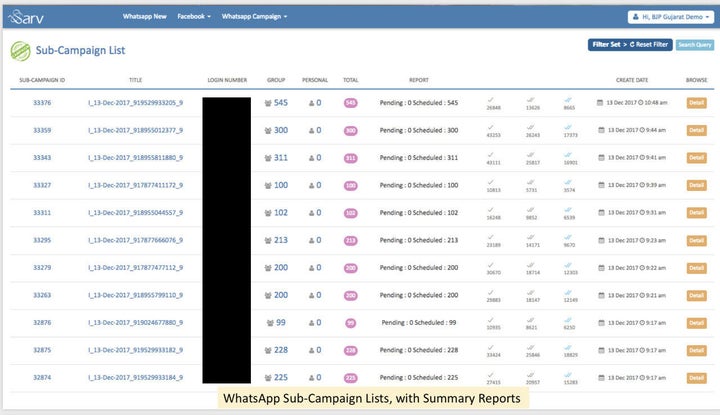 A useful set of dashboards helps users keep track of all the phone numbers associated with a particular campaign, the number of WhatsApp groups each of these phone numbers is part of, and the number of messages sent, received, and read by group numbers.
The dashboards also track the number of replies to their messages, giving a sense of engagement levels within each group. The messages can be sent out on an automated schedule, to make the messaging service more efficient.
For the BJP's Gujarat campaign for instance, Sarv created multiple WhatsApp groups for each constituency, and then created special campaigns to deliver tens of thousands of WhatsApp messages across thousands of WhatsApp groups on December 13, 2017 — one day before the final day of polling.
"Too many messages with the same content all over India is bad," the Sarv employee said. "You need to customise your message for different groups, to do it without any problems." The billed cost per message, the employee said, was about 18 paise (a quarter of a US cent).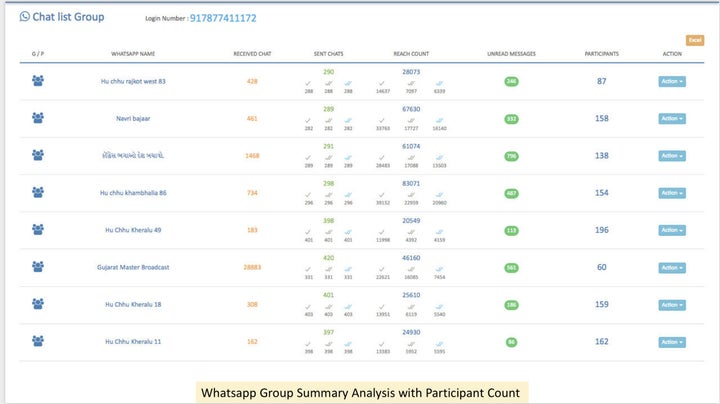 It's important to point out that Sarv isn't the only company offering Whatsapp-based bulk-messaging, and the BJP isn't the only client. Most political parties today, and many private companies use the service, while media houses have been exploring ways to connect with their readers over WhatsApp — which is itself rolling out "business accounts".
Companies that use business accounts can set up automatic welcome messages, quick replies, and more, but it's also very transparent. So far, WhatsApp has not extended business accounts to political parties, and does not verify political accounts, which leaves an opportunity for companies like Sarv.
Yet the Sarv service, as it stands, violates WhatsApp policies, and — in the context of election campaigning — reveals how political parties can reach out to voters without any oversight from traditional watchdogs like the Election Commission.
In the course of this election, HuffPost India peeked into a BJP supporter's WhatsApp inbox to find a chilling selection of messages that seemed to cross the legal boundary between political expression and hate speech. HuffPost India couldn't establish who these messages were originally sent by, but their content illustrates how easy it is to spread hate on Facebook.
For instance, one message sent on polling day in the first phase of the elections said, "Residents of Meerut, this is the last appeal.... you will find blood and flesh in your water tanks and taps... if you vote for the lover of slaughterhouses."
WhatsApp Wallas
The BJP has invested a great deal of time and energy in harvesting millions of WhatsApp numbers of potential voters. Websites linked to the party ask potential voters to share their phone numbers, to be added to BJP groups.
For instance a website called Modi11, run by the Association For Billion Minds — the party's in house political consultancy, asks volunteers to share their phone numbers with the party, and also offers WhatsApp "status downloads" that allow supporters to replace their WhatApp display photos with their favourite Modi photo (really).
BJP office bearers have often spoken of the importance of social media platforms. In an interview with the Economic Times, Amit Malviya, head of BJP's IT cell, said, "The upcoming elections will be fought on the mobile phone. In a way, you could say they would be WhatsApp elections."
Data harvesting strategies like these have allowed the party to build a vast databank that can then be handed over to private vendors like Sarv, who can then unleash a barrage of propaganda.
WhatsApp has tried to curb the misuse of its platform by running public awareness campaigns about fake news, ads in print and television besides on video platforms like YouTube. It has also made a number of changes such as limiting the number of people you can forward a message to, added a tip-line for fake news, and improved privacy settings for groups.
But ultimately each of these measures are unlikely to prevent well-financed political parties, who just happen to run the government, from misusing the platform.