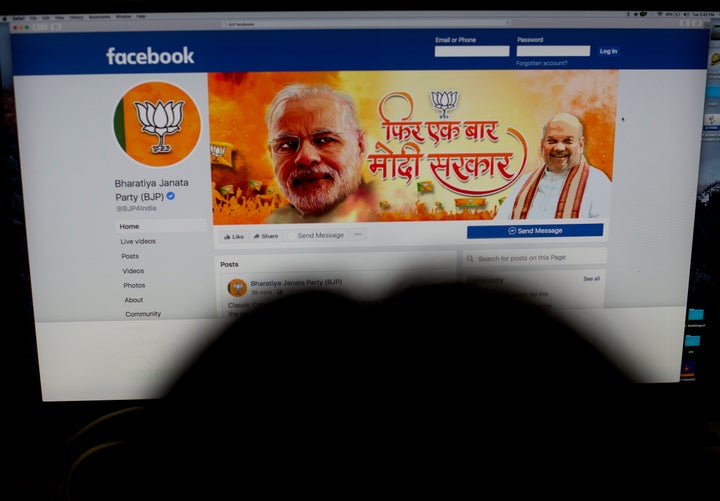 BENGALURU, Karnataka — Since Facebook launched its Ad Library in February to track spending on political ads in India, Rs 12,18,45,456 (over Rs 12 crore) has been spent in two months, across the political spectrum. Analyzing the data presented by Facebook, you see that the vast majority of this has been the Bharatiya Janata Party (BJP) and its supporters. It has also dominated the numbers for ad spending on Google.
The biggest advertiser is a page called Bharat Ke Mann Ki Baat, which ran 1,230 ads without any disclaimer, and 2,498 ads with. It's total spending was a little over Rs 2.2 crore, but that's for one page alone. This was followed by Nation with NaMo (just over Rs 1.2 crore), and My First Vote for Modi (just over Rs 1 crore).
If you look at the advertising spread across different pages, official and otherwise, then the BJP-related spending tallies up to over Rs 5 crore — 45%, or almost half, of the total political ad spend on Facebook.
Meanwhile, on Google, the BJP is listed as its biggest advertiser since ad transparency started reporting this information, with a spend of Rs 1.2 crore. Actually though, the TDP has spent more, through two private companies, Pramanya Strategy Consulting (Rs 85 lakh), and Digitant Consulting (Rs 63 lakh).
The total spending on Google is fairly low compared to Facebook, having reached Rs 3.7 crore since February—mostly in Andhra Pradesh (Rs 1.7 crore), and Telangana (Rs 72 lakh), followed by UP and Maharashtra (Rs 18 and Rs 17 lakh each).
The next heaviest advertiser on Facebook is the Indian Political Action Committee (IPAC), which spent a little over Rs 42 lakh. It is running ads for the YSRCP candidate for Chief Minister, Jagan Reddy. IPAC founder Prashant Kishor was a leading advisor to the BJP in the 2014 elections, and it's clear that both it and the BJP are following a similar playbook, because the YSRCP is also the second biggest advertiser on Google, having spent just over Rs 1 crore.
"Many of the BJP-affiliated pages here also claim to be independent, and that raises the question of why Facebook does not take action."
On Facebook, YSRCP is followed by MyGov India, which spent just over Rs 44 lakh, followed by the Bharatiya Janata Party (officially) at Rs 36 lakh. MyGov is described on its site as a citizen-centric platform to connect with the government, but the advertisements, more than half of which ran without a disclaimer, typically prominently featured Prime Minister Modi, apart from more neutral messages telling people to vote for the first time.
Next up is the Indian National Congress, which spent just under Rs 26 lakh—most of that in the previous week (Rs 19 lakh). In the last week, it unleashed an ad blitz to promote its manifesto.
Earlier this week, Facebook took down hundreds of pages that were guilty of political spam, and hiding the political ownership of the pages. The takedowns did not have to do with the content of the pages, but how they presented themselves. Many of the BJP-affiliated pages here also claim to be independent, and that raises the question of why Facebook does not take action.
Will the ECI's call for pre-approval of ads change things?
After a meeting between the Election Commission of India (ECI), the Internet and Mobile Association of India (IAMAI) and representatives of social media platforms like Sharechat and Twitter, the online platforms have agreed to adopt a code of ethics for the Lok Sabha elections.
These are almost entirely in line with the ECI's recommendations from January, and include a notification mechanism for the ECI to report violations to platforms, which come in many forms, including online forms, a submissions portal, and email addresses, along with the appointing of grievance officers to communicate with the ECI and deliver prompt action.
One social media executive, speaking on background, said, "Look, we definitely want an unbiased election. But it's incredibly challenging in terms of scale. We can build filters and train AI and hire people to review content, but it's a constantly moving target."
"Formulation of the Code augurs a good beginning but is essentially a work in making."
With the short period between now and the start of the voting on April 11, it's unclear how effective these changes will be, and given that much of the advertising described above comes not from the official parties but "third party volunteers", the impact of this code of ethics is likely to be limited, if anything at all.
Many civil society members also took to Twitter when the code was announced by the IAMAI to say that it was vague and didn't really clarify things like timelines, direct rules for what content is and is not allowed, or what actions should be taken in case of violations.
In turn, with just a couple of weeks to go, Chief Election Commissioner Sunil Arora issued a statement that he appreciated the steps taken, and said that "formulation of the Code augurs a good beginning but is essentially a work in making".
Who's looking at political ads on Facebook?
The ads are heavily seen by males in the 18-24 years bracket. Given the way Facebook's Ad library works, it's actually a little difficult to carry out a quantitative analysis, but random sampling suggests that the ads were seen by people widely spread across India.
For instance, a randomly chosen English-language ad in the Bharat Ke Man Ki Baat page was seen by 76% males in the 18-34 brackets, compared to 2% women. Geographically, 33% of views took place in West Bengal. Karnataka followed at 17%.
A Hindi language ad from the same page saw similar gender distribution, but 32% of the views were from Uttar Pradesh instead. Madhya Pradesh accounted for another 12%, while West Bengal had dropped to just 2%.
It's similar with the My First Vote for Modi page. This page promotes merchandise, along with political messages, and sees a slightly higher composition of women reading the ads (although the gender ratio is still very heavily skewed), and is again spread evenly across the country.
The Nation with NaMo page targets even more finely — one recently posted ad about cricketer Gautam Gambhir, who's expected to be getting the BJP ticket from Delhi is seen 100% by men in the 25-34 bucket, and 100% by people in Delhi.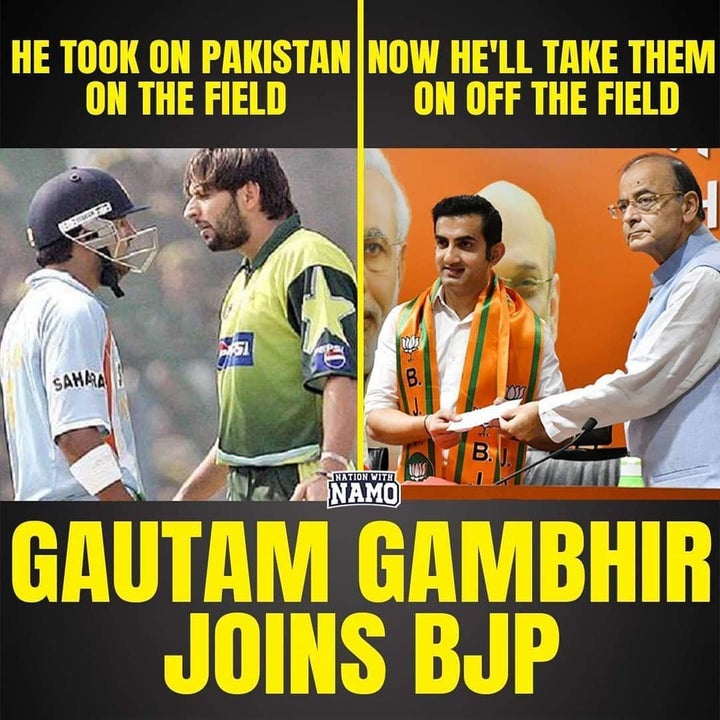 Another ad from the page, promising T-shirts and certificates, is again seen almost exclusively by men, but this time the top three states are Karnataka, Tamil Nadu, and Kerala. In this way, the ads cycle through regions, but are seen almost exclusively by men.
Interestingly, the official BJP page goes in almost the opposite direction. Its latest ad, on the #MainBhiChowkidar campaign, was seen exclusively by women—71% in the 45-54 bucket, and 28% in the 55-64 bucket. Scrolling back into the ad history, you see a similar breakdown across age and gender, while regions keep cycling across India.
Statistical analysis by Quartz conducted a month ago when the process had just begun largely aligns with what HuffPost India found, except for the point about the BJP's official page. Qz noted that Indian political ads were almost never seen by female users. The same was true for the Aam Aadmi Party, which claimed it wasn't targeting women, and that the distribution was just the result of Facebook's algorithms. This was true for the Congress as well.