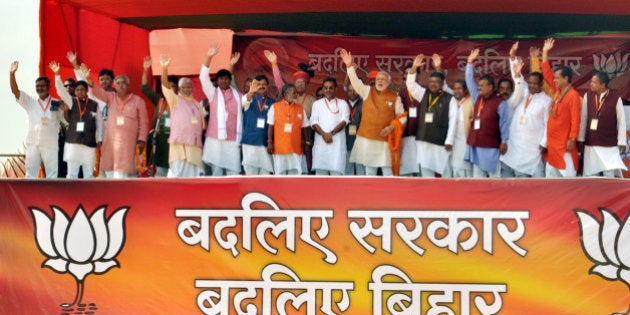 PATNA, Bihar -- Who is to blame for the BJP-led alliance's dismal performance in Bihar? A lot of blame will go around to the BJP's allies, its local leaders in Bihar, to Mohan Bhagwat for his reservation comment, even some cabinet ministers. But make no mistake: it was the BJP itself that ran a poor campaign.
Travelling hundreds of kilometres to every region of Bihar this election, what this writer heard most frequently from voters was that they hadn't made up their mind yet. You won't find this in any reports, because it doesn't make sexy copy, but it's true. Voters have the peculiar idea that their vote should not be "wasted"; it should go to the winning side, to make sure they are on the right side of power.
For this reason, perceptions are most important in contesting elections. If you can create the perception that you are winning, the perception becomes reality.
The BJP kept losing the perception game step by step. It made every conceivable mistake it could have, turning its Bihar campaign a textbook case in how not to contest an election.
1) Making it a Delhi vs Patna election
Firstly, the BJP raised the stakes of the election far too high, making it clear from day one that it was Modi's election, not the Bihar BJP's. In his inaugural rally in Patna's Gandhi Maidan on 16 July, BJP president Amit Shah said (video), "Mitron, is Bihar kay chunav ka bohot mahatva hai… Bihar ki janta ko kehna chahata hoon ki aisa mat maniye ga ki Bihar ke chunav ka parinam, uska asar, Bihar tak rehnay wala hai." (Don't think the impact of the Bihar election results is going to be limited to Bihar.)
The posters and hoardings that came up made it clear: it was an election between Narendra Modi and Nitish Kumar. In doing so, the BJP put forth an incumbent, the prime minister, making Nitish-Lalu look like the challengers.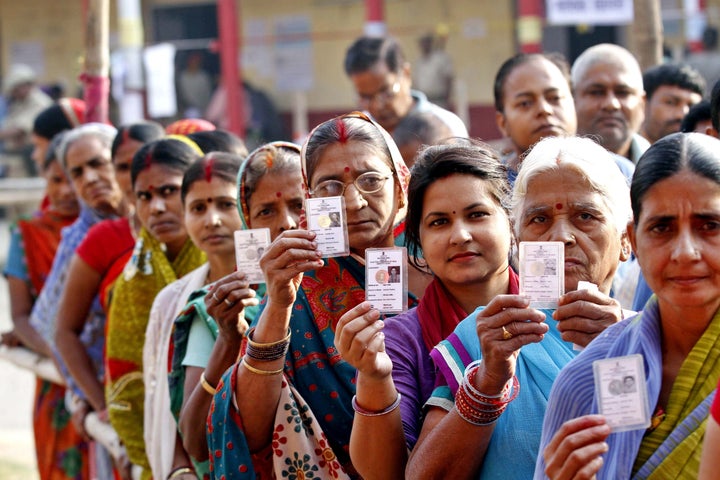 If the BJP had instead put forth former deputy chief minister Sushil Kumar Modi as its face, the Modi government's performance would have been much less of an issue in this election.
As Amit Shah tried to become a mass leader, putting his photographs on equal footing with the prime minister's, the Mahagatbandhan got an easy opportunity to say the election was "Bihari versus Bahari". They wouldn't have been able to say this had it been only the prime minister's face. Shah's 200 odd rallies got poor crowds.
Modi's first rally in Muzaffarpur seemed to be more about his personal ego issues with Nitish Kumar than about targeting the Mahagatbandhan's weakness, the alliance with a pretty discredited Lalu Yadav. As Nitish Kumar capitalized on the PM's "DNA" remark, it cemented the Nitish-Lalu alliance.
Similarly, the BJP, and Modi himself, targeted Nitish Kumar for meeting a tantric. A year old video was released.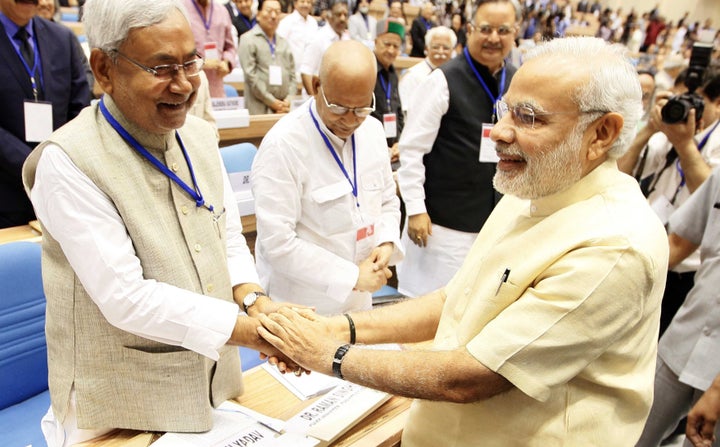 In 2014, voters wondered why Nitish Kumar was personally targeting Narendra Modi. After all, Nitish Kumar wasn't going to be prime minister. In 2015, voters wondered by Narendra Modi was personally targeting Nitish Kumar. After all, Narendra Modi wasn't intending to become chief minister. So when Modi described the Nitish-Lalu-Congress alliance at 3 Idiots, it only showed him in poor light.
3) The failure of the development plank
Modi's central package did not attract voters, as it became a matter of technicality. Nitish Kumar had been asking for a package of Rs 50,000 crores. Narendra Modi announced, in a dramatic way as though it was an auction, a package of 1.65 lakh crores. By this time, the Nitish campaign had spread its new slogan, "Jhansay mein na aayengey, Nitish ko jitayenge." (We won't be deceived; we'll make Nitish win.) The figure of 1.65 lakh crores, announced in a melodramatic way, added to Narendra Modi's image as a great seller of dreams so big they become a bit unbelievable.
The BJP's development plank also didn't work because voters were unhappy with Modi's performance as prime minister. Except for the fourth phase areas in the Tirhut region, voters everywhere complained about food inflation, as the Mahagatbandhan supporters shouted the slogan "Arhar Modi," referring to the high prices of arhar dal. They complained about reduced funds in various poverty alleviation schemes such as the Indira Awas Yojana, NREGA and the food security law. They also didn't see the point of the Jan Dhan Yojana, saying that they opened those accounts thinking Modi will send them money through it.
4) Re-scheduling Modi's rallies
The biggest mistake the BJP made once the elections began, was to first announce 40 rallies by prime minister Modi, then cancelling a week full of rallies after the first phase, then going overboard, getting Modi to address 17 rallies in 7 days, at short distances.
When the BJP cancelled Modi's rallies after the first phase, the word on the street was that the BJP is panicking as everybody agreed the BJP had done poorly in the first phase. This giving away of desperation was further fuelled by suddenly introducing new posters with photos of new leaders. When Modi was back in every other constituency, it seemed even more desperate.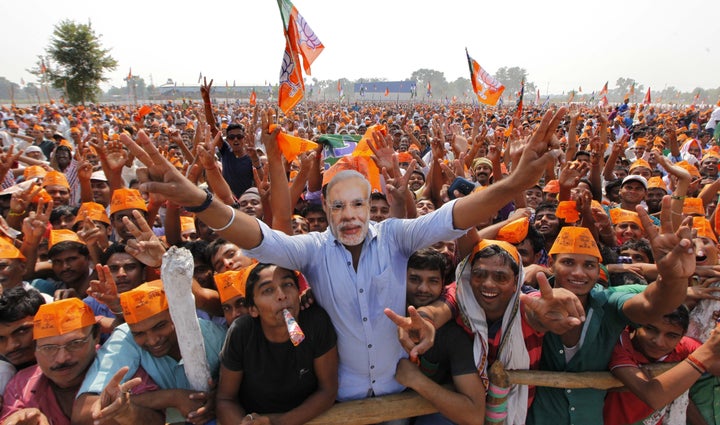 One after the other, the BJP kept giving signals to the voter that they know they are losing. When Amit Shah said there would be celebratory fireworks in Pakistan if the BJP lost, the message was that the BJP is not confident of winning. In an interview after the third phase, Amit Shah publicly admitted that they don't expect to do well in the last phase. Amit Shah, Arun Jaitley and Rajnath Singh made public comments saying the election wasn't a referendum on Modi, and that Amit Shah won't have to leave his captaincy of the BJP even if the party loses Bihar. Such comments only served to deepend the impression the BJP was losing, alienating the large segment of floating, ambiguous and undecided voters.
Lalu Yadav said in a television comment on the cow meat issue that some Hindus too eat beef. For about two weeks, and then again just before the first phase, the BJP made this comment an issue. PM Modi himself referred to this, too. This is when the BJP started deviating from its development agenda and using communal polarization, indirectly appealing to voters to forget caste identity and vote as Hindus.
Communal polarization did not work partly because Nitish Kumar has no image of doing favouritism for Muslims over Hindus. This is also why the allegation that Nitish-Lalu planned to take reservations away from Hindu lower castes and give it to Muslims, did not cut ice with voters. It was obvious to voters that this was the BJP's way of countering the damage done by RSS chief Mohan Bhagwat's statement that there should be a review of reservations.
The beef issue didn't work also because it had nothing to do with Muslims: the debate over Lalu's statement was whether or not Hindus eat beef. The only purpose the BJP's beef campaign served was to give the perception that they know their development plank isn't wooing enough voters.
6) The caste strategy, between a rock and a hard place
The BJP had initially hoped to put together a rainbow alliance of castes, wooing Yadavs and Dalits and EBCs together with its core base of upper castes, excluding only Muslims.
Giving too many tickets to too many upper caste candidates, and then Mohan Bhagwat's call for reviewing reservations, meant that the Yadavs and other OBCs, even EBCs were alienated early on. The BJP then got confused, wooing Yadavs but also alienating them with the talk of "Jungle Raj", which is seen as an attack on not just lalu Yadav but also Yadavs.
By the time the BJP realized it should stop wooing Yadavs to polarize EBCs against Yadavs, it was too late. It should have done this to begin with, given that they were never going to get Yadav votes anyway.
In the end, the BJP was able to win over neither a chunk of OBCs nor of EBCs.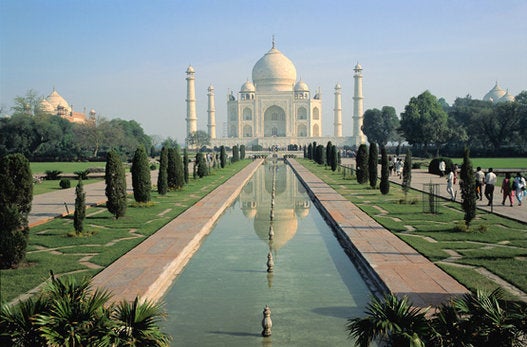 India's Top 10 Tourist Destinations, According To Flickr