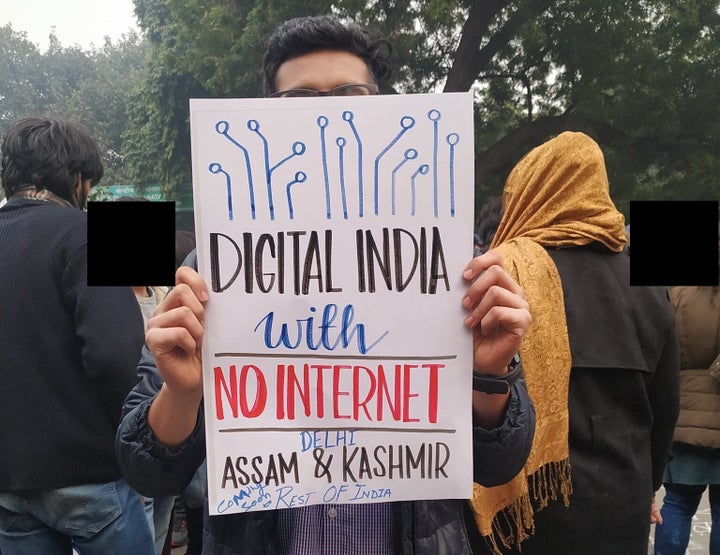 India ranks behind only Iraq and Sudan in terms of money lost in 2019 due to internet shutdowns, according to a report published on Tuesday. The report also found that in terms of the number of hours shut down, India again ranked third, behind Myanmar and Chad. This is a direct consequence of the BJP government's fondness for Internet shutdowns—people in Kashmir have not had Internet access since August 2019, and there have been many long shutdowns in the Northeast, especially during the recent protests against the Citizenship Amendment Act.
The report, titled The Global Cost of Internet Shutdowns in 2019, was published by Top10VPN, a publication focused on online privacy.
Samuel Woodhams, Digital Rights Lead at Top10VPN and one of the co-authors of the report, said, "With the growth of the digital economy and rising connectivity rates, the economic impact of internet shutdowns is becoming increasingly severe. We have also seen an increase in the number of internet shutdowns in recent years and, as the case of Kashmir has shown, they are also becoming longer, all of which exacerbate the negative economic impact."
According to the NY Times, at one point in December, 60 million people in India were cut off from the Internet, and as this new report by Top10VPN shows, that has a direct impact on the economy. According to the Cellular Operators Association of India, shutdowns in India cost phone companies $350,000 (approximately Rs. 2.5 crore) per hour, and the economy even more. This latest report states that India logged 4,196 hours of Internet shutdowns in 2019, leading to a total loss of over $1.3 billion (approximately Rs 9,347 crore).
"Our calculations are based on the well-respected Cost of Shutdown Tool (COST), which uses indicators from the World Bank, ITU, Eurostat and U.S. Census," a spokesperson for Top10VPN explained. "This tool only provides national-level calculations so to determine values for Indian regional shutdowns, we calculated the affected regions' economic output as a proportion of GDP and applied that to the tool's results."
As the report notes, the most significant disruptions have been in Kashmir where, after intermittent shutdowns in the first half of the year, access has been blocked since August, with no end to restrictions in sight. Other areas with long-term blackouts include Uttar Pradesh, Arunachal Pradesh, Tripura, Assam and Meghalaya.
Losses could be higher
The report only calculates the costs for specific regions, and doesn't take into account the more localised Internet shutdowns in India. The report notes:
India imposes Internet restrictions more often than any other country, with over 100 shutdowns documented in 2019. As they tend to be highly-targeted, even down to the level of blacking out individual city districts for a few hours while security forces try to restore order, many of these incidents have not been included in this report, which instead focused on larger region-wide shutdowns. The full economic impact is therefore likely to be higher even than our $1.3 billion figure.
Lawyer and activist Mishi Choudhary had told HuffPost India during the Delhi shutdown, "It's really concerning that the capital city of the largest democracy in the world has shut the internet down and cut off its citizens from communicating. This is unprecedented and could have an irreversible and detrimental impact on India's aspiration to become a Digital Leader."
In Kashmir, the Internet shutdown imposed by the government has devastated businesses. "Since we are dependent on the local market and an uninterrupted internet service, we had to completely shut down our office after 5 August," Sajid Nahvi, the Chief Operating Officer (COO) at Kashmir Box, a website that sells art and craft products, had told HuffPost India in November.
Nahvi had said the site employed 40 people, and did business in 55 countries, before the Internet shutdown in Kashmir.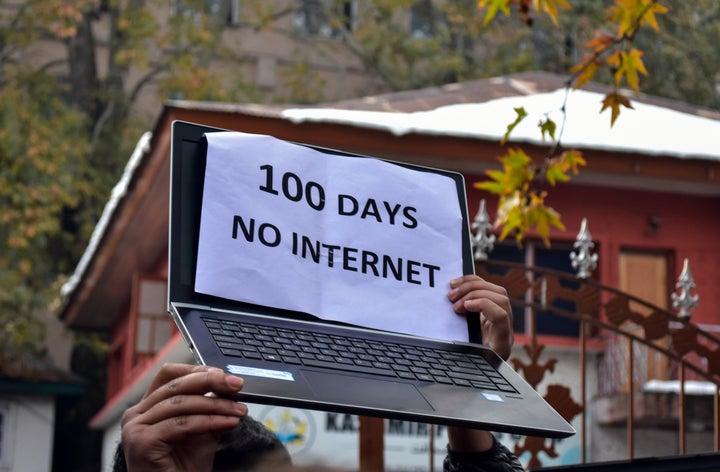 According to recent estimates by the trade body Kashmir Chamber of Commerce and Industry (KCCI), the losses suffered by the Valley's business community is more than $1 billion (approximately Rs. 7,190 crore).
Internet shutdowns hit the valley particularly hard because for many people, Internet-connected businesses were seen as a reliable option in a region where government jobs are harder to come by. Young IT professionals returned to Kashmir over the years and launched their startups, but these companies are all completely dependent on Internet connectivity.
Number of shutdowns has shot up
This also means that the scale of Internet shutdowns in India rose sharply in 2019. A report by Indian Council for Research on International Economic Relations (ICRIER) stated that India has seen 16,315 hours of Internet shutdown from 2012-2017, costing the economy approximately $3.04 billion (approximately Rs. 21,587 crore). That means that in a single year, 2019, the BJP's shutdowns have run up losses that are almost half of a five-year period.
For India, this Top10VPN report used Internet shutdown data tracked by SFLC.in, a not-for-profit legal services organisation, on its tracker internetshutdowns.in. According to the tracker, there were 106 Internet shutdowns in India in 2019. In 2012, there were only three shutdowns — while 2020 has already had three shutdowns imposed in its first week, according to the tracker.
The maximum number is, unsurprisingly, in Kashmir, with 180 shutdowns. Rajasthan follows with the second highest number of shutdowns since 2012, at 68, well ahead of UP which is at No.3 with 28 shutdowns. The shutdowns really peaked in the past three years, with 79 in 2017, 134 in 2018, and 106 in 2019.
Popular in the Community