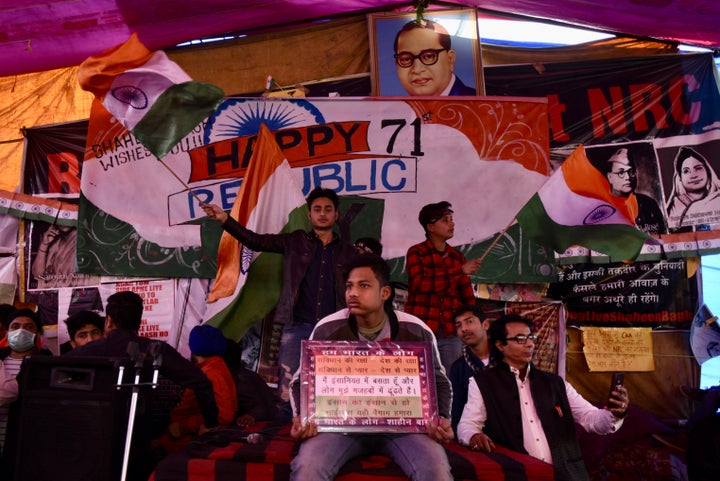 The peaceful protests at Shaheen Bagh in New Delhi against the Citizenship Amendment Act (CAA) have managed to capture the attention of an entire nation—not only have the women of Shaheen Bagh inspired similar protests across the city, people in Uttar Pradesh, West Bengal and other states have also taken inspiration from them.
The growing number of 24/7 sit-in protests seem to have riled up the Narendra Modi government so much that a contingent of ministers and BJP leaders are trying hard to discredit the protesters. From calling them "anti-national" and part of a (fictional) "tukde, tukde gang", they have used every trick in the book to claim that the protests are not actually against the problematic and discriminatory CAA.
The latest to join this group is Union Law Minister Ravi Shankar Prasad, who on Monday sought to dismiss the principles of geography.
"Shaheen Bagh is not an area anymore, it is an idea, where the Indian flag is being used as a cover for the people who want to divide the country, it is being supported by tukde-tukde gang," ANI quoted him as saying.
NDTV quoted Prasad as saying, "Shaheen Bagh is emerging as a textbook case of a few hundred people seeking to suppress the peaceful majority. This is the true face of Shaheen Bagh and uncovering it in front of the country is very important. Rahul Gandhi and Arvind Kejriwal are both silent on this issue."
Prasad's comments come on the heels of Home Minister Amit Shah's divisive spiel at a Delhi election rally on Sunday. While the Modi government may have come to power on the slogan "sabka saath, sabka vikas", the inclusivity, it seems, was not meant for the residents of Shaheen Bagh, as Shah called for a "Shaheen Bagh-free" Delhi.
PTI quoted Shah as saying on Sunday, "Your vote to BJP candidate will make Delhi and the country safe and prevent thousands of incidents like Shaheen Bagh."
Shah said, "When you press the button (of EVM) on February 8, do so with such anger that its current (poll result) is felt at Shaheen Bagh."
News18 quoted Shah as saying, "We want a Delhi free of pollution, clean water in every household, 24x7 electricity, good facilities for education, no slums or unauthorised colonies, a rapid transport system, cycle tracks, world-class roads where there are no traffic jams and there is never a Shaheen Bagh… we want such a Delhi."
Before Shah, Union minister Prakash Javadekar claimed last Friday that people were being misled. "Slogans like 'Jinnah wali Azadi' are being raised. People need to decide what they want – Jinnah wali Azadi or Bharat mata ki jai".
There is no proof that Shaheen Bagh protesters raised any such slogans, as was insinuated by Javadekar and earlier by BJP spokesperson Sambit Patra.
The minister also claimed that Delhi chief minister Arvind Kejriwal was behind the protests.
The BJP attacked the men of Shaheen Bagh because women were on the frontline of the protests, something that has otherwise drawn praise from all other quarters.
Uttar Pradesh chief minister Yogi Adityanath took a sexist dig at the protesters, asking why the men of Shaheen Bagh were "sleeping under the quilt while women have been pushed forward".
NDTV quoted him as saying, "These people (referring to male anti-citizenship law protesters) do not have the courage to participate in the protests themselves... what have they done? They started making the women of their houses sit at roads. The children have been made to sit too."
BJP leaders have also accused the women of Shaheen Bagh of taking money for the protests. BJP IT cell chief Amit Malviya suggested that the women who have spent day and night at the protests had been paid Rs 500.
Malviya had shared an unverified video, and said, "Shaheen Bagh protest is sponsored... सारा कांग्रेस का खेल है."
In retort, the Shaheen Bagh women sent him a defamation notice.
The Shaheen Bagh protesters have written to Prime Minister Narendra Modi asking him to visit them or a "chai pe charcha" on the CAA and NRC, but the government and its representatives have shown more enthusiasm to attack them than engage in dialogue.
Popular in the Community