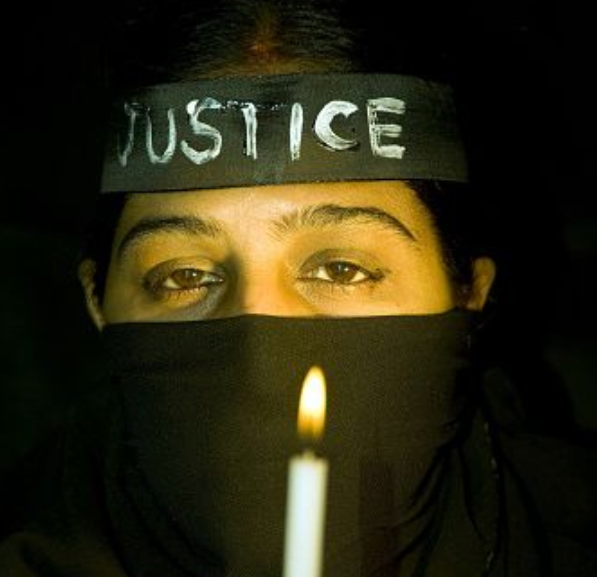 LUCKNOW, Uttar Pradesh — A 28-year-old woman has accused Apoorva Dwivedi, an intelligence officer and the son of Poonam Dwivedi, the Bundelkhand head of the Bharatiya Janata Party (BJP) Mahila Morcha's (Women's Wing), of pressurising her into having sex with him after making a false promise of marriage.
In India, the Supreme Court has sent out conflicting signals on the interpretation of consensual intercourse in cases where sex is obtained under the false promise of marriage. In its latest verdict, the court said, "To establish a false promise, the maker of the promise should have had no intention of upholding his word at the time of giving it."
In an interview with HuffPost India, the woman said the Uttar Pradesh police was delaying the investigation in a bid to shield the accused, and shared a police statement, obtained under the Right to Information Act, that suggests that the UP police has sought to alter the course of their investigation after a final report had already been prepared on June 2, 2019.
HuffPost India has accessed a version of the final report of the case that states the police have interviewed witnesses, and conducted a doctor's examination, and have found evidence to suggest a crime was committed under Section 376 of the Indian Penal Code (rape) and Section 420 (cheating). The report is unsigned, but is dated 2 June 2019.
The 2 June 2019 date on this version of the final report also tallies with an automated SMS text message the woman received, informing her that the chargesheet in her case was sent by Investigating Officer Brijesh Singh to Ashiyana police station on that same day.
UP Police spokesperson Deenanath Mishra told HuffPost India that, "the investigation is ongoing."
The woman, who works in the Human Resources (HR) department of private company, told HuffPost India that she met Dwivedi on Tinder, last year. The couple briefly lived together in Lucknow for a month-and-a-half, she said, and she had intercourse with Dwivedi under duress.
"He kept torturing me to get physical with him," the woman told HuffPost India. "He kept saying it was totally fine because we would be getting married."
The pressure to have intercourse, she said, increased once they began living together. "After the live-in situation, it was a fight everyday. It was traumatic. After a while, I I gave up," she said, explaining that she finally succumbed to his entreaties.
Dwivedi, a 29-year-old Assistant Central Intelligence Officer (ACIO) at the Intelligence Bureau in Lucknow, has denied the charges.
His mother, Poonam Dwivedi of the Women's Wing of the BJP, told HuffPost India said the woman, the witnesses, and the entire case were all "frauds", and that the police force— which answers to the state government run by her own party— had lodged an FIR and began an investigation under pressure.
"She is putting all kinds of pressure tactics," Poonam Dwivedi said of the survivor, without elaborating on what these tactics were. Poonam Dwivedi also accused the survivor of extortion in her statement to HuffPost India, but provided no evidence to back her claim.
Sengar Syndrome
The woman's allegations come at a time when the Uttar Pradesh police is under fire for their reluctance to pursue cases against functionaries of the ruling BJP as evinced in the now infamous Unnao case involving rape and murder charges against MLA Kuldeep Sengar, who was expelled from his party in July.
In an interview, the woman told HuffPost India that the UP police took action 20 days after she first approached them, and have subsequently delayed each step of the investigative and judicial process. HuffPost India is withholding her identity as required by Indian law.
A First Information Report (FIR) was filed on 10 November 2018, the woman said, but only after she approached Senior Superintendent of Police (SSP) Kalanidhi Naithani, who ordered the Ashiyana police station to register her complaint. Even so, she said, she was forced to stage a sit-in at Naithani's office before the police let her give her statement to a judicial magistrate under Section 164 of the Code of Criminal Procedure. (CrPC).
On 14 November, the Lucknow Bench of the Allahabad High Court granted Dwivedi a stay on arrest. Since then, the case has been transferred between four different Investigation Officers before a chargesheet was finally prepared seven months after her complaint was registered.
On 2 June, 2019 the woman received an SMS text message informing her that the chargesheet in her case was sent by Investigating Officer Brijesh Singh to the Ashiyana police station on 2 June.
When almost a month passed without the charge sheet being submitted in court, the woman filed an RTI application, asking about the status of her case. On 16th August 2019, a police officer named Deepak Kumar Sharma replied to her RTI in Hindi, saying that a charge sheet was indeed prepared on 2 June 2019, but "the charge sheet had been stopped by a supervisory officer who has asked for a re investigation along specific points."
The date of the unsigned charge sheet, 2 June 2019, which HuffPost India accessed, checks out with the Sharma's RTI reply. The woman has confirmed to HuffPost India that she did undergo a medical examination, but said she was not provided a copy of the report.
Tinder Trauma
The woman says that she met Apoorva Dwivedi, an IB officer based in Lucknow, on the Tinder dating app. She says that Dwivedi insisted on a physical relationship right away, and within a short duration assured her that that they would be married and insisted on a live-in relationship.
The woman, who now lives with her mother and sister, says that it was only on the basis of this assurance of marriage that she agreed to live with him and, despite her own misgivings, had sex with Dwivedi.
"I thought what should have happened after marriage has happened before marriage, but it's okay. We are getting married anyway," she said. "But after a month-and-a-half, I found out that he never intended to marry me."
The law on live-in relationships is complicated and still evolving in India.
Earlier this year, the Supreme Court ruled that consensual sex in a live-relationship does not constitute rape, even after the relationship ends and the man fails to marry her due to circumstances beyond his control. In such cases, the woman can initiate a case of breach of promise to marry rather than a case of false promise to marry.
However, the Supreme Court also said, "The court, in such cases, must very carefully examine whether the accused had actually wanted to marry the victim or had mala fide motives and had made a false promise to this effect only to satisfy his lust, as the latter falls within the ambit of cheating or deception. There is also a distinction between mere breach of a promise and not fulfilling a false promise. If the accused has not made the promise with the sole intention to seduce the prosecutrix to indulge in sexual acts, such an act would not amount to rape."
Legal experts say whether the woman is able to prove that the accused made the promise with the sole intention to have sex, and whether he can refute it, is a matter for the trial.
Meanwhile, this case — which involves a high-profile political leader like Poonam Dwivedi, who is ironically tasked with working on women's empowerment — has been curiously under-reported in the press.
"I don't know what to do. Should I just give up on the case? I don't want to give up but I have to get on with my life. I can't spend another year running between Kanpur and Lucknow, just to be heard," said the woman.
Popular in the Community