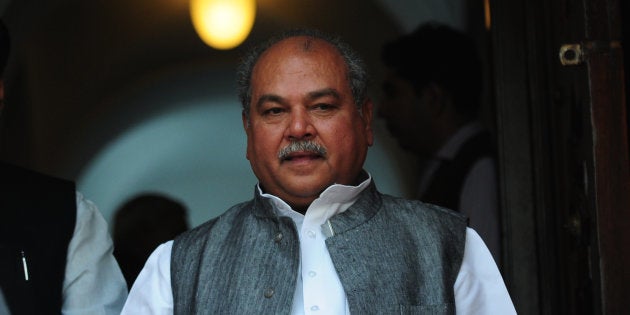 NEW DELHI—Union cabinet minister and Lok Sabha member Narendra Singh Tomar of the Bharatiya Janata Party (BJP) has not disclosed how he has spent over Rs 11 cr of his discretionary fund in his Gwalior constituency, despite directions from the Central Information Commission (CIC), HuffPost India has found.
This persistent denial of information by a senior cabinet minister flies in the face of Prime Minister Narendra Modi's claims of running a transparent, corruption-free government.
The CIC order was based on a Right to Information (RTI) request—filed in September 2017—asking for details of works recommended by Tomar, progress in their implementation, the details of applications received for public works and the basis on which these applications were accepted or rejected by Tomar.
HuffPost India has reached out to Tomar's office, the Gwalior district collector and the Ministry of Statistics and Programme Implementation (MoSPI). This story will be updated once they respond.
All MPs are allotted Rs 5 crore each year to fund projects in their constituency under the Member of Parliament Local Area Development Scheme (MPLADS). Gwalior constituency records show the centre has released Rs 15 crore so far from 2014-15 to 2016-17 out of an entitlement of Rs 25 crore, of which Tomar has recommended works worth Rs 13.33 crore.
Of this, the district administration has approved works worth Rs 13.04 crore, of which Rs 11.16 crore has been spent. About Rs 4 crore remains unspent, according to the MPLADS website.
Yet, it is unclear exactly what this money was spent on, despite a progress report on Tomar's constituency submitted by MoSPI to the CIC in May 2018.
"Entire progress report is reduced into some statistics," the CIC observed in its order. "This report hides more than revealing."
In September 2017, Prashant Jain, a social activist based in Madhya Pradesh, filed an RTI at the Prime Minister's Office (PMO), asking for information about the specific public works recommended by Tomar during his term, and the institutions as well as individuals executing them. The PMO transferred the query to MoSPI.
Under MPLADS, all MPs can recommend projects worth Rs 5 crore per year, based on certain criteria. The MP recommends projects for implementation, MoSPI keeps a track on funding and implementation and the district administration is responsible for executing the projects.
In its first reply to Jain's RTI, sent in September 2017, MoSPI directed him to the "WMS Report" section of the MPLADS website. The website, MoSPI's reply said, hosts information "as per the availability of data entered by the District Authority".
The WMS section of the website, HuffPost India verified, had 19 entries worth Rs 5.27 crore, while the cumulative expenditure incurred thus far (listed on the same website) is Rs 11.16 crore, or about twice the WMS amount. The website gives details of 19 public works recommended by Tomar, requiring total expenditure of Rs 5.27 crore, but they were all proposed in 2015 and 2016. Besides, there is no clarity on the status of their implementation and who executed them at what cost. And the amount is still less than the over Rs 13 crore which Tomar spent, according to the MPLADs website.
When Jain filed an appeal in October 2017, he was asked to pursue the matter with the district collector who, Jain said, did not give him detailed information.
In June this year, M Sridhar Acharyulu of the CIC directed Tomar to furnish all details of public works he recommended during his term to the Gwalior district administration under MPLADS by 12 July 2018.
When he filed a second appeal at the CIC, MoSPI officials shared a monthly progress report about MPLADS for the month of March 2018 during the hearing held in May. Even this report reflected the absence of transparency concerning funds and their use in local projects being implemented under MPLADS.
In June this year, M Sridhar Acharyulu of the CIC directed Tomar to furnish all details of public works he recommended during his term to the Gwalior district administration under MPLADS by 12 July 2018.
However, neither Tomar, his staff, nor the district administration, have responded to the order.
MoSPI, the nodal ministry, responded to the order but shared incorrect information, Jain said.
"I received an email from the ministry with a soft copy of a bunch of documents titled 'gwalior documents' in a single pdf document," Jain said. "But when I opened it, I found all documents are about the MPLAD spending of the Dhar district."
Dhar, another parliamentary constituency, is nearly 600 km from Tomar's constituency, Gwalior, for which the information was sought.
The CIC has strongly criticised the lack of transparency in this case. "The District Authority has hidden the information by furnishing some numbers, they did not communicate any stage of work, benefits or beneficiaries," the CIC said in its order.
Explaining why he thought the MP was also responsible for providing the information, the CIC said, "The Commission considers parliamentarian Shri Narendra Singh Tomar, the MP of Gwalior constituency as deemed CPIO (Central Public Information Officer responsible for giving information) as far as the information sought by the appellant in respect of the RTI application" is concerned.
"Every constituency's voters should know how the Rs 5 crore was spent."
It further said that Tomar must "disclose the information about the progress and explain the delay besides action taken on stoppage of release by MoSPI and non-utilisation of funds".
To be sure, Tomar's is not an isolated case. Numerous government reports note that MPLADS is a poorly implemented and monitored scheme. In a recent document containing the agenda for an All India Review meeting of MPLADS to be held later this month, MoSPI observed that district authorities do not upload "work wise details as well as consolidated statements of physical and financial progress on monthly basis".
"Every constituency's voters should know how the Rs 5 crore was spent," Acharyulu said, adding it was in the MP's interest to do so. "He can proudly claim that I have spent Rs 5 crore in the constituency. In this year, I did this, did that for my own people."