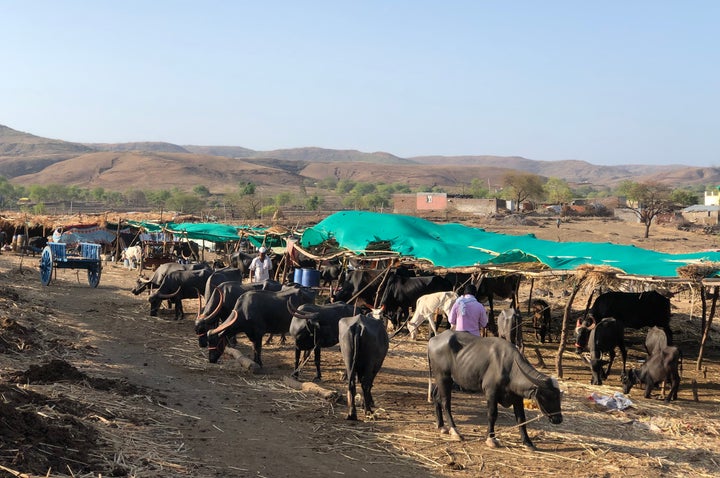 BEED, Maharashtra — As an unprecedented drought devastates rural Maharashtra, politicians from the ruling Bharatiya Janata Party (BJP) and the Shiv Sena are enriching themselves by systematically siphoning off funds and resources from cattle camps meant to help out impoverished cattle farmers.
Local administration officials, including a female officer, who tried to clamp down on the practice have been confronted by mobs who have threatened their safety.
HuffPost India interviewed farmers, social activists, lawyers, politicians and government officials to piece together the workings of a fodder scam that is as straightforward as it is lucrative.
In March this year, the state government set up over 1,400 camps where drought-hit farmers could shelter their cattle. Beed district, one of the worst-affected, was sanctioned 933 camps, out of which 876 were set up, and 545 fodder camps are still operational — feeding 3,49,106 cattle each day as per the latest government figures.
As per government guidelines, local NGOs were invited to manage these camps and provide free fodder and water to these cattle. In return, the NGOs were reimbursed Rs 90 per day to provide 15 kg of fodder for every large animal, and Rs 45 for 7.5 kg of fodder for each small animal in the camp.
In Beed, HuffPost India found that local BJP politician Rajendra Mhaske and Shiv Sena's district president Kundalik Khande have taken control of many of these cattle camps through NGOs set up in the name of their associates, and are systematically inflating the numbers of cattle in their camps, while skimping on the fodder and water provided to the cattle.
After an inquiry and inspection ordered by Beed Collector Astik Kumar Pandey last month, the number of cattle in fodder camps in Beed tehsil reported 16,000 less cattle in a day — meaning money between Rs 7.2 lakh and Rs 14.4 lakh (depending on the size of the animals shown in the ghost entries) was being siphoned off by the BJP and Shiv Sena every day of the drought.
The participation of BJP and Shiv Sena workers in a scam to rob cattle of their fodder and water is particularly ironic, given that both parties have made cow protection a vital, and often violent, part of their political agenda. Prime Minister Narendra Modi has repeatedly claimed to be a national watchman, or chowkidar, but in Maharashtra, his own party workers are literally making hay while the sun shines.
"Most of these NGOs or local organizations are fronts of local politicians," said Ajit Deshmukh, an anti-corruption activist, and a practicing lawyer. "These politicians are so shameless that they want their cuts even when people are facing survival issue due to drought."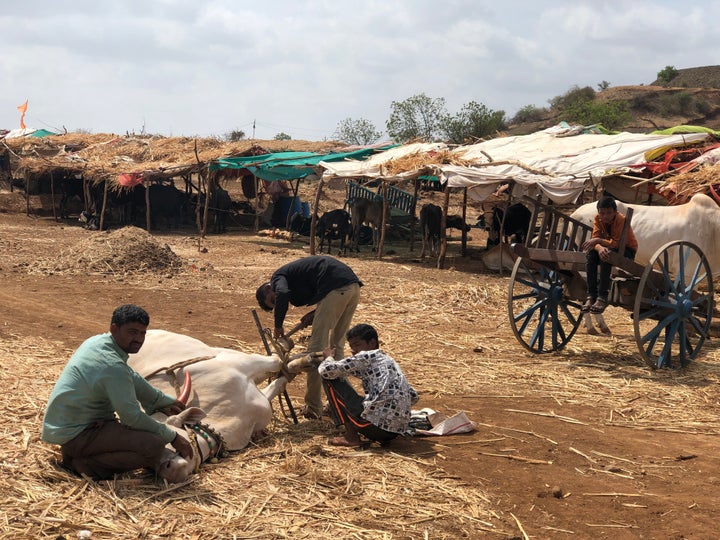 As per government documents, the Jyotiba Bahudesshiya Sevabhavi Santha, an NGO, runs 11 fodder camps across Beed in the villages Ambesavli, Nagapur Phata, Dagadi Shahjanpur, Samnapur, Belkhandi, Piparnai, Padali, Shirapur Gat, Nirgudi, Aher Wadogoan, Chaklamba village.
The registered office of the Jyotiba Bahudesshiya Sevabhavi Santha is the modest home of Kalyan Pawar, a small farmer in Dgadi Shahjanpur village in Beed, who is listed as the NGO's president, according to the registration deed seen by HuffPost India. In an interview, Pawar told HuffPost India that he earns about Rs 2.5 lakh a year from his seven acre plot of land.
So how does he manage to single-handedly run so many camps? Where does he get the money from?
"There are good politicians who are helping me run these camps. I only make sure there is no problem on the legal front," Pawar told this reporter in a candid conversation. "I am a member of Shiv Sena but a political worker of Rajendra Mhaske. Mhaske had asked me to register this organisation in 2006."
Rajendra Mhaske was a member of Maratha group Shiv Sangram until recently but he shifted to BJP reportedly due to the persuasion of late Gopinath Munde's daughter Pankaja who is also a guardian minister of Beed district.
"Khande and Mhaske are working together when it comes to fodder camps and they are running multiple such camps," Pawar told HuffPost India. "They help me run these camps. When the government sanctions amount meant for these camps in my account, I repay it to them and others who help me run these camps."
Kundalik Khande is the Beed district president of Shiv Sena.
When contacted for his reaction, Khande denied that he is running any fodder camp in Beed but he admitted that he helped sanction 40 fodder camps to local Shiv Sena leaders and workers.
"I am not running any fodder camp here. I have only helped some of my workers get sanctions for it. There are many BJP-Shiv Sena leaders who are running fodder camps in this district," Khande told HuffPost India.
Mhaske said that he is involved in working of only three camps where no irregularities have been reported so far.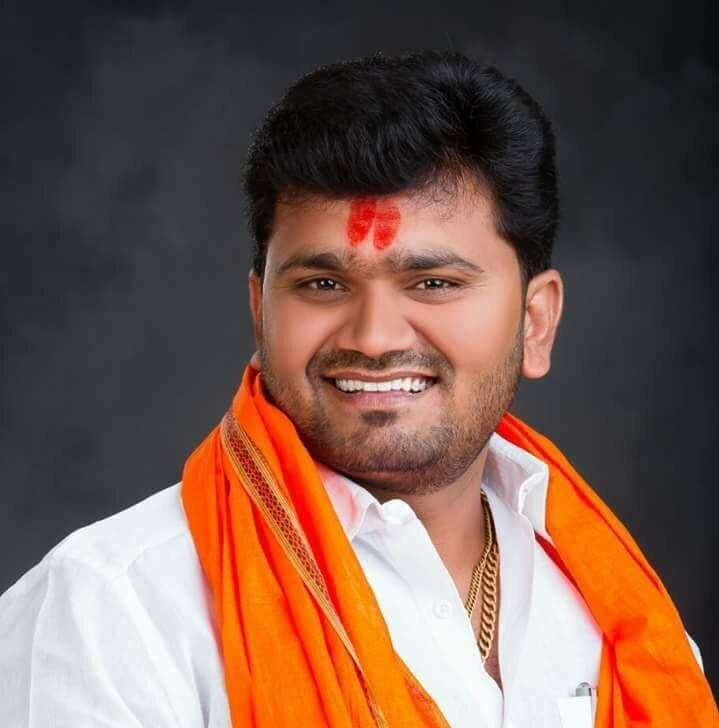 District officials in Beed have tried their best to crack down on the practice, but are cognisant that they are up against local politicians patronised by the BJP state government.
On the evening of May 9, 2019, Sub Divisional Magistrate Shobha Jadhav of Ambejogai division went to inspect a camp situated outside Kolarwadi village on the outskirts of Beed. Officials told HuffPost India that this camp was ostensibly run by an NGO called Matsygandha Sevabhai Sanshta, Beed, but its actual in-charge was Gorakh Singham, the Beed district convenor of Shiv Sena and an associate of district president Khande.
"When I reached this chhavni at around 5 and asked for records, the representatives of Chavni Chalak made me wait," Jadhav told HuffPost India. Chavni is the Marathi word for camp. "After half an hour, Shiv Sena leader Kundalik Khande turned up and told me that this chhavni is being run by one of his workers. When Khande reached this chhavni, some of my officials started texting me on my mobile to not inspect this camp."
When Jadhav insisted on checking records and inspecting the camp, a mob of close to 200 people gathered in front of her and her staff and the camp lights were turned off.
"Khande said that farmers are opposing the inspection. He threatened my staff," Jadhav said. "He did not even listen to the collector who spoke to him on the phone. Sensing the situation, I decided to move my staff away from this spot."
But Beed District Collector Astik Kumar Pandey was adamant on the inspection and sent a deputy collector and a police team to the spot. So Jadhav and her team went back to the Kolarwadi camp and began the inspection, but Khande's men refused to turn on the lights.
The SDM asked for torches and personally inspected every animal but Khande and his men continued to interfere with the inspection and kept trying to intimidate the officers.
"This camp had shown 1607 cattle on record but in our inspection, we found 863 cattle in this camp, 744 less," Jadhav told HuffPost India.
After this incident, the district administration canceled the permission granted to the fodder camp here.
However, within a few days, the NGO running this camp was changed.
If Singham is to be believed, his camp is running normally now and he is getting government grant as well. Officials, however, maintained that Kolarwadi camp was shut down.
The district collector ordered a thorough inquiry into 18 other camps after this incident, most of which were somewhere related to Khande. Next day, the number of cattle in all fodder camps in Beed were shown to be reduced by 16,000 in Beed tehsil.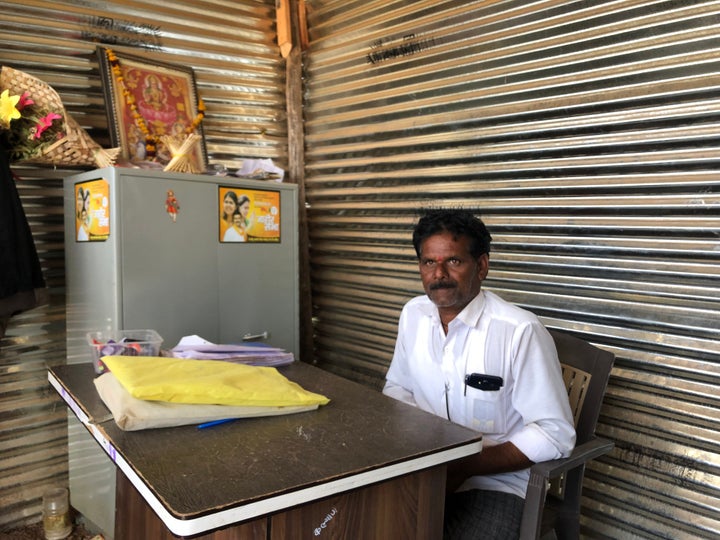 HuffPost India has learnt that district collector Pandey has recommended suspension of three district officials including two tehsildars. An internal note prepared by his office has recommended action against Beed Tehsildar Avinash Shingate for conspiring to allot camps to Khande, who is apparently his relative.
Shingate did not respond to multiple calls and messages from HuffPost India when tried to reach for his reaction.
In public, however, the local administration is doing its best to silence any whispers of wrongdoing.
"Everything is legal on paper," Beed's deputy collector R S Parlikar said when HuffPost India confronted him with these findings. "There is no such wrongdoing. All that was needed to allot Chavni to any NGO was a registration with the charity commissioner that's it"
However, there are exceptions to this money siphoning mafia.
Some camps even provide one-time meal to the farmers in these camps and some others have set up projectors and screens for the entertainment of the farmers.
"Wherever the fodder camps are being run by actual social groups, you won't find any irregularity or attempt to siphon off money. But the moment there is a political connection, you sense corruption," informed a local RSS worker who runs an NGO in Beed.