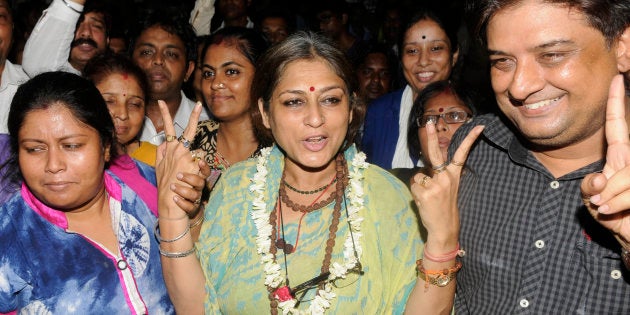 Actor and BJP leader Rupa Ganguly today courted controversy by commenting that people who are backing Mamata Banerjee should send women from their families to Bengal and see if they can survive for 15 days without getting raped.
""I dare all the parties, the ones who keep flattering the Bengal government and Congress, to send their daughters, wives, and sister-in-laws to Bengal without taking any hospitality from Banerjee. If they are able to survive for 15 days without getting raped, then tell me," Ganguly told ANI.
The leader made the comment in regard with the incidents of violence that have been plaguing Bengal after a section of Muslim residents of Basirhat went on a rampage over a meme shared by a Hindu boy on Facebook. The meme cracked a sexually coloured joke on holy Muslim pilgrimage site and the man was arrested by the police. However, that didn't stop from mob violence from spreading and one man has so far died in the violence.
Leaders of various parties have been trading blame over the past couple of weeks and Ganguly is the latest to join the bandwagon.
Not ones to keep quiet, TMC members immediately responded asking how many times Ganguly has been raped in Bengal to have made such a claim.
West Bengal's Power Minister Sobhandeb Chattyopadhyay chimed, "First of all, she should say how many times she has been raped in Bengal. Before accusing anything or anyone, she should reveal this. Then only the truth behind her statement will be realized."
"Politics will be there, but over and above everything, Bengal is our motherland. If she wants to get some political mileage, she can say all this rubbish, but I don't think the people of the region will accept this language, because ultimately it is an insult of the people," he added.
In effect both parties made light of a serious crime like rape to score a political point over another. But then, that's just another day in India.
Popular in the Community