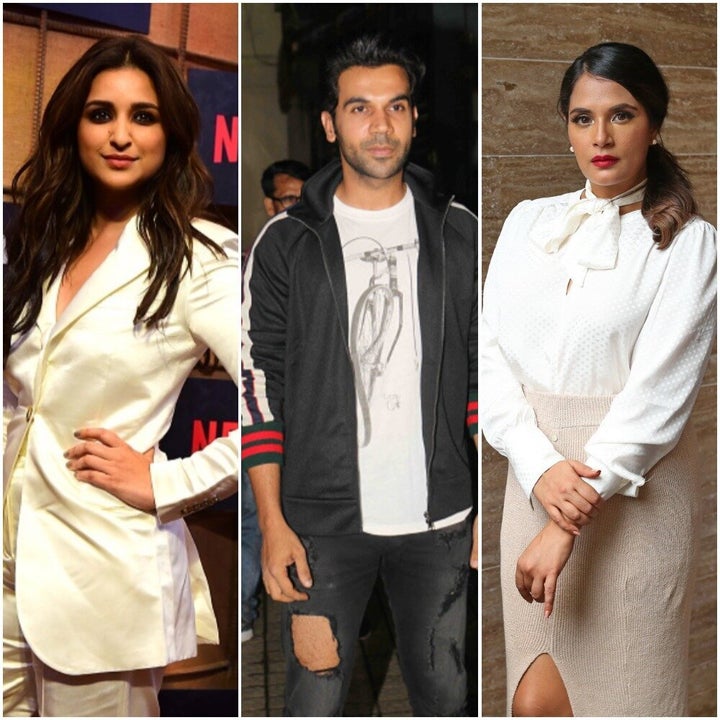 After keeping mum on Day 1 of the protests that started at Delhi's Jamia Millia Islamia but have now engulfed the entire nation, Bollywood seems to have finally found its spine.
After artistes such as Richa Chadha, Sayani Gupta, Huma Qureshi, Anurag Kashyap started tweeting out against the police brutality in Delhi, showing their unequivocal support towards peaceful protesters criticising the BJP's Citizenship Amendment Act, many actors crawled out of their privilege as pressure mounted on the famous and the influential to speak out.
While many, like Vicky Kaushal and Ayushmann Khurrana stuck to carefully crafted, PR-sanctioned tweets that had a lot of 'buts' and 'howevers,' some, like Parineeti Chopra, Pulkit Samrat and Manoj Bajpayee unequivocally called the Act out for its discriminatory nature that threatens to erode the secular fabric of India.
In a statement to HuffPost India, filmmaker Kabir Khan, an alumni of Jamia said, "It's a sad day for a country when even students are denied their constitutional right to peaceful protest. This does not bode well for a democracy."
It must be noted that this is the first time in the nearly 6 years of the Modi government that Bollywood has banded together to register dissent. Many of the actors who've spoken out were also part of a contingent that clicked selfies with the Prime Minister months before elections.
In the Malayalam film industry, filmmakers and actors like Rajisha Vijayan, Aashiq Abu, Parvathy, Anarkali, Sarjano Khalid Amala Paul, Divya Prabha, Muhsin Parari have been sharing posts supporting the ongoing resistance.
It remains to be seen if Bollywood's top brass: the Kapoors, the Bachchans, the Roshans, the Khans and Karan Johar will speak out or maintain a safe distance even as millions of Indian citizens hit the streets. Here's a (work in progress) list on the number of film industry people who've spoken out.
PS: While one is yet to see the scale of repercussions the film industry might face, the first casualty, it appears is actor Sushant Singh. Earlier today, he tweeted that his stint with Star's Savdhaan India has come to a closure. Star is yet to comment on the matter. Singh has been actively talking about the protests and was heard talking at the march held yesterday at Mumbai university Kalina campus.
Alia Bhatt shared a picture of the preamble of the constitution o her Instagram, following it by the words, "Learn from the students."
Vicky Kaushal, Ayushmann Khuranna, Bhumi Pednekar treaded the safe path, condemning 'violence' on both sides.
Anurag Kashyap called out Akshay Kumar for, well, you know it already.
Many Bollywood celebrities have also retweeted details of the Mumbai protest, slated to take place on Dec 19, 4 pm at August Kranti Maidan.
(This post has been updated to reflect that the protest in Mumbai on Dec 19 is at 4 pm. The earlier version mentioned the time as 7 pm)
Popular in the Community