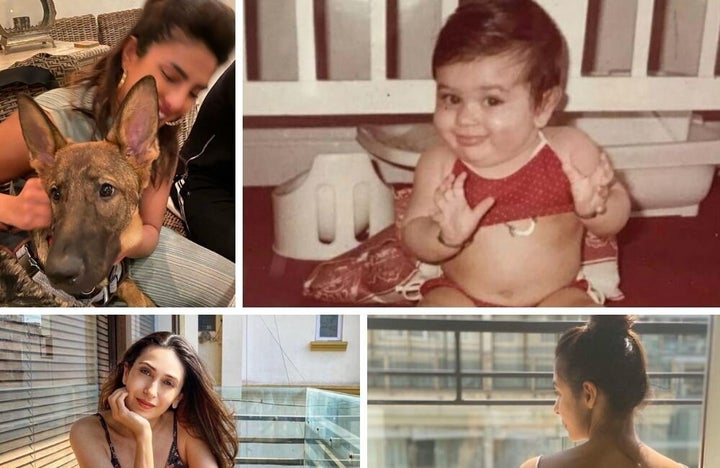 With many Indians practising social distancing and self-isolation across India amid the coronavirus outbreak, social media sites are filled with updates on what people are doing in their homes to pass the time.
Bollywood actors who are usually out and about (remember all those photos of gym looks and airport shots?) aren't very different—theatres have been shut down in many states, and industry bodies have decided to stop shooting until 31 March, bringing the industry almost to a standstill.
Many, including Deepika Padukone and Alia Bhatt, have been posting updates of how they're keeping busy—for some it's reading, for others it's painting. Some are also using the time for self-care with fancy face rollers.
Karisma Kapoor Has A Message
Actor Karisma Kapoor took to social media to open up about the anxiety we all feel, sharing some positivity for her followers.
Kareena Was Social Distancing Years Ago
Sister Kareena, it seems, has been leafing through old photo albums. She posted a photo of her baby self with a funny caption, with the hashtags #stayhome and #staysafe
Saif's Reading (In Candle Light?)
Saif Ali Khan is not on Instagram, but Kareena shared an aesthetic photo of her husband reading a weighty tome. We love the shelfie but the candle is burning a bit too close to the books for our peace of mind.
Malaika Is Spending Time With Doggo Casper
Perhaps the only upside of this lockdown is that we get to spend lots of time with out pets. And Malaika Arora is making the most of it.
Alia Wants You To Read A Book
Alia Bhatt posted a photo of her current read, open to a page on musician Nitin Sawhney (we're trying to find out what book this is), and advised her fans to do the same.
Ayushmann Khurrana And Tahira Kashyap Are Painting
Art is relaxing and meditative, and Tahira Kashyap and Ayushmann Khurrana are keeping themselves and their kids busy by painting (and the results are pretty impressive!).
Priyanka Chopra Is Hanging Out With Her Dogs
The Quantico actor was seen on Instagram giving squishy hugs to Gino, the German Shepard she gifted to husband Nick Jonas on their anniversary. Chopra also has a rescue dog named Diana. Both dogs have their own Instagram accounts too.
Deepika Is Doing Some Self-Care
Ever promised yourself that you'd clean out your cupboard whenever you had some time. Well, Deepika Padukone is doing exactly that. Her self-care routine also includes using face rollers, which are all the rage right now.
Twinkle Is Trying To Write
Twinkle Khanna posted that she's trying to write her next book (she's already written three), but it's not going that well, apparently.