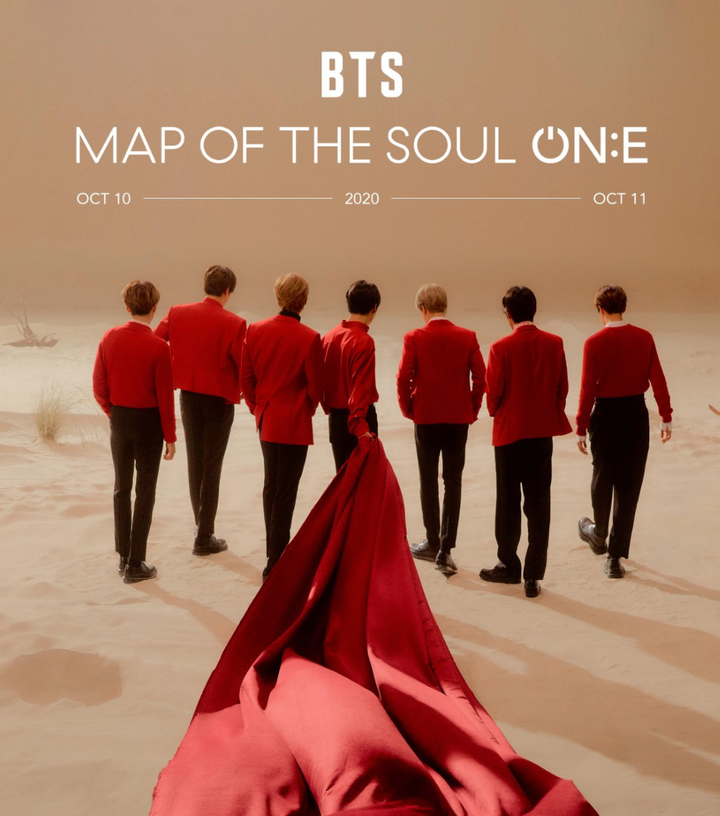 BTS's label and management agency BigHit Entertainment announced a jump in estimated revenue, online and offline concerts by BTS and big plans for the second half of 2020 at a press briefing in Seoul on Thursday.
BigHit said BTS will perform from its latest album Map Of The Soul: 7 at its concert BTS Map of The Soul ON:E, which will be held offline and streamed online in October
BigHit CEO Bang Si-hyuk said the company's estimated sales revenue in the first half of 2020 hit 294 billion won (US$244.8 million) with estimated operating profit during the January-June period at 49.7 billion won (US$41.97 million) before audit.
Earnings were driven albums, music sales, merchandise and online concerts, the company said.
Bang said album sales by artists under the Big Hit multi-label system accounted for 40% of sales on South Korea's Gaon album chart with 22 albums in the top 100.
BTS and Seventeen together accounted for 53% of all top 10 album sales.
Bang called Seventeen BigHit's "next mega IP". The band became a part of the company after BigHit acquired majority stake in Pledis Entertainment earlier this year.
BTS
BTS is due to release its new digital single DYNAMITE on August 21.
Bang said BTS will drop its next album in the fourth quarter of 2020 (October-December).
BTS already released one album, Map of the Soul:7, in February apart from holding online concerts and releasing new episodes of its reality show 'Run BTS!' this year. It also released education content 'Learn Korean with BTS' on WeVerse, which has also been released as a book.
BTS's BangBangCon, streamed for 48 hours on YouTube in April, was watched by 50.59 million views while 'BangBanCon: The Live', the paid online concert streamed on WeVerse in June, was watched by 756,000 viewers, the company said.
BTS sold 4.26 million units of Map Of The Soul:7 which stayed on top of the Billboard 200 chart for four straight weeks.
And the relentless churn out of content will continue through the rest of 2020.
Next week, BigHit will release its reality series 'In The Soop, BTS' on JTBC and WeVerse.
BTS will also release its second series in 'HYYH The Notes' this year. These are monologues of the characters played by the members in their music videos.
BigHit's game development subsidiary Superb will release a multi-player system in the fourth quarter. It will include a sandbox game called the BTS Universe.
2020 and beyond
Bands under Bighit will release new albums before the end of 2020. NU'EST will release its album in Japan in October, the first in 5 years, while TXT will release a new album in autumn.
BigHit plans the launch of new boy band in the second half of 2020. The group is currently being produced through the survival show I-LAND, organised by BELIFT LAB, a joint venture between Big Hit and CJ E&M. Part 2 of the show begins airing on August 14.
A new girl group will debut in 2021 with "members from diverse backgrounds and languages", Bang said.
BigHit said it would launch a new service on WeVerse during the Seventeen's online fan meeting scheduled for August 30.
The company is also likely to go public this year.
Last week, the Korea Exchange gave preliminary approval for BigHit to be listed on South Korea's benchmark KOSPI stock index.
Reuters reported JP Morgan, NH Investment & Securities, and Korea Investment & Securities have already signed on as underwriters.