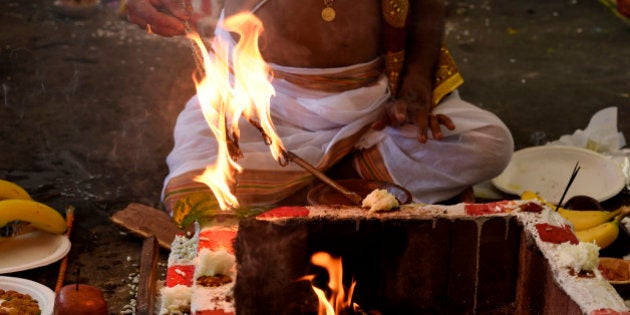 Hindu nationalist political party Akhil Bharatiya Hindu Mahasabha on Sunday conducted a 'buddhi shuddhi yagya', or cleansing ritual, to "restore some sense" into the minds of dozens of Indian authors who have returned their national awards over the past month.
"Buddhi Shuddhi yagya was conducted so that divine powers restore some sense to our so-called intellectuals who are returning awards. This gesture is bringing shame upon the whole nation. They are guilty of desh droh (being traitors)," said the party's national secretary Pooja Shakun Pandey to The Times of India.
At least 60 writers have returned their awards in protest or resigned their membership of the Sahitya Akademi or its governing council. They have alleged that there is a growing climate of intolerance and clampdown on freedom of expression under the new government, and have asked the Akademi to speak up for artists' freedom.
Celebrated Urdu and Hindi poet Munawwar Rana too joined the list of writers who have given up their awards, by returning his Sahitya Akademi puraskar on Sunday.
Claiming that he would not accept any award from the government in the future, the 62-year-old poet, who was awarded the Sahitya Akademi in 2014 for his book Shahdaba, said, "Writers and litterateurs have been associated with one party or the other. Some are said to be linked with Congress while others with BJP. I am a Muslim and some may label me as a Pakistani. Many areas in this country are not linked with electricity but Muslims here are linked to Dawood Ibrahim."
He added that he never cared for politics even though he hailed from Rae Bareli, where "politics runs through the street drains".
"Giving up awards and resigning from posts is insignificant and one should bring about a bigger revolution," Rana had told TOI earlier. "It is only when litterateurs sit on strike that Saraswati will be revered in this country the way Lakshmi is."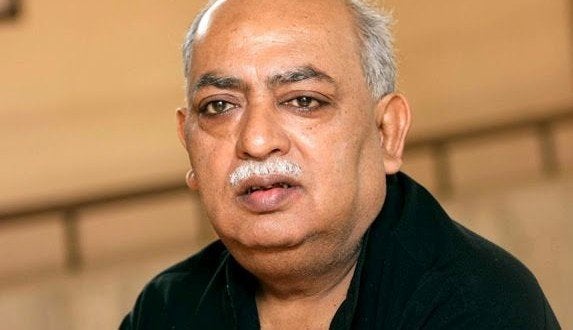 "I will not accept any award from the government in the future."
Meanwhile, protesting the "irresponsible" remarks made by various Union ministers against fellow Sahitya Akademi award winning writers, Hindi writer Kashinath Singh said he will hand over his award and cash prize on Monday.
"Certain ministers from the Centre have made irresponsible remarks against the authors who returned their awards. The authors' decision have not been taken seriously," the Varanasi based writer, who won the 2011 award for his fiction book Rehan Par Raghu, said.
"It is ridiculous to say that the authors are motivated by political parties. Writers are not so foolish to get swayed by anybody. Their actions are against the Akademi's stance on the tragic incidents in Maharashtra, Karnataka and Dadri. They are not against the Akademi itself."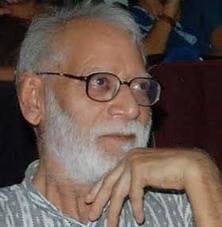 "Certain ministers from the Centre have made irresponsible remarks against the authors who returned their awards."
Telugu translator Katyayani Vidmahe too announced her decision to return her 2013 Kendriya Sahitya Akademi translation award in solidarity with other authors who had given back their Sahitya awards.
"I am returning my award in dissent to a range of incidents like the silencing of the Tamil writer Perumal Murugan, the killing of Kannada writer and Sahitya award winning author M M Kalburgi. This is against the violence of writers and for the freedom of expression," Vidmahe said.
The Warangal-based writer had received an Akademi award for her book Sahityakashamlo Sagam - Streela Astitwa Sahityam - Kavitwam - Katha, a compilation of essays about literature on gender identity published in 2010.
Others who have returned their awards or resigned from their positions of authority include Uday Prakash, Nayantara Sahgal, Ashok Vajpeyi, Rahman Abbas, Sarah Joseph, Kumar Veerabhadrappa (Kumvee), Mangalesh Dabral, Rajesh Joshi, Keki N. Daruwalla, Krishna Sobti, Ganesh Devy, Veeranna Madiwalar, T. Satish Javare Gowda, Sangamesh Menasinakai, Hanumanth Haligeri, Shridevi V. Aloor, Chidanand Sali, Gurbachan Singh Bhullar, Ajmer Singh Aulakh, Atamjit Singh, Waryam Sandhu, G.N. Ranganath, D.N. Srinath, N. Shivdas, Megh Raj Mitter, E. V. Ramakrishnan, K. S. Ravikumar, C. R. Prasad, Ghulam Nabi Khayal, Rahamat Tarikeri, Surjit Pattar, Baldev Singh Sadaknama, Jaswinder and Darshan Buttar, Anil Joshi, Aman Sethi, Chaman Lal, Pradnya Pawar, Bhai Baldeep Singh, Homen Borgohain, Nirupama Borgohain, Mandakranta Sen, Chandrashekhar Patil, Ibrahim Afghan, Mukund Kule, Urmila Pawar, Milind Malshe, Rajeev Naik, Mohan Patil, Harishchandra Thorat, Sanjay Bhaskar Joshi, Ganesh Visputay, Dalip Kaur Tiwana, K Satchidanand, P.K. Parakkavadu, Arvind Malagatti, and Shashi Deshpande.
While Finance Minister Arun Jaitley described the protests by writers as "manufactured paper rebellion", Union Minister Ravi Shankar Prasad dubbed it as "motivated" and Culture Minister Mahesh Sharma had accused the authors of "selective outrage".


Popular in the Community