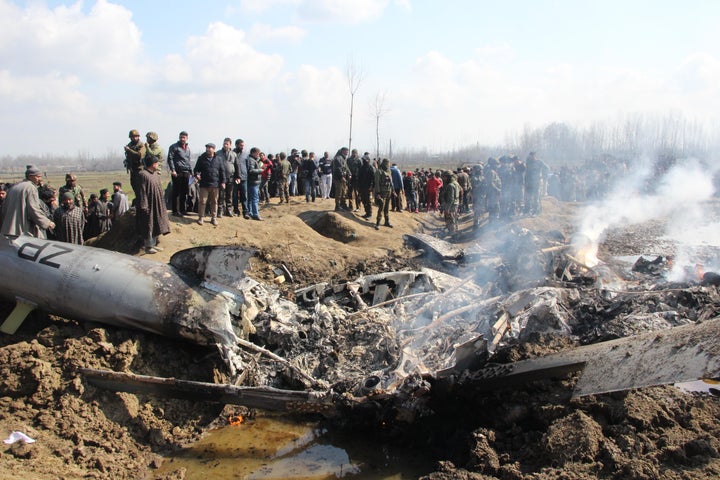 SRINAGAR, Jammu&Kashmir — Indian Air Force Spokesperson and Public Relations Officer Anupam Bannerjee confirmed that six Indian airmen had died in an aircraft crash in Budgam, not far from state capital Srinagar.
The crash occurred at 9:45 am on 27 February. HuffPost India visited the site of the crash soon after.
Bannerjee shared the information in a phone call with this correspondent. Bannerjee also confirmed that the crashed aircraft was an Airforce helicopter, but declined to share details on the circumstances surrounding the crash.
"In such a case, a court of inquiry will establish the cause of the crash," Bannerjee said. "The court of inquiry has already been set up."
The number of dead airmen was independently confirmed to Huffpost India by Rafi Ahmed, Budgam Station House Officer, who was part of the crash recovery efforts, and also by a second source in the state police who spoke on background.
One civilian, 20 year old Qifayat Hussain, was out in his fields was also killed when the chopper hit the ground and burst into flames. HuffPost India has spoken to his neighbours and family and established his identity.
The crash is believed to be a consequence of technical failure, not enemy action. In a press conference in Islamabad earlier today, Pakistan military spokesperson, Major General Asif Ghafoor, said the Pakistan military was not responsible for the crash.
At the time, HuffPost India had reported three casualties, including one civilian. The new toll reflects the rising human costs of the escalation of hostilities along the India-Pakistan border. The crash comes at a time of rapidly escalating India-Pakistan tensions.
The tensions began immediately after 40 Indian troopers were killed in a suicide bomb attack in Srinagar on 14 February 2019. The Indian government blamed Pakistan for supporting the militant who conducted the attack. Yesterday, on 26 February, the Indian government said it had struck militant bases deep in Pakistan territory in a place called Balakot.
Today, Pakistan released an official statement saying it had entered Indian airspace, and had separately shot down two Indian aircraft — one in Pakistan Occupied Kashmir, and one in India. Pakistan has since shared videos of an Indian Air Force pilot allegedly captured after his MiG 21 was shot down.
This afternoon, the Indian government confirmed that one Air Force pilot is in missing in action.
HuffPost India will update this story once more information is made available.