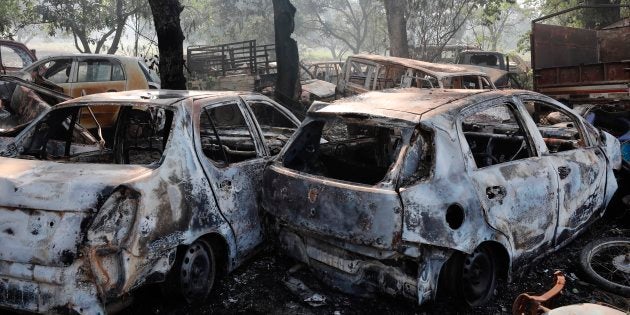 Four persons were arrested on Tuesday in connection with the violence that flared up in Uttar Pradesh's Bulandshahr against alleged cow slaughter. Two people, including a police official, were killed.
ADG, law and order, Anand Kumar confirmed that four have been arrested. He said that the main accused is Yogesh Raj who has not been arrested yet.
NDTVreported that Raj is a member of the Bajrang Dal in Bulandshahr. The report said that he had filed a complaint on Monday about cow slaughter after 25 carcasses were found in the forests.
As many as 27 people have been named in the FIR, registered around 3 am, while cases have been lodged against 50 to 60 unidentified people, officials told PTI.
Shikhar Agarwal, also named in the FIR, is linked with BJP's youth wing in Siana, according to Firstpost.
Police inspector Subodh Kumar Singh, who had probed the Akhlaq lynching case initially, and a 20-year-old local man died of gunshot injuries on Monday as a rampaging mob protesting alleged illegal cow slaughter torched a police post here and clashed with cops, according to police.
Additional Director General (Meerut zone) Prashant Kumar had said the protesters from the Mahaw village and nearby areas pelted stones on police and indulged in arson, set ablaze several vehicles and Chingarwathi Police Chowki, after some body parts of cows were found in a jungle near the village, prompting the police to open fire.
Uttar Pradesh Chief Minister Yogi Adityanath had announced a financial assistance of Rs 40 lakh to the wife of the inspector and Rs 10 lakh to the parents. The inspector's sister has alleged that he was killed because he was investigating the Akhlaq case. She further said that they don't want money and he should be declared a martyr.
Senior Superintendent of Police (SSP), Bulandshahr, Krishna B Singh said police were probing the matter and raids were being conducted to arrest the other accused. The police has also formed a Special Investigation Team (SIT) to probe the matter.
Union minister Mukhtar Abbas Naqvi said what happened in Bulandshahr has let down humanity, according to ANI, and appealed to people to stay cautious of "elements who are creating unrest for their own interests".
Uttar Pradesh minister OP Rajbhar called it a pre-planned conspiracy by VHP, Bajrang Dal and RSS.
Congress has also hit out at the Adityanath government over the violence, saying it was the worst kind of failure of law and order and he should set his own house in order before "gallivanting" around the country for campaigning in elections.
Party's chief spokesperson Randeep Surjewala said that after "handing over" Uttar Pradesh to "anti-social" elements, Adityanath is busy campaigning for his party.
Popular in the Community