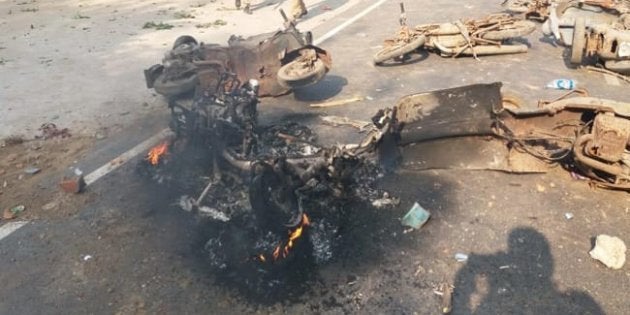 BULANDSHAHR, Uttar Pradesh — For over five years now, Lok Dal leader Afaq Ur Rahim Khan has been inaugurating Ramlila festivities in the Bugrasi town of Bulandshahr district in Uttar Pradesh. Pragatisheel Samajwadi Party leader Naved Pathan has been the chief guest at many of these functions.
Javed Choudhary, Bugrasi town secretary of Samajwadi Party, says the communal harmony in the area is such that Muslim artists take part in the Ramlila and temples have been opened for them to offer namaz.
However, this harmony of Bulandshahr was on the brink of getting destroyed on Monday when a mob attacked a police post situated just about 8 km away from Bugrasi.
Subodh Kumar Singh, the Station House Officer of Syana police station, and 18-year-old bystander Sumit Kumar were killed in the violence that broke out after an angry crowd, led by activists from ultra-right groups, began protesting in front of the police post over the alleged slaughter of cows in a nearby farm.
Uttar Pradesh Police have booked over 80 people for the mob violence and arrested four persons. Seven Muslims, including two children, have been booked for cow slaughter.
Pathan and Choudhary say the "conspiracy" was bigger and the target was the communal harmony of the district.
"Lakhs of Muslims had gathered near Dariyapur-Akbarpur area on the outskirts of Bulandshahr for TablighiIjtema, (a three-day Islamic congregation) which began on 1 December. When this congregation was about to conclude with a final prayer on 3 December and people were to begin returning to their places, the Bajrang Dal-Shiv Sena-VHP people gathered at the Chingravati police post and blocked the national highway. The aim was to foment trouble which could take the shape of a riot and ultimately target Muslims returning from Ijtema," Pathan claimed.
A policeman who was part of the SHO's team confirmed this on condition of strict anonymity. This person told HuffPost India that the mob wanted to attack three Muslim men who were walking past them, and that SHO Singh tried to prevent this and ordered a lathi charge to disperse the crowd.
"If he hadn't done that, those three Muslims returning from Ijtema would have been killed. The SHO sacrificed his life to prevent a bigger riot," said this person.
Choudhary alleged that the carcasses of cows were deliberately thrown near the villages, where over 90% population is Hindu.
"The cow carcasses were hanging on sugarcane trees. Five to six cows might have been killed there, but the carcasses were spread to give an impression that many more cows were slaughtered there. The SHO had managed to pacify the crowd, but the Bajrang Dal gathered more people and instigated them leading to an attack on the police post. The timing of this protest clearly indicates a pre-planned conspiracy. Those who planned it wanted to trigger communal riots in Bulandshahr because elections are coming near. Our area never witnessed communal tensions, not even when Babri Masjid was destroyed. This is the first time something like this has happened in the district," Choudhary told HuffPost India.
He also claimed that there was stone-pelting on many Muslims who were returning to their homes after Ijtema.
"However, because of the cop's death, this place came into the focus of the media and others. They, therefore, could not execute their plans. Otherwise they would have killed over 1,000 Muslims on that day," Pathan alleged.
Some VHP leaders have alleged that the incident was caused by cow slaughter and the police attack on the mob protesting over it.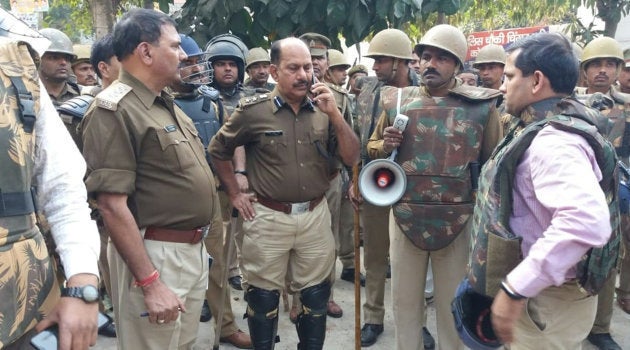 However, some videos of the incident circulated on social media show that the policemen were outnumbered by a large crowd and the SHO was trying to pacify them.
Incidentally, SHO Singh was also the investigating officer in the mob lynching case of Dadri, where Mohammad Akhlaq was killed on allegations of cow slaughter in 2015.
Local Muslim leaders have claimed that Yogesh Raj, the main accused in the attack on the police post and Bajrang Dal district convenor, instigated the crowd against Singh citing his connection with the Akhlaq case.
"The SHO had understood that the cow slaughter was a conspiracy to create trouble which is what he was explaining to the crowd. But Yogesh Raj was instigating the crowd while saying that Singh was responsible for action against those involved in Dadri case," another Muslim leader from Bugrasi said on condition of anonymity.
The BJP MP from Bulandshahr Bhola Singh has tried to link Ijtema with cow slaughter.
"They informed officials that two lakh people will join the Ijtema, but people say over 20 lakh people attended it. Overcrowding kept officials and security people on their toes, giving troublemakers the opportunity to slaughter cows at Mahaw village," Bhola Singh told Hindustan Times on Tuesday.
Bulandshahr district magistrate Anuj Jha, SSP KB Singh and SP Pravin Ranjan did not respond to calls from this reporter when he tried to seek their reaction about the allegations.
PTI reported that Uttar Pradesh Chief Minister Yogi Adityanath on Tuesday night issued directions for strict action against those involved in the alleged cow slaughter. It was not clear whether any decision was taken to act against those responsible for killing of inspector Singh and the civilian in the mob violence.
Ijtema also showed the harmonious side of our district. Many Hindus participated and helped in its organisation
When asked why the conspirators would create trouble 30km away from the place of Ijtema, Choudhari said that the event was well-organised and police were also deployed for its arrangement.
"This is why they (right-wing groups) planned this incident 30km away. They could not succeed and many videos have surfaced which show how the SHO was killed. They would have otherwise even blamed the SHO's killing on the Muslims returning from Ijtema and attacked them," he alleged.
Many residents of Chingravati, Mahaw and other neighbouring villages have fled their villages fearing arrests and a large number of police and state reserved police force personnel have been deployed in the area.
The local Muslim leaders, however, commended the local administration for controlling the situation after the SHO's killing.
"The administration immediately sent out messages on social media that the incident had nothing to do with Ijtema because otherwise there would have been a flare-up. Ijtema also showed the harmonious side of our district. Many Hindus participated and helped in its organisation. I wish this harmony stays and those trying to create divisions are never successful," Pathan added.
Popular in the Community