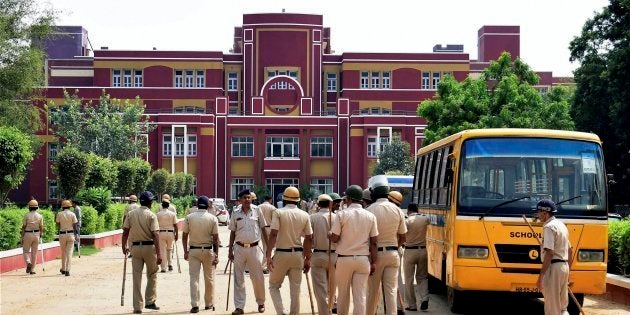 Police on Friday arrested a bus conductor of the Ryan International School in Gurgaon, in connection with the suspected sexual assault and gruesome murder of a 7-year-old student of Class 2
The Hindustan Times reports the police claimed that the bus conductor had confessed to the crime and had tried to sexually assault the child even on Thursday as well.
The incident came to light when classmates of the student found him in a pool of blood, after which the school authorities rushed him to the hospital where he was declared dead.
The report quoted Deputy commissioner of police (south Gurgaon) Ashok Kumar Bakshi as saying, "The victim struggled and crawled outside the toilet when a fellow student noticed him in a pool of blood."
A knife was also recovered from the spot.
Earlier in the day, ANI had reported that three people had been detained in the case including the bus conductor, a driver and a school staff member.
As news spread about the incident, hundreds of parents protested outside the school, and then barged in and vandalised property alleging negligence on the part of school authorities.
After they were forced to leave the school premises, the parents protested at the commissioner's office.
The parents of the child were inconsolable, and were shocked that this could have happened to their child inside the school premises.
Earlier, the father told NDTV, "I dropped him on time around 7:55 am. I received the call around 8.10. They told me my son is bleeding, he was found outside the washroom and they are rushing to the hospital, they asked me to come too. I rushed but my boy was dead by the time I reached. It is a clear-cut murder case. It happened inside the school. How can a parent know what happens to their child in school?"
The school has however refused allegations of negligence.
ANI reported that the school caretaker Neerja Batra said the kid was alive when they saw him lying in the pool of blood.
"The child was looking serious. We didn't lose a minute. The kid was alive when we saw him lying in the pool of blood. We took him to the hospital immediately. Police are here to investigate the matter and after investigation one can say from where the knife came inside the school premises," she added.
Reports suggest that the school did not conduct police verification of teaching and non-teaching staff.
Priyank Kanoongo, Member RTE and Education, NCPCR was quoted by The Indian Express as saying, "We have told the police that a case of negligence beregistered against the school management as we have found thatthe school did not undertake police verification of teachingand non-teaching staff