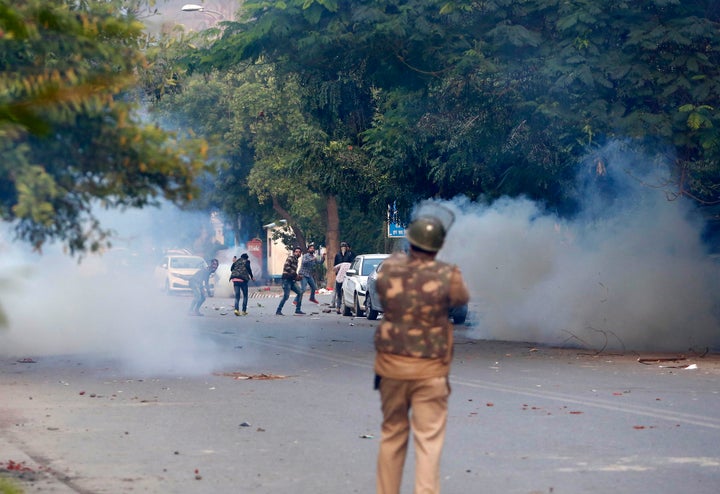 While the Delhi police vociferously denied firing bullets at students, according a Hindustan Times report they have now said they will probe into the incident.
Huffpost India could not independently verify the authenticity of the video.
The video, that NDTV broadcast on Wednesday, shows two policemen drawing their guns and pointing it at the protesters. The video is said to have been shot at New Delhi's Mathura Road on Sunday evening.
NDTV had earlier reported that three students of Jamia had sustained bullet injuries during the police crackdown that triggered massive protests across the country.
However, while saying they would investigate the video, the police has maintained that no bullets were fired.
Deputy commissioner of police (south-east), Chinmoy Biswal, told Hindustan Times, "While we maintain that we did not use any guns, we will investigate the latest clip that has surfaced. Since Sunday, two other clips of the policemen firing have been confirmed as rumours by us."
While NDTV had identified one of the students who sustained a bullet injury as Ajaz, this new video clip was followed by another video that showed Ajaz falling to the ground after purportedly being shot.
Hindustan Times reported that the police have claimed that if there was any firing at all, it was by the protesters.
The Delhi police has arrested 10 people in connection with the Jamia incident.
NDTV quoted a Home Ministry official as saying, "The police are also closely monitoring some social media handles in the national capital to check the spread of wrong information, which led to protests and violence."
Popular in the Community