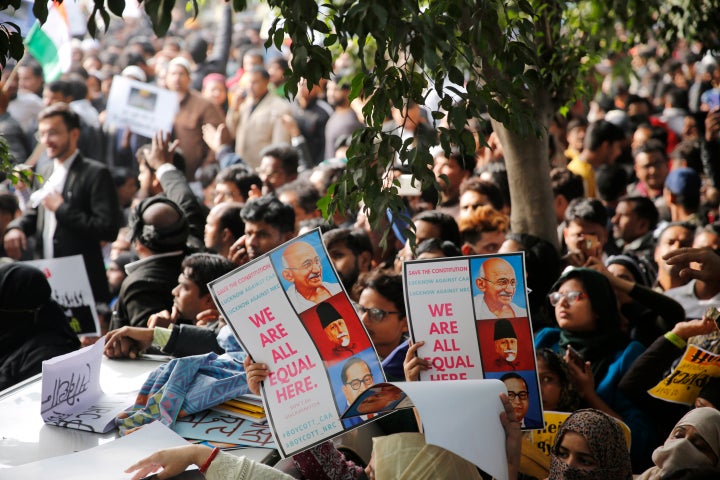 NEW DELHI—The swear words that Ayesha heard from policemen after a demonstration against the Citizenship Amendment Act in Lucknow turned violent are still ringing in her ears. Her body still aches where the policemen hit her with batons.
Ayesha, who requested her full name not appear because she fears state retaliation, says policemen in the Adityanath government beat people like her who were protesting peacefully at Parivartan Chowk on 19 December.
"I went to the protest to have a voice. If enough of us raise our voices, the government will repeal the Citizenship Amendment Act. If enough of us raise our voices, the government will drop the idea of a nationwide NRC," said the 22-year-old referring to the National Register of Citizens.
"Our protest was peaceful but the police beat us and yelled filthy 'mother-sister' abuses," she said, speaking over the phone two days after the protest .
The Citizenship Amendment Act (CAA) offers a path to Indian citizenship to "persecuted religious minorities" — Hindus, Christians, Buddhists, Jains and Parsis, but not Muslims — from Pakistan, Bangladesh and Afghanistan. For many Indians, this new law violates the secular principles on which India was founded. The new law, its many critics argue, must be seen in the context of a proposed NRC which would push 1.3 billion Indians to prove they are legal citizens.
Of all the states in which people are mobilising against the discriminatory CAA, which makes religion the basis for obtaining Indian citizenship, UP has seen the worst violence, leaving 18 persons and an eight-year-old child dead. More than 260 policemen, the UP police claims, have been injured.
Large scale unrest has been reported from around 20 districts in India's most populous state and home to 200 million people. The UP government has blocked texts and internet on mobile phones in 21 districts. Close to 800 people have been arrested in the state, as per the police, which is half of the 1,500 people arrested in India in the past ten days. Thousands more have been detained.
Doctors had to amputate the hand of one student from Aligarh Muslim University, who was hit by a tear gas shell after the Uttar Pradesh Police entered its campus to quell the protests, last Sunday. Journalist Omar Rashid, who reports for The Hindu from Lucknow, was detained for hours by the UP Police, who kept bringing up his Kashmiri heritage while threatening to beat him and tear out his beard.
While states not governed by the Bharatiya Janata Party (BJP) have let people exercise their fundamental freedoms of free speech and peaceful assembly, the BJP government in UP is not permitting even a modicum of peaceful dissent.
UP Chief Minister Adityanath has said the state plans to sell off the personal property belonging to people who have participated in the demonstrations to pay for the damage done to public property.
"We will take revenge from them," he has said. The Times of India reported the UP administration in several districts has started identifying and sealing properties of persons accused of violence. Prime Minister Narendra Modi stirred the communal pot by saying, "You can easily make out who is spreading violence by the clothes they wear." His comments were widely perceived as a communal dog whistle aimed at India's Muslim community.
"Our protest was peaceful but the police beat us and yelled filthy 'mother-sister' abuses."
In the process, the Uttar Pradesh administration is trying to portray a secular uprising by young people against the new citizenship law into a Hindu versus Muslim issue — which it isn't.
Ayesha, who now helps with her family business after studying mass communication in college, went to the Lucknow protest with four sisters, all of whom dressed in burqas.
"I want to tell Modi ji that I did not go to the protest as a Muslim. I did not go to fight for myself, my family or my community," Ayesha said. "I went for India and the people of India."
"I want to tell Modi ji that I did not go to the protest as a Muslim."
Then, came the masked men
The people who had gathered at Lucknow's Parivartan Chowk were unarmed and staging a more or less silent protest when thousands masked men descended on the protestors and started throwing stones, said Ayesha.
"The police fired tear gas. There was a lathi charge," said Ayesha. "The police were even beating women. They were abusing women."
Kavish Aziz Lenin, a freelance journalist who was at the protest, said one masked man in an ash-coloured kurta grabbed her hand and tried to snatch her mobile phone. "He said, 'You bitch, you dare to make a video,'" she said.
Lenin's recollection of how the protest at Parivartan chowk descended into chaos is similar to Ayesha's account.
"It was a peaceful protest but these masked men came with all the material to start a riot," she said. "How did they have the kerosene oil to burn buses? Where did the trolleys with stones come from?"
These marauders, Lenini said, went on a spree of breaking and burning vehicles and motorcycles including her own. "There was nothing that we could do, she said. "But why did the police not act? It was so cold, if they had used water cannons, they could have dispersed them. But they didn't do it."
"It was a peaceful protest but these masked men came with all the material to start a riot."
Both Ayesha and Lenin said they were not enough policemen on the ground and those who were at the scene did little to control the stone pelters.
Lenin said she rushed to the barricades and asked a few policemen why they were not acting more forcefully. "They said, 'We have yet to get orders from above,'" she said.
Lathi blows and expletives
As the violence escalated, Ayesha says she was separated from her sisters and ran to a nearby Dargah, where she and six young men from the protest sought refuge.
It didn't take long for some policemen to break into the dargah. First, she said, they beat up its elderly caretaker, and then turned on the young men.
Her voice cracking, Ayesha said, "They were beating the man who had helped me to the dargah. They hit him on the head and he was bleeding. He was holding my jacket and crying, 'Sister, save me, save me or they will kill me.'"
When she came forward to help the young man, Ayesha said, a policeman hit her across her back with his lathi.
"The policeman hit me twice with his lathi, and said, 'Get out of here' and shouted a 'mother' abuse. He said, 'Get out here or we will beat you,'" she said.
After a pause, Ayesha said, "I had to leave that man. I cannot tell you how it broke me inside to leave him. I could not save him."
"The policeman hit me twice with his lathi, and said, 'Get out of here'..."
Ayesha said, "I'm saddest about how the police behaved with us. We expect the police to protect us, but they beat us and abused us. The police were there to shame my community."
Lenin, the journalist, said that when she encountered policemen in the aftermath of the violence and told them she was looking her friend, they refused to help.
"They said, 'Why should we come with you?. Why did she go for the protest in the first place,'" she said.
Ayesha said she saw a few policemen who were crying when the violence erupted. These policemen, she said, urged them to leave saying,
"Not all policemen are bad. Most of them are just having to follow orders coming from above."
UP Police Violating The Law, says social activist
The problems do not end with the violence on the streets, said Roop Rekha Verma, a prominent social activist in the city former vice chancellor of the Lucknow University.
The UP police is slow to release any information about the hundreds of people they have detained or arrested, Verma said, with relatives and lawyers having to go from one police station to the next in order to find them.
"There is a list of our friends whose whereabouts we don't know," Verma said in an interview on Saturday, also referring to Sadaf Jafar, a Congress Party spokesperson and, thus far, the only woman to have been arrested in connection with the events of 19 December.
"I was moving around the whole city, thana by thana trying to find Sadaf Jafar, with each one saying that 'she is not here and we can't tell you how to locate her.'" This is a great cause of harassment and worry. We were on the verge of dying out of anxiety," said Verma.
Verma said the police is not producing people before a magistrate within 24 hours as mandated by law.
In one shocking instance on 20 December, Hindi-language newspapers Dainik Jagran and Amar Ujala reported that lawyers assaulted 10 people who were being produced in court.
Verma said the UP Police had also detained people who went to inquire about the well-being of their detained relatives.
"People have switched off their phones out of fear," she said. "This is madness."
"We were on the verge of dying out of anxiety..."
No room for dissent
Susheel Gautam, a self-identified Dalit-rights activist, said that he was detained for three days after he, and a civil society groups, sought permission for a march against the CAA in Meerut on 16 December.
The administration, Gautam said, denied them permission, but let the Akhil Bharthi Vidyarthi Parishad (ABVP), a student organisation affiliated with the Hindu nationalist Rashtriya Swayamsevak Sangh, hold a march in support of the CAA on 17 December.
"What the cops have told me is that the orders from above are clear: 'There should be no riots in UP or the DM and the SP will be transferred.' But you can't suppress people so completely. It does not work," he said.
When he was released after three days of detention, Gautam burnt a copy of the Act in Meerut. When the police could not find him, he said, they detained his elderly father instead.
"My father was put in jail. They are harassing my family to give me up," he said.
Meanwhile, at a public rally in Delhi on Sunday, Prime Minister Modi claimed "some Dalit leaders" were participating in the protest against the citizenship law because they "misunderstood" the provisions of the new law.
Prakash Kanojia, a journalist in Lucknow who jailed for tweeting about Adityanath in June, said he received a direct message on Twitter from the UP Police on Saturday, telling him to delete his posts.
It says, "Your posts could disturb public peace. Hence, delete all posts immediately or we will consider a criminal investigation against you."
"But you can't suppress people so completely. It does not work."
Warning to mosques
Ayesha says her relatives, who are the administrators of a mosque in the city, were called in for a meeting with the UP police and warned against talking about the CAA and the NRC during the Friday prayers.
On Friday, she heard the announcement from the mosque in front of her house, calling on everyone to go home after namaz and not to stand around.
After the violence at Parivartan chowk , Ayesha doubts whether anyone will feel safe gathering for a peaceful protest in Lucknow.
If there is a call for another protest, however, Ayesha said that she would go.
"I went there as a citizen of India. My courage has increased, not decreased. I will go again. I will go with more people," she said. "If I don't go now then what I say to the next generation when they ask why did you not fight to save our country."