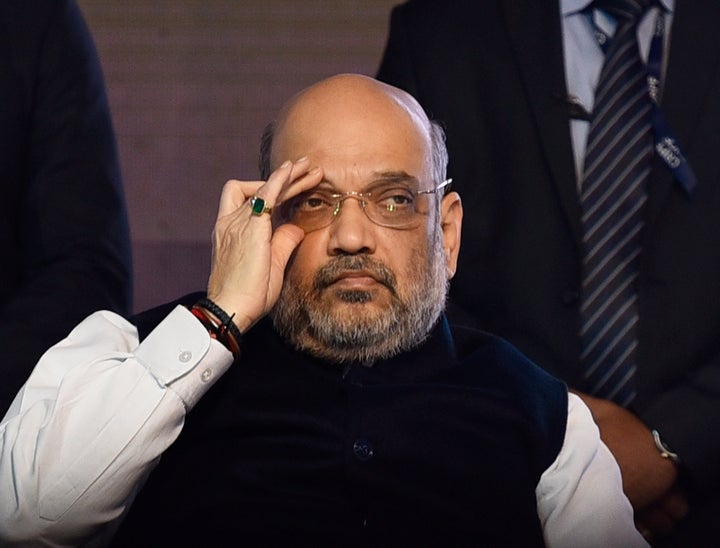 The Delhi Police, which reports to the Union home ministry, has been accused of entering the campus of Jamia Millia Islamia University on December 15 without permission and firing tear gas shells at students in the library. Students were also forced to march from the library to the metro station outside the campus with their hands raised. Over a 100 were injured and at least three protesters received bullet wounds.
Amidst all this violence, what has Home Minister Amit Shah, who got the Citizenship Amendment Bill passed in Parliament and is responsible for internal security, said?
The Home Minister has blamed the Congress and "tukde tukde gang" for misinforming the public and "disrupting the peace in Delhi". He has defended the CAA in every interview and public event. He has also given evasive responses when asked if the Delhi Police was right in entering the Jamia campus without permission.
After laying the foundation stone of East Delhi Hub on Thursday, Shah alleged the Congress-led Opposition has created confusion about the CAA. "Delhi has seen people come out of the streets after a long time and peace has been disrupted."
"I want to ask the people of Delhi, that the police will do its work, but shouldn't you not bring a government that maintains peace in Delhi," he said. "When the CAB was discussed in Parliament, no one was ready to say anything... They started spreading confusion over it later and disrupted the peace in Delhi," he added while accusing the Congress-led "tukde tukde gang" of doing so.
The "tukde tukde gang" phrase was created by news anchor Arnab Goswami in 2016 to refer to students of JNU and their supporters. Goswami and his channel, Republic, has often been accused of being the mouthpiece of the ruling BJP government.
Prime Minister Narendra Modi had also accused Congress and "Urban Naxals" of spreading rumours during a campaign rally for the upcoming Delhi elections. As HuffPost India pointed out in an earlier article, blaming Congress is a joke, considering the party has been criticised for showing barely any initiative during the protests.
Aside for blaming opposition parties, Shah has remained largely evasive about the reports of police brutality. When asked about the police action on students of Jamia, this is what Shah said in an interview to India Today:
"When there's stone pelting from inside the university campus, when students or outsiders (along with the students) stop a two-wheeler, take out petrol and burn down buses, it is the police's duty to stop it. If the police still doesn't do anything, then I believe it is not doing its duty properly."
On being asked if the police should have entered the Jamia campus without permission, Shah only said the police will itself take a decision on it in due time. As the home minister, he said he has instructed the Delhi Police to maintain peace in Delhi and everything else can be discussed later. "For a news channel, it's an important question whether the police entered with or without permission, but as the home minister, my priority is there should be peace in Delhi."
Shah repeated the same in an interview to Times Now later. However, when pressed to answer if the Delhi Police should have entered the campus, Shah said, "If someone disturbs the law and order or damages public property, the police will have to try and stop them".
He added there are now videos to prove that several people, who are not students, had also entered the Jamia campus and they are being identified.
However, when the Times Now anchor pointed out that videos also show police resorting to lathi charge on students, an agitated Shah shot back, "How many buses were burnt? Do you support this? How will violence stop? You want to stop the violence, but don't take strict action."
Shah has avoided any direct response in his interviews to the reports of police brutality and only reiterated that his priority is maintaining a peaceful atmosphere. As protests rage on in India, his responses are a cause of worry.
Violence has erupted in mostly BJP-ruled rules during protests against the CAA with incidents of brutal police clampdown being reported from Uttar Pradesh.
After Chief Minister Yogi Adityanath claimed that the government will take "revenge" on those involved in violence by seizing their properties, about 28 people in the state have been sent notices seeking recovery for damage to public property.
Women's rights activist Kavita Krishnan, who has returned from a fact-finding mission in Meerut, told HuffPost India's Betwa Sharma that the police chased people through narrow lanes and shot them from the back. Many of them were not even protesters, she added.
HuffPost India had also reported on how the Uttar Pradesh Police detained at least five minors at the Bijnor Police Cantonment and tortured them for 48 hours. They were among 100 people arrested in Nagina, an urban settlement in Bijnor, as part of the BJP's crackdown on protests against the CAA.
Popular in the Community