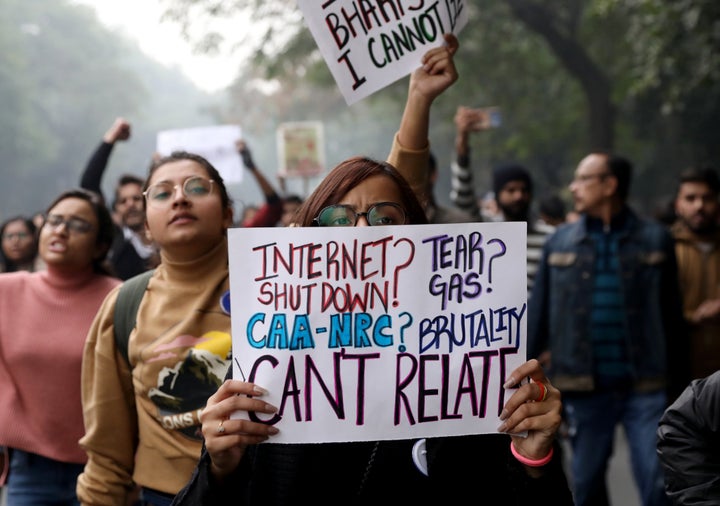 As the protests against the Citizenship Amendment Act across the country intensified on Thursday, the police and government responded by imposing Section 144 in several areas and suspending mobile internet services.
In view of the planned protests, Delhi Police Special Cell had directed that voice, SMS and internet services be stopped from 9 am to 1 pm in certain areas of the national capital on Thursday. Vodafone and Airtel confirmed in tweets that data services were halted at a few locations as per government directive.
Delhi's internet shutdown, as Huffpost India's Gopal Sathe noted, is only the latest in a long string of such actions across the country — in 2019 alone, InternetShutdowns, a shutdown tracked by SFLC.in, listed 77 internet shutdowns in India. Of this, he added, 56 are listed as "preventive" shutdowns, to preserve law and order, while 21 are "reactive".
"This year also saw the longest Internet shutdown in India — and the longest in any democracy in the world — with access in Kashmir being blocked for 136 days and counting now, ever since August 4, 2019."
Mobile internet services were restored in Assam only on Friday, ten days after it was snapped due to protests against the new citizenship law.
There has been widespread condemnation of the CAA and the government's handling of the protests. Over 10,000 academics, scholars, teachers and members of civil society across the world have issued a statement to condemn the police crackdown on the students of Jamia Millia Islamia and Aligarh Muslim University.
Protests have erupted in Bangladesh and United States in solidarity with the students of Jamia and AMU. Foreign media took note of the internet shutdown and the massive protests in India. Here's how they covered it:
The Washington Post carried a report titled, "India muzzles citizenship law protests, shutting down Internet and detaining protesters". It details how hundreds of peaceful protesters gathered "near one of the city's major monuments to begin a march, but police invoked a measure that forbids gatherings of four or more people, effectively making protests illegal. Police detained protesters and took them away in buses."
"A police order reviewed by The Washington Post instructed cellular companies to shut down service in five areas on Thursday, including the locations of planned protests. India leads the world in the number of Internet shutdowns, which authorities say are a way to prevent violence and unrest."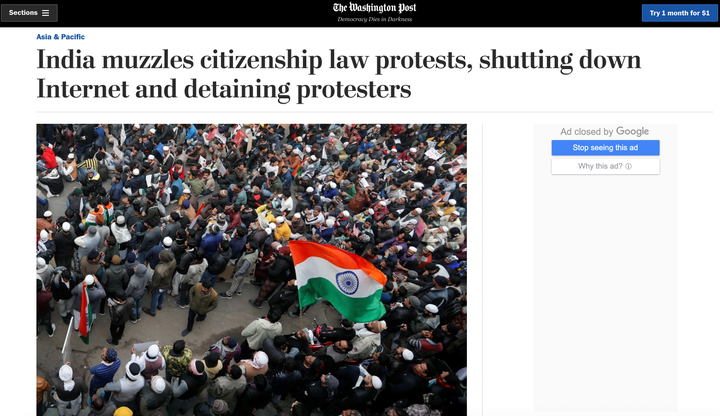 The Washington Post's editorial was on the Kashmir blackout and titled, "India marks a new low for a democracy". It notes that the Kashmir blackout is noteworthy for "its duration, its scale and its obvious place in a toolbox of repression India has used to crack down on the civil liberties and basic dignity of its Muslim population".
"The government has ordered at least three more statewide shutdowns recently in response to protests over the country's new citizenship law that promises to further marginalize the minority."
The Guardian also published a report on the internet shutdown in Delhi, titled, "India's internet curbs are part of growing global trend".
"On Thursday, internet shutdowns came to the capital city of the world's largest democracy. The suspension of data services, phone calls and texting to curb protests in parts of Delhi was an inauspicious milestone for a tactic that is becoming an increasingly common tool for authoritarian governments – but practised most often by India."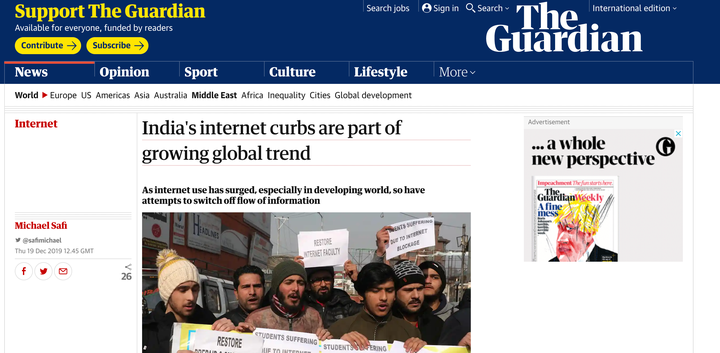 Soon after the mobile internet was suspended in some areas of Delhi, several Twitter users urged people to download an app called Bridgefy (see here and here). The South China Morning Post published a piece on Thursday titled, "WhatsApp to Bridgefy, what Hong Kong taught India's leaderless protesters".
It quotes Ruben Mascarenhas, a Mumbai-based activist, as saying that he and 15 organisers of the protest "decided to take a leaf out of the Hong Kong protesters' book and downloaded the Bridgefy app".
"Bridgefy allows mobile phone users to communicate with each other without any active internet or phone connections, relying on Bluetooth connectivity among the users instead. Various media had reported how protesters in Hong Kong were using this software to communicate, amid rumours that the city's government could shut down mobile networks."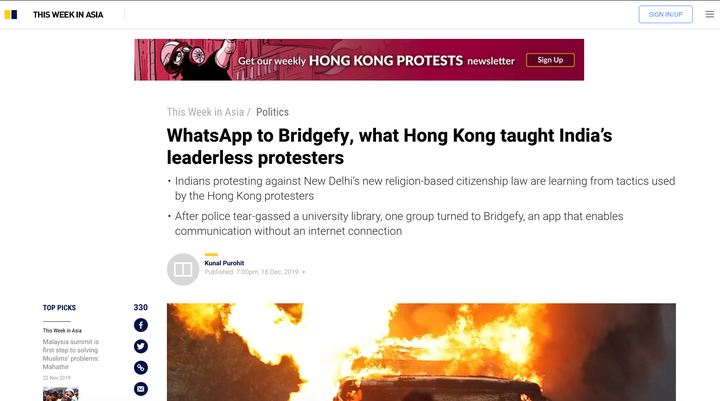 Meanwhile, China's state-run People's Daily published an opinion piece saying, "India's internet shutdown shows normal practice for sovereign countries".
"The internet shutdown in India has once again proved that the necessary regulation of the internet is a reasonable choice of sovereign countries based on national interests, and a natural extension of national sovereignty in cyberspace."