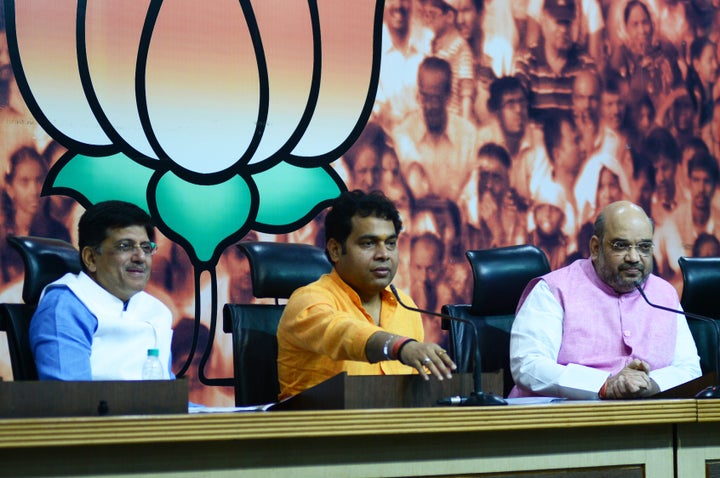 Of the more than 200 people arrested in Lucknow that day, at least 30 were held at the Hazratganj Police Station in the heart of the city. Following their release on bail, at least three activists gave detailed accounts of the extreme brutality perpetrated by the police—which is in contravention of the laws and procedures of arrest and detention in the country—to HuffPost India.
In an interview with HuffPost India, Shrikant Sharma, energy minister in Yogi Adityanath's cabinet, said the Bharatiya Janata Party (BJP) government in UP will not investigate these allegations of its own accord, and placed the onus on anyone alleging mistreatment to move the courts or approach the SITs (Special Investigation Teams) being set up to investigate the violence which erupted in UP in December.
Sharma, who is also the spokesperson for the state BJP government, also spoke about why the state government has readied a list of refugees even before the rules for implementing CAA are yet to be notified, and why it does not allow even peaceful protests and dissent in Lucknow.
Activists who were arrested on 19 December say they were badly beaten in the Hazratganj thana. Their bail orders say the police have no evidence against them. Why have they been subjected to so much violence?
I have a counter-question for you. What is the reason that you have lynched the police? There is no law that says you can surround the police and burn them. (Ed: This is a claim made by the Meerut Superintendent of Police Akhilesh Narayan Singh). They burnt a bus in which women and children were sitting. What has the government done that they are doing this? Why are you taking the law in your hands?
The law prevails in this state. If anyone has any complaint against the state, go to the court and make your appeal. We have set up SITs in each state to investigate the violence. If you were not there then you can go tell the SIT.
I'm talking about the people that I have reported on and they did not do any of these things. They were peaceful protesters. Sadaf Jafar was not throwing stones at anyone. She was beaten inside the Hazratganj thana. Who will be held accountable?
The government has a clear stand…
The names of SHO Dheerendra Kushwaha and SSP Kalanidhi Naithani have been put forward by the activists.
Law prevails in this state. If anyone takes the law in their hands, the law will do its work. If anyone thinks they have faced misbehaviour and injustice, then they should go to court. They can go to the SIT and tell their side of the story. In each district, SP Crime is looking at the work of the SIT.
Activist Deepak Kabir says he was beaten in the presence of SSP Naithani. Sadaf Jafar says she was beaten by male constables. A Dalit activist Pawan Rao Ambedkar says a helmet was broken on his head. The names of the SSP and the SHO have come up. Surely, this warrants a departmental inquiry?
The investigation is going on. I'm telling you again and again that SITs are investigating this whole matter. And SP Crime is overseeing the SIT in each district. Wherever these kinds of complaints are being lodged with the SIT, the SIT is looking into it. If there has been misbehaviour against anyone in a thana or a wrongful FIR has been lodged, then they can raise the matter with the SIT.
But with respect to Hazratganj thana…
I have been quite specific about what the government is doing. I kindly request you not to repeat this question.
But does this not warrant a departmental inquiry on its own? A person will have to go to the SIT and first raise allegations against the SHO…
I'm talking to you about investigations. SIT is investigating all the issues that you are alleging.
Okay, so there is an investigation if someone goes and complains to the SIT, as you say. Why was there violence in the first place? Why was a woman beaten in custody? It was not in the heat of the moment. The violence played out for hours at Hazratganj thana. They were not even given food and water…
The government is responsible for the security of 22 crore people. To give that security, the government is responsible for the law and order. In all that, if something wrong has been done to someone, that person can complain to the SIT. That is why the SIT has been made. This is my final answer.
On the NRC, the Chief Minister has said…(will be implemented in UP).
The NRC is not an issue, it is only in Assam.
So, the NRC will not be implemented in UP?
Perhaps you have not heard what the Prime Minister has said. What the Prime Minister has said is the single word.
(Ed: On December 23, 2019, Prime Minister Narendra Modi said, "I can assure 130 crore Indians that since 2014, when our government was formed, the term NRC has not figured in any discussion in the government." (This claim, however, is false).
Yes, but before that, Home Minister Amit Shah has said repeatedly that NRC will be enforced in India (before 2024). That is why there is fear.
When did the PM speak on this?
About two weeks ago.
Has anyone said anything after that? Chapter is closed.
So, Muslims in UP have nothing to fear?
I'm appealing to Muslims of India, this country is yours. Your protection and your dignity is our responsibility. Don't be misled. The CAA is not taking away citizenship of any person from any country. Citizenship is being given. The Congress party has misled the Muslims of this country for a long time. This is unfortunate. The few bad elements who were trying to burn the state have been cornered. There is peace in the state.
So why does the UP government not allow any protest in Lucknow or in the state? Why is Section 144 always in place?
In Uttar Pradesh, everyone has the right to question, everyone has the right to breathe freely.
Not at all. People are frightened here. As a journalist, I'm wary that your government will slap a sedition or defamation case on me for being critical.
Any citizen working with sincerity in our country has nothing to fear.
All that one journalist reported was that roti-salt was being served to children in the midday meal in Mirzapur. He was booked for criminal conspiracy.
No one has to fear in Uttar Pradesh.
But there is fear. You see huge protests in Mumbai. Even in Delhi, where the police are under the BJP, you see protests in places like Shaheen Bagh. But your government does not allow peaceful protests.
Those who are burning buses on the road. Those who are trying to burn policemen alive. What will you say to those people? Why are they doing it? What do you think of the CAA? What is your take on it? It is giving citizenship, not taking it away.
There is discrimination at its core. A Muslim may have been persecuted in those countries and seeking refuge in India. Granting citizenship on the basis of religion is unconstitutional. Don't you think so?
This is in accordance with the Constitution. The Parliament works in accordance with the Constitution. This country was divided on the basis of religion. Mahatma Gandhi said that Sikhs and Hindus who were left there can come back at any time. The government here is responsible for giving them a respectable life. In 2003, Manmohan Singh sahab said the same. The parliamentary committee that was formed, whose members are respected Kapil Sibal sahab, respected Motilal Vohra, presided by Pranab Mukherjee sahab, recommended these. Today, you are doing Hindu and Muslim.
(Ed: Manmohan Singh's remarks about taking a more "liberal approach" to granting citizenship to minorities from 'countries like Bangladesh' are different from the law passed in 2019 because it made persecution, not religion, the basis of granting citizenship.
Regarding the claim with respect to the parliamentary standing committee under Pranab Mukherjee, tweeted out by BJP vice president Baijayant Panda on 7 January, The New Indian Express reported that a reading of the full report suggests that giving citizenship to only minority refugees from Bangladesh was merely a suggestion by some individuals, which the committee did not adopt).
You have said there is a list of refugees which the UP government has complied. Who is on this list?
The Citizenship Amendment Act has been passed for the minorities from Islamic nations like Pakistan, Bangladesh and Afghanistan, who were being persecuted. Its gazette notification has now been done. The Uttar Pradesh government has been working on it from long back — as soon as it was passed by Parliament (11 December, 2019).
In 21 districts, based on a survey, 32,000 immigrants have been identified. The information has come to the Home Ministry and we are giving it to the centre. This process is going on with speed. The District Magistrates (DMs) are preparing this information.
There were many people who were living in hiding... We are trying to reach out to those people through newspapers and pamphlets published in Hindi and Urdu in newspapers. We are appealing to them, on behalf of the government and the party, to come forward to contact officials in their location and get registered.
What does the government plan to do with this list?
The process to make them citizens is starting.
It will take a very long time.
Yes, of course. All legal procedures will have to be followed.
You said that this survey was going on from before...
Not from before. It was an informal process since the law was passed by Lok Sabha.
How can the UP government do this identification on an informal basis when the rules for the implementation of the CAA have not been notified?
There are a lot of people who have already been registered. The refugees who are living here. Many of them are already identified. They are already on the record. But there are some people whose visas have expired and they are living in hiding. More names have to be added to the list.