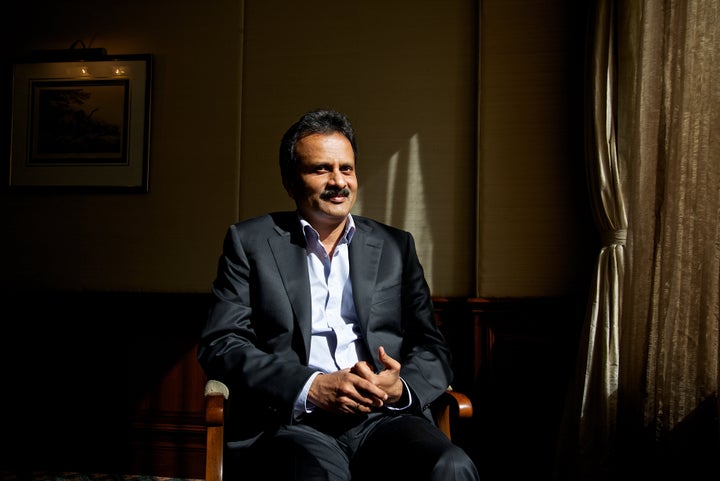 "A body has been found which appears to be of Cafe Coffee Day owner VG Siddhartha", Deputy Commissioner of Dakshina Kannada, told PTI on Wednesday.
Mangaluru MLA UT Khader later told the media that friends and relatives had confirmed that the body is of Siddhartha.
The body was found on the banks of the river close to an ice plant at Hoige Bazar, over 9kms away from the Nethravathi bridge, The NewsMinute reported.
It had washed ashore near Ullal and was fished out by local fishermen, PTI said.
Siddhartha, the son-in-law of former Karnataka chief minister and BJP leader SM Krishna, had last been seen by his driver near a bridge on Netravati river in Dakshina Kannada district on Monday night.
Police, along with the Coast Guard and the NDRF, had on Monday launched a statewide search in Karnataka after his disappearance.
Siddhartha's disappearance
Siddhartha had left from Bengaluru to Sakleshpur in Hassan district in a car on Monday afternoon, but on the way had asked his driver to go towards Mangaluru, the police said.
On reaching the bridge, he alighted from the car and told his driver that he was going for a walk.
"He (Siddhartha) asked the driver to wait till his arrival. When he did not return even after two hours, the driver approached the police and lodged a missing complaint," Deputy Commissioner of Dakshina Kannada district Senthil Sasikant Senthil told PTI on Tuesday.
Senior Congress leader D K Shivakumar said he found the disappearance of Siddhartha "utterly fishy" and sought an investigation into it.
"It's unbelievable that a courageous man like him would resort to this," Shivakumar tweeted.
He said he has known closely Siddhartha and his family members for decades.
"However, I find this (the disappearance) utterly fishy and urge that a thorough investigation be conducted into this matter," he said.
The letter
After he was reported missing, an alleged letter written by him to the board of directors and the "Coffee Day family" showed he was under "tremendous pressure" from lenders. PTI reports the letter's authenticity could not be verified.
In the letter, Siddhartha said, "I have failed as an entrepreneur."
"Tremendous pressure from other lenders lead to me succumbing to the situation," he said.
In the letter, Siddhartha complained of "a lot of harassment from the previous DG Income Tax in the form of attaching "our shares on two separate occasions to block our Mindtree deal and then taking possession of our Coffee Day shares, although revised returns have been filed by us".
However, the IT department in Bengaluru questioned the signature on this note and said "the authenticity of the note is not known and the signature does not tally with the signature as available in his annual reports."
Meanwhile, Shivakumar said the letter purportedly written by Siddhartha, "which is circulating", is dated July 27 (Saturday) and he received a call from him on Sunday asking if they could meet.
Search operation
Teams of National Disaster Response Force, Coast Guard, Home Guard, fire services and coastal police scoured the waters under a bridge across the swollen Nethravathi river, where 60-year old Siddhartha was reportedly last seen, to trace the coffee tycoon.
Local fisherman, along with their boats, have also joined in the frantic search operations.
"Air Cushion Vehicle (H-198) is undertaking search in Nethravathi River and providing support to CG diving teams. Three diving teams, along with the district disaster relief team, has been deputed to carry out search for the missing person," the Coast Guard said in a statement on Tuesday.
Cafe Coffee Day takes stock
Siddhartha launched the first Cafe Coffee Day outlet in Bengaluru in 1996 when the city was on the cusp of transforming into an IT hub and the chain currently has over 1,700 outlets across India and abroad.
Shares of Coffee Day Enterprises Ltd crashed 20 per cent after news surfaced that he had gone missing. The scrip hit its lower circuit limit as well as its 52-week low of Rs 154.05 on the Bombay Stock Exchange.
Coffee Day Enterprises said it was assessing the situation after Siddhartha went missing and formulating appropriate steps to ensure business operations are unaffected.
The company's board held an emergency meeting following disappearance of Siddhartha and also reviewed the letter purportedly signed by him and shared copies with relevant authorities.
It has also "sought the assistance of local and state authorities, who are doing their utmost, and relevant officers of the company are cooperating with the authorities as requested", the company said in another regulatory filing after the board meeting.
In Mumbai, global buyout major KKR said it is "deeply saddened" by the disappearance of Siddharth and it had invested in the popular coffee chain nine years ago and part-exited the investment last year.