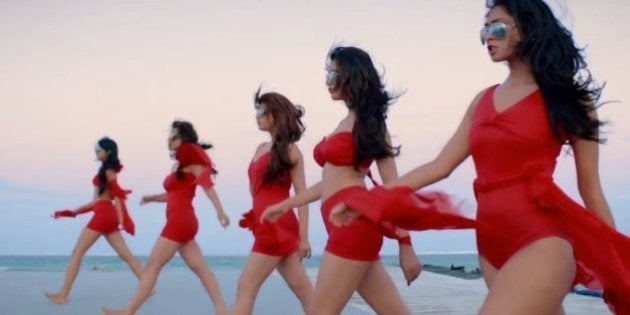 Director Madhur Bhandarkar is back in theatres, with a familiar song whose chorus goes, "People in big cities can be bad and bad things can happen to people who are inherently good." Throughout his career, from his multiple-National-Award-winning Chandni Bar (2001) to Heroine (2012), the filmmaker has constantly relied upon these words to guide him through screenplays that start out exploring different kinds of worlds, but somehow all end up the same.
So here we go again with Calendar Girls, a film that looks at one year in the life of five models who pose for a glamourous calendar shoot. The references are obvious and the movie even has Suhel Seth playing a version of liquor baron Vijay Mallya. And yes, any similarity with the similarly named 2003 British comedy starring Helen Mirren as one of several middle-aged women who pose for a nude calendar is purely accidental.
Working without a mainstream lead actor or actress for the first time in many releases, Bhandarkar attempts to lend some diversity to his lead characters. So, we have Sharon Pinto (Kyra Dutt) from Goa, Nandita Menon (Aakanksha Puri) from Hyderabad, Paroma Ghosh (Satarupa Pyne) from Kolkata, Naazneen Malik (Avani Modi) from Lahore, and Mayuri Chauhan (Ruhi Singh) from Rohtak. Of these, Dutt has actually been a real-life calendar girl, while Puri and Modi come with acting experience from the South Indian and Gujarati film industries respectively.
So, here's the deal: it's not impossible for Calendar Girls to have been a watchable movie, even if we know exactly what it's going to say. Yes, the girls are bad actors, with only Dutt and Singh accidentally displaying signs of a performance, but after a while you almost grow accustomed to their awkwardness. Commendably, Bhandarkar even tries to avoid his usual sand-traps: over-the-top gay characters, depiction of drug abuse, and blatant racism (never forget Priyanka Chopra's sense of devastation in Fashion after she wakes up next to *gasp* a black man).
Unfortunately, he also ensures that carboard cut-out characterisation and awful, one-note writing hang around at this house party from hell to neutralise whatever can be salvaged. The dialogue-writing is often cringe-worthy and there are too many bad actors and unintentionally hilarious moments in this movie.
You could, of course, watch this movie just for the laughs. The biggest ones that were heard during the press screening in Mumbai on Thursday were during the following scenes: one, in which Sharon, who later becomes a TV anchor, is told that she is being 'promoted' from entertainment to 'serious news' within a matter of months (#JokesJournalistsLike); another, in which an individual with a creepy smile arrives at Paroma's door-step to offer her a part in a reality show — a moment everyone in the theatre had predicted at least half an hour in advance.
The biggest irony, of course, is that the movie is one long meta statement. As the story follows the predictable arc of the girls finding success only to face sexism, misogyny and betrayal at every corner, you realise with growing horror that Calendar Girls is also exactly that: an attempt at chixploitation in the garb of social-message filmmaking.
How else do you explain a racily-shot montage in Mauritius, where the girls pose in barely-there bikinis for celebrity photographer Timmy Aanand (Rohit Roy), that ends with him popping open a bottle of champagne, some of which splatters on the camera lens? Subtlety level: Bangbros.
And if that isn't enough, Bhandarkar also makes what is possibly the saddest vanity cameo I may have ever seen in a film. Mayuri, who aspires to become a Bollywood actress, runs into the director at one point (who never, ever takes off his aviators) and is told to exclaim something to the effect of: "Your movies are realistic as well as eye-opening!"
Desperation level: Madhur Bhandarkar.



Popular in the Community