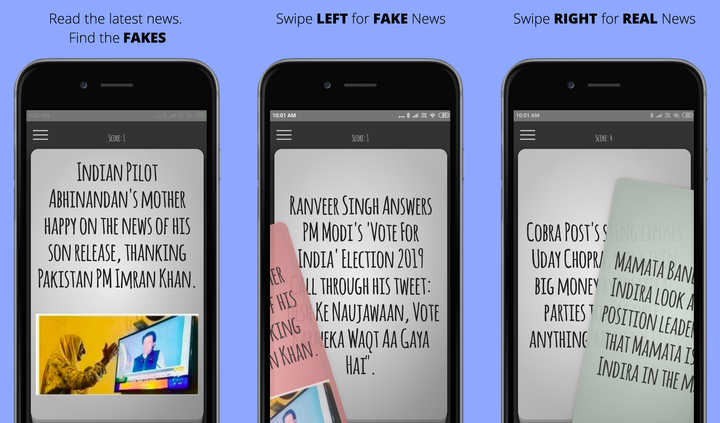 Can people recognise fake news? Do people agree that they can't actually spot it, and will they appreciate this fact more if it is presented as a challenge? That's the genesis of Litmus, a mobile game designed to teach people how to recognise fake news, rather than being taken in by it. It's presently available for Android phones, with an iOS version in the works.
This was a question we decided to approach at Enthrall Labs, a startup born at IIM-Bangalore's Incubator. Here, we create meaningful engagements through developing mobile applications, and we realised that the way for us to make a difference was through helping people recognise fake news.
There are enough of news websites and fact-checking websites which investigate news sources and bring the truth to the people. So our team built Litmus, which is a quiz game meant to be an eye opener to people that fake news exists widely; and to make us understand that we all fall prey to it.
Our team felt that building a gamified and analytics rich platform will be a perfect match to the cause of raising awareness. Litmus uses gamification and deep analytics to achieve its mission. It is intuitive, easy to onboard and use, inspired by Tinder, so as to appeal to wider demographics.
You are shown news snippets, and swipe right for real news, and you swipe the fakes to your left. That's all there is to it — you know immediately whether you were right, or fooled by fake news. Litmus not only tells you whether your answer was right or not, but also provides you the source of the news to read more details if you wish to. Litmus uses many other gamification tools and also provides rich analytics.
One of the things that came out through testing sessions was that being proven wrong was an "aha" moment for our beta testers. They immediately wanted to know what the real story was, and to dig into the details when they got a match wrong. In our initial tests, we would say if news is true or false, but that was it.
This wasn't good enough for the testers, who wanted to know what the grounds were, by which we were saying this. So we then included a link to the source, so people could read the details of the fact check, and this made them satisfied.
The idea of Litmus was floating around for quite some time but the team actually started working on it a few months ago. Once we had the basic hypothesis in place—can people recognise fake news—it was time to put the idea through testing sessions.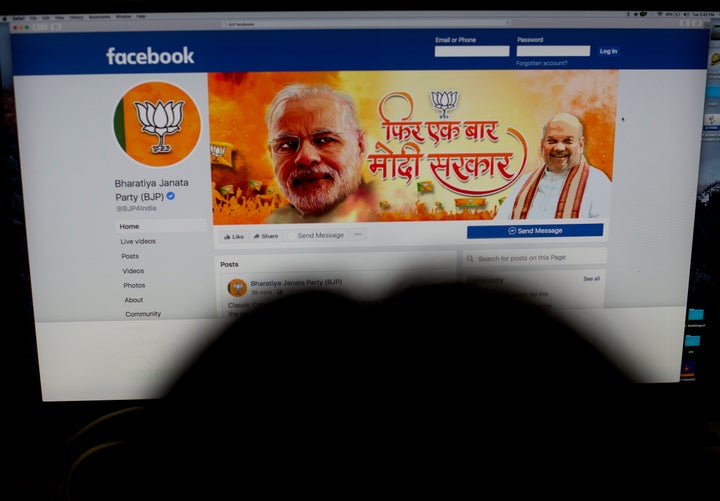 Aside from initial testing with sample users, we also ran polls on social media platforms. The results were as we expected. People believe that they are good at recognising the truth, and it was a surprise to them that they could not identify fake news.
The results made us very clear in our head about who we are and what we don't want to be. We did not want to build another news aggregation app nor did we want to create any fact-checking mechanism.
The foremost need was to raise awareness about fake news. People needed a helping hand to bring them closer to reality. The idea is that healthy scepticism is not bad, and we all need to pause for a while, verify the source of the information, and then form an opinion. We quickly started building around those ideas.
Our previous experience in building applications helped us seek out active user feedback and accordingly build gamification that brings excitement. Litmus is, by design, easy to use for even the least sophisticated smartphone user. There are no fancy graphics, or multiple paths of navigation, or visually busy screens, intentionally to avoid confusion.
"The team eventually aims to find some meaningful observations and perform rich analytics to better tackle the problem of fake news. This data might reveal the leading indicators of what makes people fall for fake news, what is the impact of things like images versus the text?"
The design is simple news cards, which users can swipe left or right. The idea of using cards was also tested with the beta users. Initially the app had select buttons, which were removed based on the user experience testing. The app uses Tinder-like analogy where you swipe right for right news and left for fake news. The app then tells you whether it's a right match or not.
Our team manually picks up news items from fact checking sites and other news sources. The news is added in the set of ten cards, maintaining a balance of all kind of news. So far, we haven't received any angry emails! We only select news where it's clearly true or false, and we don't pick any opinions or claims.
During our testing, we specifically made sure that no particular set of users find it difficult to navigate. We did not want to build extensive onboarding, the game has to be quick to learn and instinctive for users.
To our satisfaction, even the least sophisticated users could explore the game without any hand-holding. We made sure that we keep talking to these users, just asking them step-by-step, after each interaction they had with the app. That made us refine the user experience for the simplest and most easy to understand results.
Another very interesting data point during our testing was that many users played it along with their spouse or family member and competed with each other. This led to the idea of building a healthy scoring system in the app.
Litmus provides scoring for each correct swipe. The user progresses to higher levels as the scoreboard progresses. The scoring also provides the success of the user on various attributes. For example, we could use the score to say, how gullible is the user? Or how aware are they? These scores can be shared on social media or using personal links, which might help the game onboard new users, bring more awareness.
The team eventually aims to find some meaningful observations and perform rich analytics to better tackle the problem of fake news. This data might reveal the leading indicators of what makes people fall for fake news and what is the impact of things like images versus the text.
We aim to do our bit as active citizens of this country and use our expertise to fight a cause which needs attention. Fake news is a bane given to us by technology and we aim to use technology to fight the same. We believe that a well-informed citizen is the key to successful democracy and we are happy to do our bit to bring awareness.
Popular in the Community