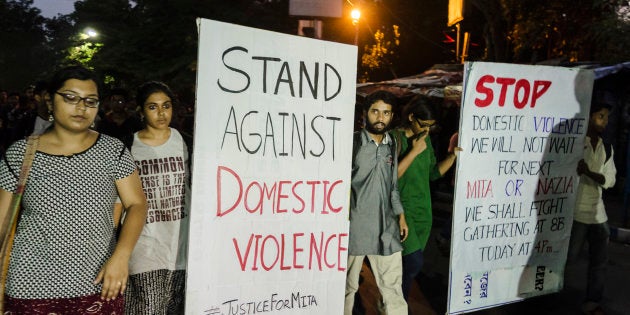 There is a growing call for women's economic empowerment as a step to increase women's autonomy in India and globally. The recently concluded Global Entrepreneurship Summit that focused on Women First, Prosperity for All, promoted by Ivanka Trump, also pushed for greater investments in both private and public sector policies that promote entrepreneurship and economic empowerment of women. However, new research by our center from rural Maharashtra suggests a complex picture of the role of economic empowerment on reducing women's risk from intimate partner violence (IPV).
This study followed women over a period of 18 months and found that women who earned an income were at increased risk for IPV from husbands, but women who gained a bank account or joint control over husband's income were less likely to experience IPV over time. Mixed findings are also noted in our analysis of data from National Family Health Surveys (NFHS) - 4 data, which characterizes women nationally on these issues and shows that states with higher IPV prevalence have on average higher proportions of women with cash earnings (see Fig. 1) and lower proportions of women with bank accounts (Fig 2). These findings need to be seen in light of the fact that overall, India has seen a reduction in IPV along with a stagnation in women's income generation across the past decade.
Does this evidence suggest that women earners perhaps face greater threat from partners, and bank account acquisition- a well-recommended form of financial inclusion promoted by the government- can protect women from violence? It may well be that women's earning may be a marker for social or financial stressors in households that may be linked to IPV, and women's bank account ownership may be a marker for women's greater mobility or freedom to obtain a bank account, factors likely related to lower risk for IPV. Regardless, these findings suggest that simple approaches to women's economic empowerment, such as income generation and entrepreneurship, may have little impact in a context where women may not control the income earned or be able to use it to gain savings for the future.
Certainly, programs like the Pradhan Mantri Jan Dhan Yojana and the Pradhan Mantri Mudra Scheme can be platforms for increasing women's access to banking services and asset generation, but these programs need to engage a gendered lens in addition to socioeconomic inequities to be impactful. The question for financial inclusion programs focused on women's economic empowerment is- Are your services simply engaging women as well as men or are they engaging women in a way that allows them greater financial autonomy and social mobility without compromising their bodily safety?
Policy advocacy, new laws against violence and research to understand dimensions of harassment in India are in a state of flux today. In this scenario, efforts like at the GES 2017 that emphasize that women have 'seats at the table' are important. However, the benefits of economic participation cannot be assumed and it needs to be recognized that economic participation and financial inclusion do not work in vacuum. As gender justice advocates, we need to push for greater clarity in research, program and policy towards understanding what forms of empowerment, including economic empowerment, can help end this violence. Has increasing employment helped women reduce IPV – at present, evidence is mixed.
Can women's financial inclusion through increasing bank ownership improves autonomy and dignity of women within homes – findings are encouraging. It is only with careful consideration of how we assess and interpret data on women's economic empowerment from programs for creating bank accounts, accessing loans and engaging with self-help groups, across rural and urban areas, that we can understand the impact and pathways linking empowerment to greater safety and wellbeing of women.
(The opinions expressed in this post are the personal views of the author. They do not necessarily reflect the views of HuffPost India. Any omissions or errors are the author's and HuffPost India does not assume any liability or responsibility for them.)
Popular in the Community