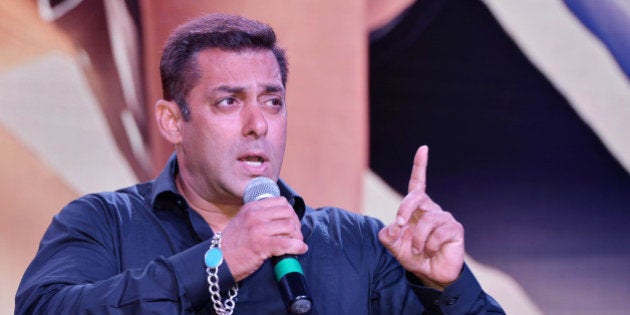 In perhaps the most unsurprising news break of the century, Salman Khan said something stupid and outright obnoxious. And nobody in Bollywood as much as even squeaked in protest. That would have been an equally unsurprising development, had it not been for an incident from a month back.
Let me explain this timeline here. Salman Khan is a big star in the Indian film industry. He sings, he tweets about ants playing hockey and flies saying namaste, he launches sons of half-celebs of the past and he makes a hell lot of money for his producers. He also spawned a tribe of people who would lie prostrate and circle theatres screening his films, if they could. Irony may have to die many deaths, but it must be admitted that Salman Khan is a damn big deal in the country. And Bollywood, for the longest time, was not synonymous with either gender sensitivity or the responsibilities that come with having a spine.
However, a month or so back, a comedian made a Snapchat video spoofing Lata Mangeshkar and Sachin Tendulkar. It was a mock conversation between the sports icon and the music legend - both played by the comedian himself. While posting the video, he even issued a disclaimer that said he loves and respects both the icons being spoofed. However, the video saw unprecedented backlash against him. A host of Bollywood stars joined the Twitter chorus against him. The comedian was chastised for insulting national icons, for insensitivity and basically having no respect for people who have achieved a lot in their lives.
Cut to two days back. Salman Khan said that a rigorous shooting schedule was like getting raped. The imaginative man that he is, he went into some fine details too - that he couldn't walk, like a woman can't immediately after being raped. Also, he clubbed women with alcohol, drugs and cigarettes - dispensable vices that can make your life miserable. For any rational person, that's the kind of statement that churns your gut and manufactures this unpleasant thing called puke.
However, Bollywood, it seems is made of quite something else. They couldn't spot anyone being insulted, didn't possibly find any show of insensitivity, definitely couldn't see anything problematic or outrageous. Hence, while everyone around them raged and ranted, they fell eerily silent - possibly stunned by this strange, new thing called taking an unbiased stand.
The same bunch of people who were frothing at their mouths at the supposed insults hurled at two people, didn't bat an eyelid at Khan talking about rape the same way he talks about talented flies and ants in his tweets. Rape, which involves brutal physical violence inflicted on a person, at times on children as young as a day old. Rape, which plagues the country so dangerously, that 92 women are raped on an average every day here. Rape, which took the life of the Delhi woman Bollywood profusely condoled. Rape, which is a crime, as opposed to an average joke.
Actually, they are probably right in staying quiet. An industry which has actively promoted stalking, treating women as mere bodies and props to show off a man's machismo, perhaps, can't take a moral high ground on the issue.
Maybe, like true friends, Bollywood is busy huddling around Khan now. Thinking that the world needs to cut the man some slack. Or perhaps they are grumbling that it is the fault of the people who get raped - had they not gotten raped, Khan wouldn't have been compelled to use them as an analogy. Or just wondering what's the brouhaha about. He has just said something. Not like he has run someone over.
Popular in the Community