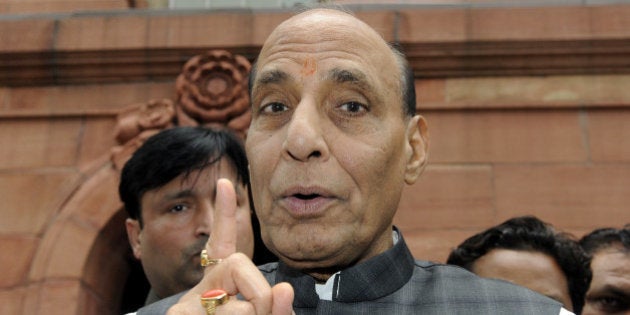 LUCKNOW -- Cancellation of NSA talks by Pakistan is "unfortunate", Union Home Minister Rajnath Singh said here today and made it clear that the possibility of any future dialogue will depend on the neighbour.
He underlined that India stands for dialogue and cordial relationship with Pakistan, a day after the talks between NSA Ajit Doval and his counterpart Sartaj Aziz were called off.
"The cancellation of NSA-level talks between India and Pakistan is unfortunate. India is in favour of dialogue," Singh said on the sidelines of a function at Sanskrit Vidyapeeth here.
On Pakistan blaming India for cancellation of talks, the Home Minister said, "It is Pakistan which has cancelled the talks and not India."
He said that India has always been of the view of maintaining good and cordial relationship with the neighbours and its efforts would continue.
"But Pakistan should not have deviated from the agenda decided during the meeting between Prime Minister Narendra Modi and Pakistan Prime Minister Nawaz Sharif (in Ufa in July)," he said.
On Pakistan's criticism of India's objections to Aziz's meeting with Kashmiri separatist leaders, Singh said, "the thing was that there will be no third party in NSA-level talks. It was only NSA level talk. There was nothing like that others too will hold talks before, later or in between."
The Union Minister said Pakistan should have held talks as per pre-decided agenda.
'Pakistan Never Brought Up Kashmir At Ufa'
Hitting out at Pakistan, Singh said if Pakistan was so keen on raising the Kashmir issue, why didn't it do so during talks in Ufa even as the Modi government came under fire from Congress for its "ham-handed" handling of the situation.
Accusing Pakistan of deviating from the agenda agreed in Ufa between Prime Ministers Narendra Modi and Nawaz Sharif, Singh also made it clear that the possibility of any future dialogue will depend on the neighbour.
On Pakistan's claim that Kashmir was the main agenda, the Home Minister said, "Why didn't Pakistan raise the Kashmir issue in Ufa in Russia when the two Prime Ministers met last month? Why was it not decided earlier that it would be part of NSA-level talks? It was never an issue on agenda."
Pakistan last night called off the talks in Delhi between National Security Adviser Ajit Doval and his Pakistani counterpart Sartaj Aziz, hours after India made it clear that discussions on Kashmir and a meeting with separatists will not be acceptable to it.
Congress Steps Up Criticism
Congress lashed out at government's "ham handling" of talks and accused it of playing into Pakistan's hands, claiming that India has lost out on all the gains of last 10 years.
"Unfortunately, the NDA government has played into Pakistan's hands by being imprecise, by being unprepared, by lacking focus, by being ad hoc, by not doing sufficient hard-nosed groundwork, good old-fashioned diplomacy and preparation.
"We are very sad that all the gains of the last 10-odd years on Indo-Pak settlement of atleast some issues, are given a setback by such aborted talks. No such opportunity should have been given to Pakistan to wriggle out of as serious an issue as terror," Congress spokesperson Abhishek Singhvi said.
"We deprecate the ham-handed manner in which several aspectshave been handled by the government," he said.
"I think the government needs to get its house in order. It needs to make sure that multiple agencies which suddenly appear to have started making Indian foreign policy, either the multiplicity is eliminated or complete unity and coherence is introduced in all those multiple agencies to speak through one agency and in one voice," Singhvi said.
Attacking Pakistan, he said it is clear that it wants to run away from all issues relating to terrorism as it does not want any discussion on any issue or exchange of information, particularly on those serious matters on which it can be cornered.



Popular in the Community