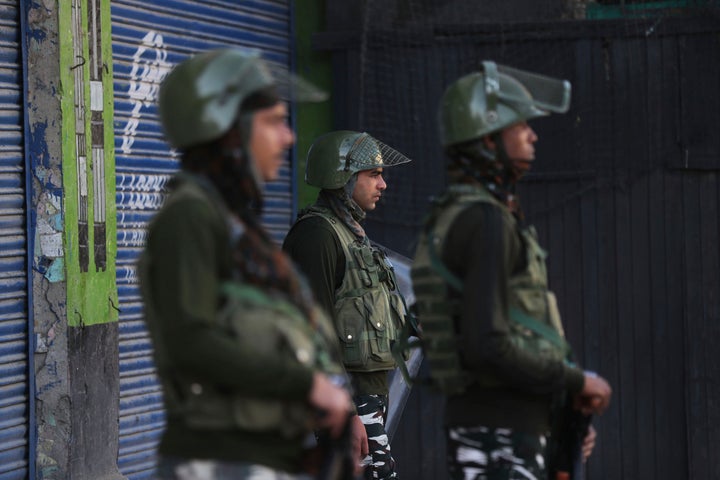 NEW DELHI — On 29 August, a Jammu and Kashmir police officer tweeted out the names and Facebook profile photos of five men, accusing them of "posting fake news, instigating people to disturb peace in the area."
The men, who belong to Poonch and Rajouri districts of the recently created Union Territory, currently live in Kuwait and the United Arab Emirates (UAE), and were alleged to have posted "sensitive remarks" on Facebook.
The police registered FIRs against them for "promoting enmity between different groups on the grounds of religion, race...," and under Section 66B of the Information Technology Act, which is "punishment for dishonestly receiving stolen computer resource or communication device."
When a Kashmiri physicist from Srinagar, who had published a Facebook post on 20 August alleging that the Indian army had beaten and tortured a fellow Kashmiri, heard the news, he started feeling worried.
The substance wasn't surprising in itself—booking people for social media posts has happened too many times in India, especially since the Narendra Modi government came to power in 2014.
What really startled the physicist, who is studying in Europe, was a news report that quoted Yougal Manhas, Senior Superintendent of Police (SSP) of Rajouri, Jammu, as saying that that process to cancel the passports of the five men would be started soon.
"Are they going to start cancelling passports now? I don't know what to do. Should I take down the post? I really don't want to take it down. I know that I'm not lying," the physicist asked worriedly, speaking on the condition of anonymity.
In an interview, SSP Manhas told HuffPost India that the five people in question had published posts that "set one religious community against another," and threatened India's sovereignty. "They said that 'we are ready to do jihad against the Government of India,'" he said.
The investigation is ongoing, and he confirmed that cancelling their passports is being considered as an option to "compel their attendance."
The strategy of cancelling passports to force people back to the country can work only if India has an extradition agreement or treaty with their country of residence, which, in this case, are Kuwait and the UAE.
Manhas, however, admitted to HuffPost India that he had no idea whether India had extradition treaties with the two countries when he spoke to the media about cancelling their passports.
But five lawyers told HuffPost India that moving to cancel the passports of citizens living abroad over allegedly objectionable Facebook posts is "unprecedented."
In the month since the government abrogated Jammu & Kashmir's special status, J&K—which is still undergoing severe communication and mobility restrictions—has turned into a laboratory for government excess and overreach.
As this example shows, the excuse of maintaining law and order is leading to decisions that not only violate the rights of Indian citizens, but also sets dangerous precedents.
Thousands of people, including politicians, have been detained or arrested, violating not only their fundamental rights and the principles of natural justice, but also the Jammu and Kashmir Public Safety Act (PSA). With no phone and no internet, families are finding it hard to find out where their relatives are lodged, let alone seek legal counsel.
On the passport issue, Supreme Court lawyer Kamini Jaiswal said, "Your question is 'can they do this?' Yes, they can do it. They have kept people in jail without grounds. The present dispensation can do anything. They don't care about the rule of law. You'll have to challenge it."
"Are they going to start cancelling passports now?"
What does the law say about cancelling passports?
While the Passport Act, 1967 allows for the revocation and cancellation of passports, the broad and vague parameters it lays out have long made it vulnerable to misuse. For instance, Section 10 (3) of the Act says that passports can be impounded or revoked if the passport authority thinks it's necessary for "the security of India".
The government generally moves to cancel passports of people such as Nirav Modi, the fugitive diamond merchant wanted for a billion dollar bank scam, not ordinary citizens who would be rendered stateless without their passports.
In a 1978 case, Maneka Gandhi versus Union of India, which dealt with a passport official impounding Gandhi's passport in the "interests of the general public" under Section 10(3)(c)of the Passport Act, a seven-judge bench of the Supreme Court ruled that the Right to Life and Liberty guaranteed under Article 21 of the Indian Constitution incorporates a citizen's freedom to travel and go abroad.
In this landmark judgment, which expanded the scope of the Right to Life and Liberty, the court also said that Article 14 (Right to Equality), Article 19 (1) (a)— Freedom of Speech and Expression—and Article 21, had to be read together.
"Their waters must mix to constitute that grand flow unimpeded and impartial justice …" the court said.
The Supreme Court in Maneka Gandhi versus Union of India observed that the government order under Article 10(3)(c) was vague, and conferred limitless powers on the authorities, which violated the right to equality under Article 14.
That Gandhi was not furnished reasons and given a chance to respond, the court observed, was in in violation Audi Alteram Partem rule, which means "to listen to the other side," which, in turn, violated the principles of natural justice.
The Supreme Court ruled that any executive orders and procedures, which infringes on a person's right to life and liberty, cannot be arbitrary or irrational, noting that the government should almost always provide reasons for revoking or cancelling passports.
"Even executive authorities when taking administrative action which involves any deprivation of or restriction on inherent fundamental rights of citizens must take care to see that justice is not only done but manifestly appears to be done.They have a duty to proceed in a way which is free from even the appearance of arbitrariness, unreasonableness or unfairness. They have to act in a manner which is patently impartial and meets the requirements of natural justice," the court said.
In Suresh Nanda versus C.B.I, a 2008 case in which the Central Bureau of Investigation confiscated the passport belonging to Sanjeev Nanda's father, the Supreme Court said that the police cannot impound passports under the Criminal Procedure Code (CrPC). (Sanjeev Nanda is the Delhi-based businessman who ran over six people with his BMW in 1999).
Four decades after the Maneka Gandhi case, the Kashmiri physicist is debating whether his passport will be cancelled if he leaves the Facebook post up on his timeline, whether he will be allowed back into the country, and whether he will find a job in the future.
"In the short run, I'm afraid that they will cancel my passport. In the long run, say, I get a post teaching at IIT (Indian Institute of Technology), and someone pulls this up and says 'look how he was writing 'anti-India' posts', then what will happen? Will I not lose that position?" he said.
"In the short run, I'm afraid that they will cancel my passport. In the long run..."
A Facebook post, written from the Muscat airport
Before he was leaving Srinagar, the physicist's mother had told him not to discuss Kashmir with anyone. But when the 28-year-old landed in Delhi and heard people talk about how Kashmiris had welcomed the Modi government's move and how great everything was, he couldn't help himself.
The fact that he was frightened and waited to leave India before writing a Facebook post alleging that his childhood friend was beaten up and tortured at an Indian army camp in Shopian, was not lost on the physicist, an IIT graduate who is currently pursuing a PHD at a foreign research institute.
"I know from past experience that the IIT card does not work in these circumstances," he said, referring to a raid in his own home last December.
"I'm disappointed. People that one believes will know the difference between right and wrong, good and bad, they are getting swayed by this false nationalism. This is not about politics, but having empathy for people living through terrible times," he said.
It was while he was waiting for his connecting flight in Muscat that he felt compelled to write about his friend. In the Facebook post, he alleges that army personnel had come to his friend's house on 12 August, beaten him up and confiscated his phone, asking him to pick it up from the army base in Shopian on 14 August.
The Indian army has denied allegations of torture in Kashmir.
The physicist, who normally visits his home at regular intervals, says that he doesn't plan to enter India for at least one year. He is afraid that his family might be targeted.
"I feel frustrated. There are things that I have seen with my own eyes but I cannot say anything. It feels like living in a cage," he said, adding, "Tomorrow, if they cancel my passport, who is even there to question them?"
"I feel frustrated. There are things that I have seen with my own eyes but I cannot say anything. It feels like living in a cage."
Reporting to the NIA
After he had published his post on Facebook, the Kashmiri physicist said that he was stunned at how many people responded with a laughing emoji.
What shook him, however, was a comment from one man who wrote, "I am reporting this to NIA. Let them investigate."
The man then uploaded a screenshot of his email addressed to info.nia, which read, "I came across a profile on Facebook (link) with seemingly good credentials posting against Indian Armed Forces. Sharing the link of the profile and the screenshot of his latest post. Please register what's due. Thank you. Jai Hind."

A WhatsApp message, which has been circulating across groups over the past few weeks, asks people to report "hatred for India or its Army" to the NIA.
"If you come across any social media post in any group, page, handle or wall containing propaganda, hatred for India or its Army on the issue of Kashmir or any other topic you may report to NIA. You can fill up the form after clicking on the link below or may call on phone or email the authority," it says.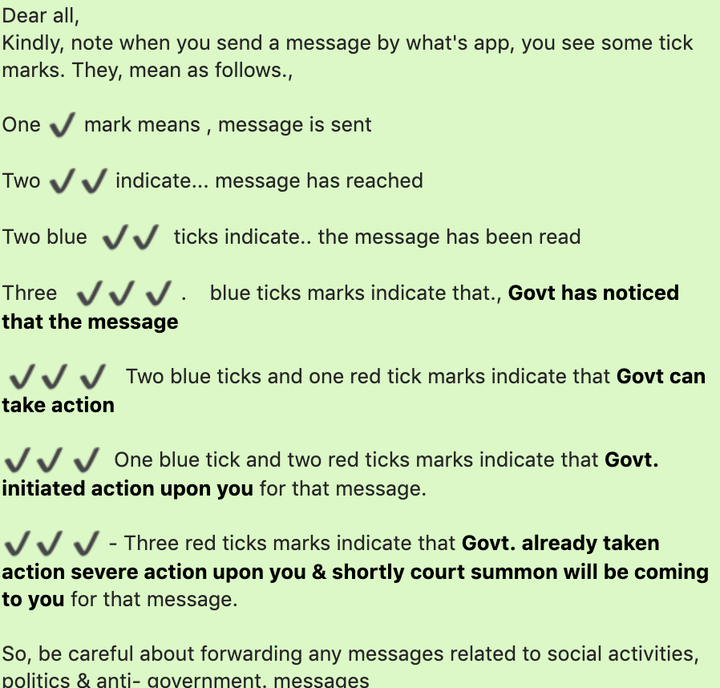 Another Whatsapp message doing the rounds also warns people against "forwarding any messages related to social activities, politics & anti- government."
Rattled by the man's email to the NIA, the physicist changed his settings, making the post available to his friends, and not to the public.
Even people he knew from IIT, he said, aren't asking questions about how the Modi government's decision to revoke J&K's special status is playing out in Kashmir, instead choosing to believe TV channels which say everything is 'normal'.
"These are people who could have made a difference," he said.