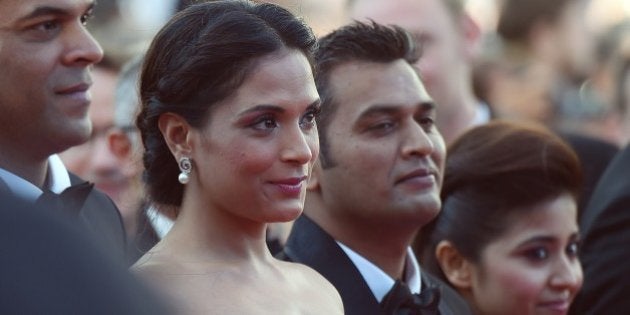 The world's largest and best-known annual cinema event, the 68th Cannes International Film Festival, ended on Sunday, with French director Jacques Audiard taking home the coveted Palme d'Or (Golden Palm) for 'Dheepan'. For Indian film lovers, the bigger news came late on Saturday night, when it was announced that 'Masaan' — competing under the festival's 'Un Certain Regard' section — had won two awards.
Director Neeraj Ghaywan, making his feature film debut, tweeted enthusiastically about 'Masaan' winning a FIPRESCI (International Federation Of Film Critics) award and a Prix de l'Avenir (a special jury prize for promising debut films), the latter shared with Iranian film 'Nahid'. In terms of number of honours, this makes 2015 India's best year at Cannes since 1988, when Mira Nair's 'Salaam Bombay!' won the prestigious Camera d'Or (Golden Camera, given to best debut filmmakers) as well as the Audience Award.
He also thanked his mentor, Anurag Kashyap.
The film, starring Richa Chadda and Sanjay Mishra, is a meta-narrative set in Benares, following a set of characters across parallel stories that eventually intertwine. As one of two Indian entries at 'Un Certain Regard' (the other being Gurvinder Singh's 'Chauthi Koot', which got some praise but went home empty-handed), 'Masaan' was reviewed by a number of international publications. It even received a five-minute-long standing ovation, after its first screening.
However, praise for the film, although abundant, was not unanimous. Here are excerpts from select reviews, from the positive...
Neeraj Ghaywan's very engaging debut feature Masaan confronts the tensions between ancient and modern through a Paul Haggis-style approach of intertwining tales of love, loss, grief, police corruption and crumbling moral certainties set in Benares, the holy city of the Ganges.
Neeraj Ghaywan's directorial debut Masaan is a revelation. While the stereotypes usually perpetuated by film are of "poverty and beautiful landscapes" (as described by Ghaywan), Masaan depicts an India "on the brink of change", but still shackled by the chains of tradition.
To our western eyes, Masaan strikes at first by its documentary interest. Because the film shows us a face of India rarely seen on our screens: the lives of members of different social groups, so neither filmed nor superficial pessimistic. Without aiming artificial mosaic choir film Masaan manages to skillfully intertwine two different stories.
With his co-writer Varun Grover, Ghaywan creates a sure-footed character-driven debut that has all the intensity of a Bollywood drama but is told with a delicacy of touch similar to recent Indian dramas The Lunchbox and Udaan.
... to the somewhat less enthusiastic.
Set on the Ganges in the holy city of Benares, the pic (alternately titled "Fly Away Solo") attempts to weave together two separate stories of people struggling to overcome societal pressures, but helmer Neeraj Ghaywan hasn't found ways to overcome script and editing weaknesses, resulting in a disappointing drama that's unable to realize the potential of the one truly interesting character.
Tying the ends in a predictable outcome, but no less effective, Masaan is a work that functions as romance and drama, have humor, but above all, it demonstrates how the cinema can be a powerful weapon to defend causes in coordination and convincing.
I have seen this kind of plot a million times. And I found nothing to grip me, nothing to bowl me over. Yes, the narrative is low-key, performances are understated. But except for Sanjay Mishra who plays the retired teacher with fantastic dignity, the others are just passe.
A good starter for director Neeraj Ghaywan, testing the water for his future career. If he is to read the reviews, he may go in a different direction with narrative for future projects, helping his creative abilities enormously. There are deep subjects to explore here; with uneven treatment it fails. Nevertheless, Ghaywan has an aptitude for visuals and score, as Masaan promotes a great artistic quality.
Here is the trailer for the film. A release date for Indian audiences is yet to be announced.