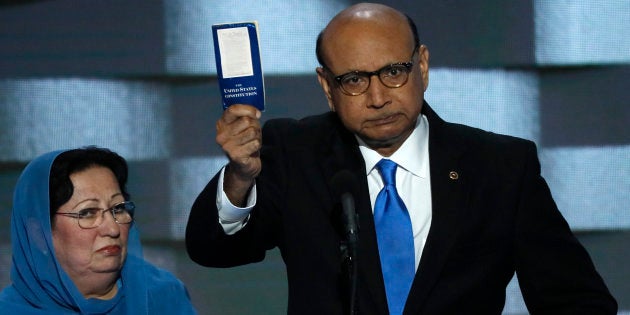 Who would have thought a middle aged Pakistani American man would emerge as the rebuttal to Donald Trump?
In his grief, Khizr Khan has become that unlikely thing – a Twitter trend. When he stepped up to the podium at the Democratic National Convention with his wife Ghazala, he "grabbed our hearts while he grabbed Trump by the throat" writes Moustafa Bayoumi in The Guardian.
Within minutes of his short, halting, dignified address, register to vote spiked as a Google search.
As most of us know by now, Khan's son Humayun was a captain in the US Army. He was killed in Iraq in 2004 when a car packed with explosives approached the gate he was guarding. He asked his men to take cover before he approached the car. It blew up, killing Humayun but before it could kill hundreds of soldiers eating breakfast at the mess hall next door. He was awarded a Gold Star.
Khizr Khan could do what Hillary Clinton could not.
Khizr Khan could do what Hillary Clinton could not. He could put his hand over his heart, look Donald Trump in the eye and say, "You have sacrificed nothing. And no one." Seven words in seven minutes of immense power as he reminded Trump that if it was up to him, "Humayun never would have been in America."
And in a moment of unexpected theatricality he pulled a worn copy of the Constitution out of his pocket and asked Trump, "Have you even read the U.S. Constitution? I will gladly lend you my copy." This to a man who famously does not even know how many Articles there are in the U.S. Constitution. But he did not use the Constitution as a prop. He carries it around often. He told Politico, "It's my favorite document. I wanted to use it because I wanted to highlight the protections that immigrants have in this country."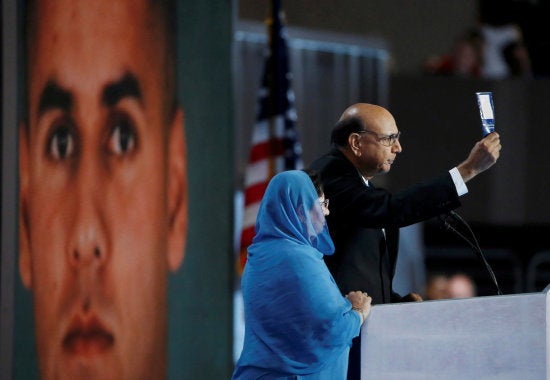 It was a moment of startling power. It was as if the dead Humayun Khan appeared like Banquo's ghost at Donald Trump's grand feast.
Yet it's worth noting also what else Khizr Khan said, something that got swept away in the emotional power of everything else. He said he and his wife spoke as "patriotic American Muslims with undivided loyalty to our country". That assertion of "undivided loyalty" is the test that immigrants face over and over again. And not just immigrants. Muslims in India are subjected to that patriotism litmus test constantly. Are you Indian first or are you Muslim first?
Even Bill Clinton could not quite avoid a litmus test for American Muslims in his speech at the convention. He thought he was being inclusive when he said "If you're a Muslim and you love America and freedom and you hate terror, stay here and help us win and make a future together, we want you."
But it just showed how ingrained that sense of "other" is. Other Americans' place in America is taken for granted, even those that burn the flag. Other Americans can commit crimes and be prosecuted for it. As Peter Beinart points out in The Atlantic Muslims "should not have to prove that they 'love America and freedom' and 'hate terror' to "stay here".
It is not enough that Humayun Khan went to fight for the USA and died for it, his parents still have to assert that "undivided loyalty".
It is not enough that Humayun Khan went to fight for the USA and died for it, his parents still have to assert that "undivided loyalty". And even that is not enough for right-wingers like Ann Coulter who promptly tweeted, "You know what this convention really needed? An angry Muslim with a thick accent like Fareed Zacaria (sic)." She did get some pushback, even from the right wing who realized she had crossed a line. Longtime friend and editor John Podhoretz tweeted, "I'm ashamed ever to have known you."
Of course Khizr Khan's emotional testimony does not change some uncomfortable facts. Humayun Khan died in a war that was founded on a lie perpetrated by the government of the United States. He died in a war fanned by post 9-11 anger but targeted at a country that had nothing to do with 9-11.
It was a war that then Senator Hillary Clinton had supported at the time though later she said "Obviously, if we knew then what we know now, there wouldn't have been a vote, and I certainly wouldn't have voted for it." But she never conceded the vote was a mistake. It's a war that Donald Trump claims he has always opposed though he did not have to vote on it and there is no record of what he said before the war started. He did make one offhand remark that it was "a mess" at a Vanity Fair party.
But Khizr Khan's appearance was also proof that the hate and xenophobia Trump has unleashed in this campaign has made it necessary to hold up the example of Humayun Khan to rebut him. But as Bayoumi writes in The Guardian, "(T)o be a Muslim citizen of the United States, you don't have to die as Muslim American. You can live as one, too." Death cannot be a citizenship test.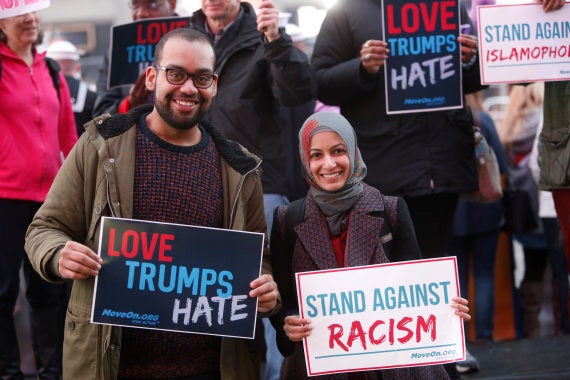 All of that is true. All of that is rife with irony. Yet it does not change the power of what Khizr Khan did that night. He looked America (and Donald Trump) in the eye and said, "I am the other. I am the one you do not want to allow in your country."
In a 2005 interview with the Washington Post, Khizr Khan had talked about how his son was inspired by Thomas Jefferson, about how his soldiers called him "our Captain" not Captain Khan, about starting a foundation in his name to counsel soldiers. At that time he said he was certain he did not die for nothing. But then he lifted his arms, embracing the air and said, "I just can't seem to get my arms around the loss."
Let us hope that night at the Convention the Khans got their arms around that loss at least for a bit. Let us hope that that night at the Convention they truly felt their son did not die for nothing. If nothing else, Khizr Khan proved that night that there can be moral power in a sacrifice even if that sacrifice was done in the service of an immoral war.
Andrew Sullivan of New York Magazine called the speech "the fulcrum of this election". I do not know about that. It is hard to shame people into voting one way or the other. For me Khizr Khan echoed what another American politician said in another context decades ago, "Have you no sense of decency, sir, at long last? Have you left no sense of decency?" Khizr Khan did something few have been able to do in this bitter and vulgar election. He gave it a moment of decency. Seven minutes to be precise. Seven minutes without a teleprompter.
Popular in the Community