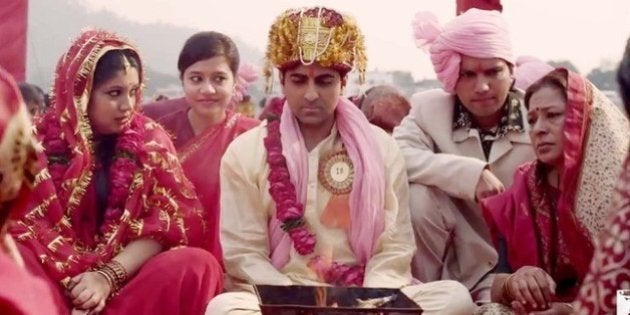 According to a new post on popular film blog Moi Fight Club, the word 'lesbian' was muted from a scene in last week's release Dum Laga Ke Haisha. A picture of an internal circular titled 'Cuts recommended by CBFC' accompanies the post, clearly specifying that the word 'lesbian' should be muted. Aside from that, the circular also mentions the deletion of four Hindi cuss words: 'ghanta', 'haraamipana', 'haraam ke pille', and 'haraamkhor'.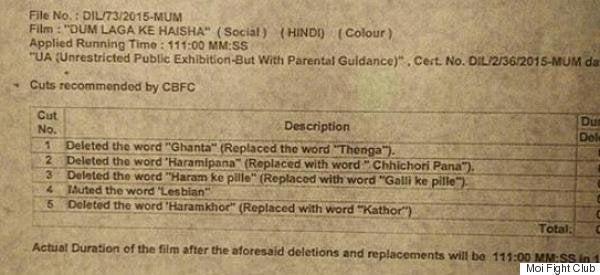 Reactions to this move on social media have been critical, with some users calling it homophobic.
Forget beef,u cant say "lesbian" in hindi film. Har har Gangey! WTF : The dreaded "Lesbian" bit in Dum Laga Ke Haisha http://t.co/9R20oXsvBf

— CilemaSnob is now (@NotSoSnob) March 3, 2015
This doesn't appear to have been a unanimous opinion, as even CBFC board member Ashoke Pandit tweeted his disapproval of his own board's decision.
Came to know through news papers & If it's true then muting"Lesbian"in a film is shameful.I condemn it.#freedomofexpression

— Ashoke Pandit (@ashokepandit) March 3, 2015
However, on this occasion, it seems like the CBFC has gone too far even for him. "This entire thing makes no sense. To mute the word 'lesbian' as though it is a swear word is to disrespect the feelings of the entire LGBT community," he said, in a phone conversation with HuffPost India.
He further stated that this decision doesn't seem to be in accordance with any rules of the Cinematograph Act, 1952, which is followed by the examining committees who rate the film. "The cuss-word list has been rejected by the I&B Ministry, and rightly so, otherwise no one will be able to make films in this country. This decision, to my mind, seems illegal," he said.
Could the CBFC please let us know what the *beep* is happening over there?
Popular in the Community