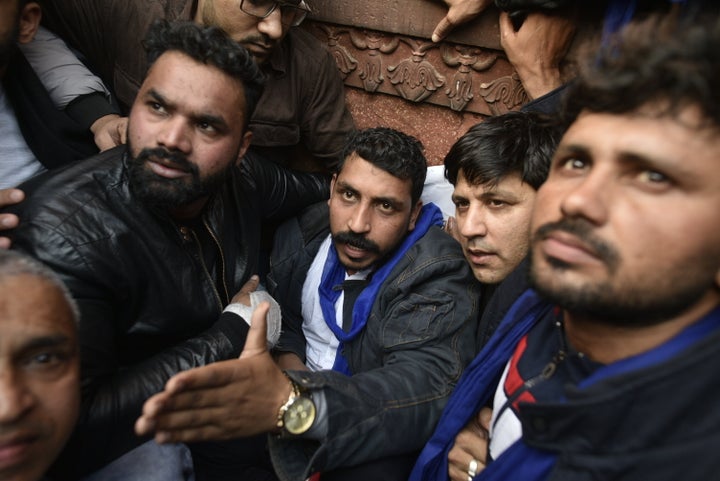 After spending more than two weeks in Tihar Jail, Bhim Army chief Chandrashekhar Azad was finally taken for a medical check-up on Monday after his physician requested authorities multiple times on Twitter.
Dr. Harjit Bhatti told HuffPost India that since his arrest on 20 December, Azad had been requesting jail authorities to get him medical help, but no one paid heed.
While Azad was finally taken to Deen Dayal Upadhyay Hospital in West Delhi for an hour-long check-up, Bhatti alleged that neither his lawyers or associates were informed of this.
While Bhatti, Azad's physician for more than a year, said that the 33-year-old suffered from a blood condition and needed regular medical attention, the PRO for Tihar Jail told HuffPost India that Azad was "perfectly fine".
"He was taken to the hospital and several blood tests and an ultrasound were done," Mr Rajkumar said.
Hyperviscosity causes a person's blood to become thicker than normal and increases the risk of clogged coronary arteries and heart attacks. Azad, said Bhatti, has been undergoing phlebotomy to drain out blood from his body in order to maintain its normal viscosity. The last phlebotomy procedure was performed on Azad, according to Bhatti, on 20 November at AIIMS.
"His haemoglobin and haematocrit (ratio of volume of red blood cells to total volume of blood) has to be checked regularly to make sure both are not too high. He has undergone multiple phlebotomy procedures in the past one-and-a-half years and once with just a 15-day gap," Bhatti told HuffPost India.
HuffPost India spoke to two haematologists who explained that there could be various causes for hyper-viscosity, the most common being a higher-than-normal platelet count or very high haemoglobin. Delhi-based Dr. Rahul Bhargava said that a person with hyper-viscosity of blood should ideally get a set of blood tests done every month to make sure that the haemoglobin is within normal limits.
"Say, the person's haemoglobin becomes 19 (it's between 14-16 for an adult male), there will be more red blood cells than normal in his blood. If not treated on time, it can lead to a stroke," Bhargava said. The condition, he said, is usually treated with phlebotomy and medication.
Dr. Toofan Dolui, a Kolkata-based hematologist, said that in some cases, a phlebotomy procedure is good for 2-3 months, but generally it is safe to check once a month. "The symptoms of hyper-viscosity include severe dizziness, gum bleeding, headaches, blurred vision," he said.
Bhatti said that, Azad may have been had been suffering from the condition when he was in the Saharanpur jail, but he was only diagnosed once he was released.
"We met at a protest. He told me about his symptoms and after investigation, we realised he is suffering from this condition," Bhatti told HuffPost India.
On 20 December, Azad was arrested for protesting against the Citizenship Amendment Bill in Delhi outside the Jama Masjid. He has been lodged in Tihar Jail since then.
In June 2017, he was jailed for a year under the National Security Act by the Uttar Pradesh government, which meant there was no trial. His bail pleas were also constantly rejected. He was among four Dalits arrested in connection to the Saharanpur caste violence, for which not a single dominant caste person was picked up.
Azad joined the protest against CAA at Jama Masjid after police cracked down on students of Jamia Millia Islamia University in Delhi.