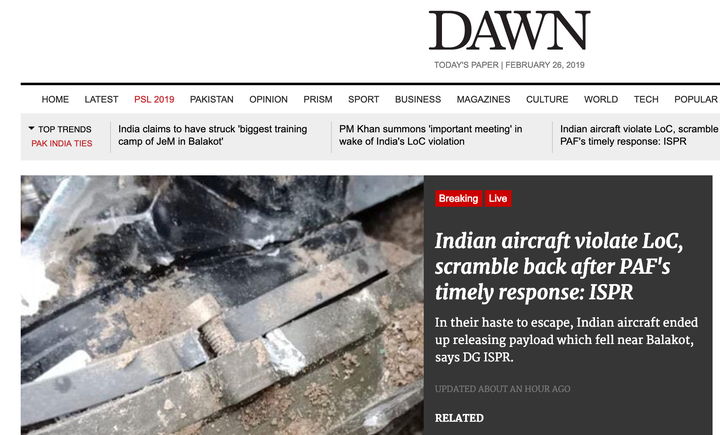 A majority of the English language media in Pakistan quoted the country's Army declaring the Indian Air Force's reported strike against Jaish-e-Mohammed camps in the country a failure. At the time this report was published, the top headline on Pakistani newspaper Dawn's website was 'Indian Aircraft Violate LoC, Scramble Back After PAF's Timely Response: ISPR'.
The report added, "In their haste to escape, Indian aircraft ended up releasing payload which fell near Balakot, says DG ISPR."
Another daily Express Tribune led with the following headline: "Pakistan chases away Indian jets after LoC violation." It also carried another article where Pakistani foreign minister Shah Mehmood Qureshi promised 'befitting response'.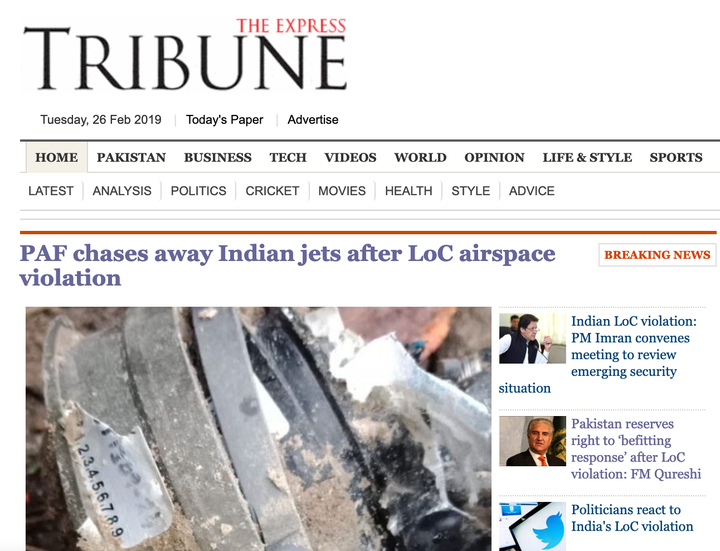 While The Nation led with led with a quote from the foreign minister declaring that both Pakistani citizens and the country's defence forces are on alert, one of the top articles on the site claimed that 'the chiefs of Pakistan's land and air forces met on Monday to review country's preparedness for thwarting any Indian aggression as world powers backed Islamabad's stand in the post-Pulwama attack situation." Another article on the website headlined 'India 'minds' airing of ISPR briefing' pointed at the news of the Modi government alleging issuing show-cause notices to channels airing a Pakistani armed forces press conference.
Most newspapers termed the Indian Air Force's actions as 'intrusion' and 'violation of the LoC', words used by the Pakistani Army to describe the operation. For example Pakistan Today reported, "PM Imran summons meeting after LoC invasion by Indian aircraft."
The News International paraphrased the Army's claims to headline their lead article on their website as: "PAF repulses Indian attempt of incursion into Pakistan air space."
In India's statement on the strike, foreign secretary Vijay Gokhale confirmed the Air Force had struck JeM terror camps across the LoC. Gokhale said it was a "non-military pre-emptive action" targeted specifically at the JeM camp. India said a large number of terrorists were eliminated in the strike.