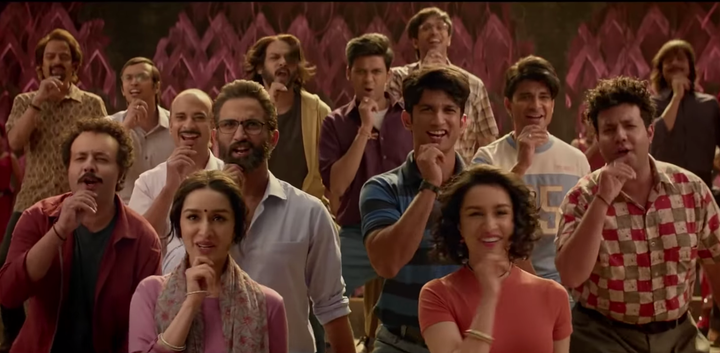 Folklore has it that in ancient African traditions, when women would go into labour, the healer, as doctors were then referred to, would tell them a story to get through the pain. The storytelling worked not only as a distraction but as a therapy to manage the pain, which would eventually give way to a new life.
In Nitesh Tiwari's Chhichhore, the son of a successful couple plunges from a high-storey after he discovers that he hasn't made the cut at an engineering college. Despite his parents (played by Sushant Singh Rajput and Shraddha Kapoor) being fairly progressive, they unknowingly create invisible pressures on their young child, who feels - like hundreds of Indian students - that it's his responsibility to reward their expectations by getting an all-India rank.
As he battles for his life in the ICU, Rajput's Anirudh and Kapoor's Maya, along with their old gang from college, now settled in different parts of the world, come together once again to tell their young son a story of a lifetime. Tiwari, he of the history-making Dangal, subverts the tropes of a college drama by setting the film in an IIT-style campus and yet not making it anything about academics. This very creative decision, and its stellar execution, shows us Tiwari's politics: he's critiquing India's tragic education system by eliminating it from his story. It's important as a backdrop but doesn't always have to turn into a singular focus. Instead, he anchors his plot in collegial emotional-bonding, sports, capturing youthful idealism and the pragmatic wisdom imbued along the way, inverting the narrative of what constitutes education.
As we travel back into time, a campus rarely seen in mainstream Hindi movies comes alive with all its dinginess and imperfections. Tiwari, who has often articulated his yearning for the past, creates a universe so believable, it appears that he has captured a precious autobiographical moment in time and deposited it in the repository of cinema for his own personal viewing.
Varun Sharma's 'Sexa' encapsulates every horny dudebro one encountered in college while Naveen Polyshetty's acid-tongue and inventive cuss words earns him the moniker of, well, 'Acid'. There's Tushar Pandey's Biswa-resembling nerd 'Mummy' and Saharsh Kumar Shukla's alcoholic 'Bewda.' Tahir Raj Bhasin 'Derek', a brooding senior hungover on the loss of a competition, completes the group of 'losers' from hostel no. H4, who've never won the annual sports championship. They're in sharp contrast to the entitled brats of H3, a set of characters purely created as foils for the underdogs.
Although the director employs familiar characters, he, his production designer Laxmi Keluskar and Anchal Bhalla, Etisha Jain and Pratik Uppal of the film's art department, ensure that the world they inhabit—of post-pubescent youths going through the motions of transitioning from boys to men—is sprinkled with such rich details, none of it ever strikes as superfluous or overtly designed. The dirty canteen, the rickety hostel rooms, the stinky bathrooms, Chhichhore's world is a realistic window into college life before mobile phones, one where Gold Spot and Debonair magazines quenched thirsts of hormonal teens.
And yet, the filmmaker resists the lure of romanticising the past by infusing his narrative with genuine conflicts. His command over writing and creating believable characters is best witnessed in the organic camaraderie he manages to create between the gaggle of men. The fluidity with which Tiwari and editor, Charu Shree Roy, switch timelines and connect the present to the past, keeps the drama engaging. It also reveals how the lessons of college, gained mostly outside the classrooms, find their practical application in a tragic moment in time.
As the story progresses, the drama heightens and this is where the proceedings get tricky. The film finds immediate resonance because of how the gentle manner in which it nudges the viewer's emotions through the bedridden boy. However, when that part gets relegated to the backdrop and the sporting competition takes over, the film's already long running time starts to feel longer. Unlike Dangal, which rested largely on the sport itself, Chhichhore didn't quite need that and the many competitions get laborious to watch as one can foresee the outcome. However, a scene where they pass their hostel cook as a coach who throws food analogies ("Piss do inko, chutney banado") is laugh-out-loud hilarious.
What's even more interesting is to see the depiction of middle-aged Indian men tear up, reflect, and strip themselves off their own coding of masculinity. Men in Chhichhore own up to their shortcomings and are unafraid to shed tears, their shared pasts creating a safe space to express emotional vulnerability. Using that as a set-up, Tiwari subtly exposes how what we perceive to be 'cool parenting' masks inefficient parenting. In a scene where Pathak reflects on the wine bottle he bought to celebrate his son's result, the director is telling overbearing Indian parents: be careful what you wish for.
Sushant Singh Rajput, is, I believe, an actor who exaggerates subtleties. He draws attention to moments that need to be understated, thus defeating the purpose. Here, however, we see the actor's true range. His transformation, from the restless, enthusiastic boy on campus to a man reeling under trauma, is persuasive and worth rooting for. His gait is defeated but determined, his eyes, helpless yet hopeful. It's a complex performance which is, sadly, not quite matched by Shraddha Kapoor, whose only age-transformation seems to be her wardrobe and a bindi, a failing of the writing and not so much of the actor herself.
After treading a long journey, Chhichhore comes to an overlong climax with a melodramatic finale that literally unspools in slow motion. It's an unnecessary gimmick in an otherwise clever film. However, the takeaway from that is still compelling: by the end, Tiwari strips the power from the word loser and shifts it to something more potent. In doing so, he essentially calls out winning culture at a time when young people often feel isolated as they intimately witness the tangible success of other, younger people.
By making a film about the effort and not the result, right after Dangal - which had its share of problems - is Tiwari preemptively preparing himself for a film that might not match the exponential success of his last?
Even if subconsciously he is, it's worth his effort. As Chhichhore argues, living isn't always about winning. It's about living. And in some cases, a story is all that you need to survive.
Popular in the Community