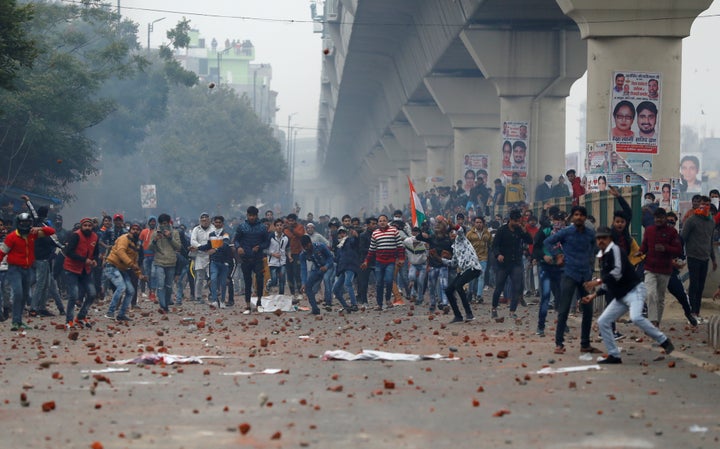 Even as protests against the Citizenship Amendment Bill continued across the country, yet another demonstration in Delhi took a violent turn. Only a day after the police violence on students of the Jamia Millia Islamia University, police resorted to lathi charge and firing tear gas at a protest in Seelampur. People were said to have been injured in the incident.
Photos and videos of the incident showed protesters pelting stones at the police. The police claimed that a police picket was set ablaze along with two-wheelers parked in the area.
Meanwhile, reports said that three students of Jamia had been admitted in Safdarjung Hospital in Delhi with bullet wounds. Meanwhile, the police told The Indian Express that they will carry out a probe into the incident as "prima facie" looked like bullet wounds.
More protests were held on Tuesday. There will be a protest at Bengaluru's Mount Carmel college, NGMA in Delhi, at Sabarmati Ashram in Ahmedabad and at Iqbal Maidan in Bhopal.
Get live updates:
6.20 pm: Opposition leaders write to President over protests against CAA
"The widespread protests across the country against this enactment is proof of the fear that has spread in the minds of common people," the letter read.
5:30 pm: More Protests At Jamia Over CAA
5:28 pm: Modi Govt Has No Compassion When It Comes To Shutting Down People's Voices, Says Sonia Gandhi
A delegation of the Opposition, led by Congress interim president Sonia Gandhi, met President Ram Nath Kovind on Tuesday over the police violence in Jamia Millia Islamia University in Delhi on Sunday night.
Gandhi, speaking to the media said, "We've an example in Delhi where Police entered the Jamia women hostel and dragged them out, it mercilessly beat students.I think you all have seen that Modi govt seems to have no compassion when it comes to shutting down people's voices and implement legislation."
4:40 pm: Modi-Shah Blame Congress For CAA Protests Across India
Even as protests continued across the country, Prime Minister Narendra Modi and Home Minister Amit Shah continued to blame the Opposition for the protests.
ANI quoted Amit Shah as saying, "Entire opposition is misleading the people of country. I reiterate that there is no question of taking away citizenship of any person from any minority community. There is no such provision in the bill."
Modi on the other hand said in a rally in Jharkhand, "Congress, its allies instigating Muslims for political purposes."
4:03 pm: Delhi's Seelampur Tense, 6 Metro Stations Shut
While the stone-pelting has stopped in Seelampur on the main road, an NDTV reporter on the spot says that protesters are present in the by lanes of the area and that the situation was not under control.
ANI reported that police were able to take away protests from the Jafrabad area.
The situation remains tense in the area and seven metro stations in the area — Johri Enclave, Shiv Vihar, Seelampur, Gokulpuri, Jaffrabad and Maujpur-Babarpur — have been shut because of the protests.
Traffic to the area has also stopped.
3:42 pm: Stone Pelting And Violence In Delhi's Seelampur
Reports say that the situation is still not under control Delhi's Seelampur where clashes broke out between the police and the protestors. NDTV reported that people have been asked to avoid the roads where the protests were happening.
Metro gates at Seelampur and Gokupuri have been shut. Buses were vandalised, a police chowki and two-wheelers were reportedly set on fire. Reports said it was locals who took out a march.
The cops used drones to keep an eye on the situation.
3:30 pm: Police Lathi Charge, Fire Tear Gas At Protesters In New Delhi's Seelampur
NDTV is reporting that the police lathi charged and lobbed tear gas shells at protesters in Delhi's Seelampur.
The report said protesters and police personnel have been injured.
However, the police have claimed that the situation was under control. The area has been cordoned off and metro stations shut.
Here are some photos from the protest earlier in the day: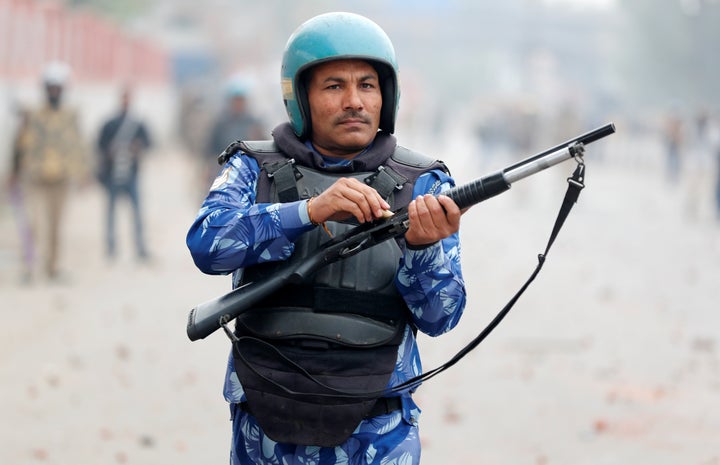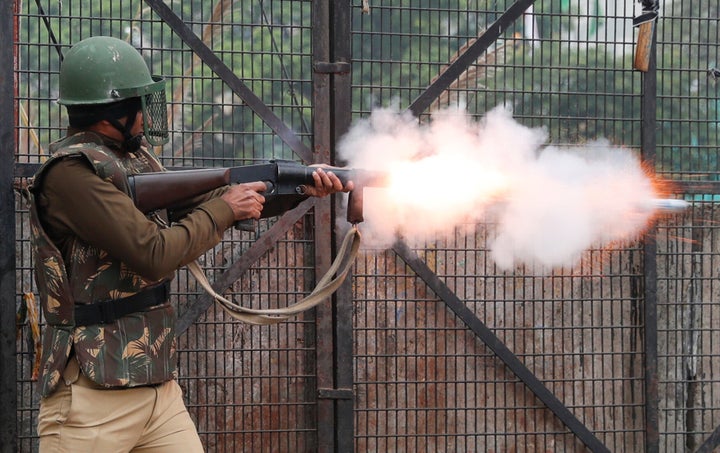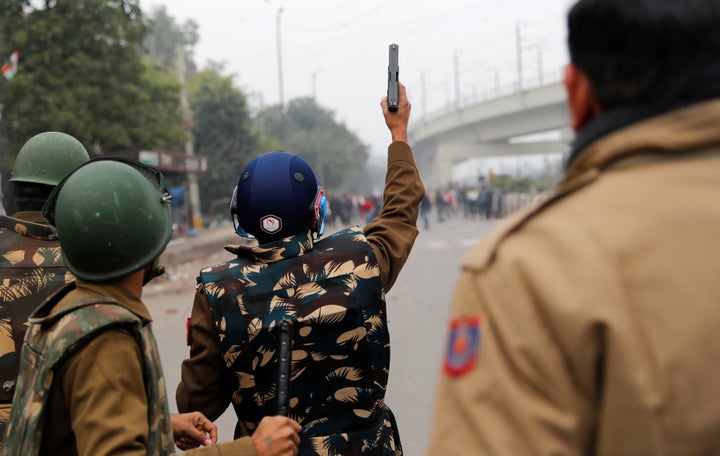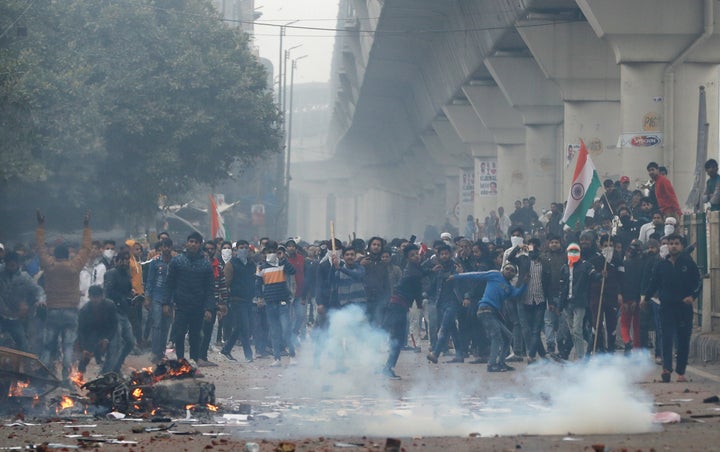 2:35 pm Protesting Students Detained In Bengaluru
Reports suggest that Bengaluru police detained students protesting students from Town Hall in the city.
A reporter with The News Minute tweeted that the police asked students to leave the area and when they resisted they were detained. Here are the images:
1:23 pm: Can You Tell Who I Am From What I'm Wearing, Mamata Banerjee's Retort To Modi
In Kolkata West Bengal Chief Minister Mamata Banerjee led yet another rally saying "Our slogan is 'No CAB, No NRC in Bengal"
To PM's comments on people's clothes, she said, "Can you tell who I am from what I'm wearing?"
She said the country was burning, but the PM was talking about clothes.
1:10 pm: Indira Jaising Seeks SIT For Police Violence In Jamia
While the Supreme Court, hearing cases against police action inn Jamia Millia Islamia and Aligarh Muslim University, asked lawyers to approached the high court, Indira Jaising appearing for students said it needed an SIT.
ANI quoted her as saying, "It is a cross state issue and needs a fact finding SIT. How can the court wash its hands off the issue. Court heard Telangana encounter case. We are asking for a similar order."
"It's established law that universities are not a place where police can enter without permission of VC. One person lost eyesight. Legs of some students were broken," she said.
However, CJI SA Bobde said, "The Telangana encounter case could be looked into by appointing a commission but in this case there is no committee that can look into it all over the country."
11:15 am: SC Says 'Can't Assume Jurisdiction On What Is Happening In The Country'
The Supreme Court on Tuesday said that it could not assume jurisdiction on the violence across the country because it was not a trial court.
ANI reported the SC said this after an advocated told the court that public property was being destroyed in the name of the Citizenship Amendment Act.
CJI SA Bobde was quoted by Live Law as saying, "We are not a trial court. We don't have the jurisdiction for everything happening all over the country."
11:12 am: DMK Holds Protests, Files Petition In Supreme Court Against CAA
Pressure mounted on the government as now more and more political parties came out against the Citizenship Amendment Act. DMK leader MK Stalin held a protest in Kanchipuram on Tuesday even as the party filed a plea in the Supreme Court against the bill.
10:09 am: Cops Probing Bullet Wounds Suffered By Jamia Students.
"It needs to be investigated whether the bullets were fired by police personnel or someone else. Police are likely to approach ballistic experts for more clarity," police sources told The Indian Express.
The police had earlier claimed there were no bullets fired at students.
10:05 am: Vicky Kaushal, Ayushmann Khurranna React To Jamia Protests
Even as people remained outraged about the police action in Jamia, Bollywood actors like Vicky Kaushal said he was "saddened" by the "violence" Meanwhile Ayushmann Khurranna said similar things — that no one should ever resolve to violence.
As far as students accounts go, they were peacefully protesting. Even the Jamia VC Najma Akhtar has maintained that her students were protesting peacefully and were brutally attacked by the police.
In light of the police brutality in Jamia, Kaushal's and Khurranna's comments were criticised on social media. Bollywood itself has drawn sharp criticism for staying silent on the matter.
9:34 am: Assam DGP Says 'Situation Under Control'
The Assam DGP said on Tuesday that it was "unfortunate" that four people were killed in the protests against the Citizenship Amendment Bill but claimed that the situation in the state was under control.
Meanwhile, curfew has been lifted in Assam.
9:29 am: 10 People Arrested In "Jamia Incident", Says Police
The Delhi police have said that 10 people have been arrested in connection with the "Jamia incident", ANI reported. The police said that these people had criminal backgrounds.
9:02 am: Curfew Relaxed In Assam's Dibrugarh
While a curfew had been imposed in Assam's Dibrugarh in light of the protests against the Citizenship Amendment Act, ANI reported that it had been relaxed between 6 am and 8 pm on Tuesday.
8:53 am: Why Do 3 Jamia Protesters Have Bullet Wounds If Cops Didn't Fire?
NDTV reported that they found three students with bullet wounds admitted in Delhi's Safdarjung hospital even as the police have denied firing at students.
The report identified one of the students as Ajaz, who had reportedly been shot on the chest.
NDTV reported that cops had been place on guard to keep a watch on visitors.
8:41 am: Pranab Mukherjee Cautions Against Majoritarianism
Former President Pranab Mukherjee, in the light of the protests across the country against the Citizenship Amendment Bill, said, "This message of the Indian electorate has never been clearly understood by political players. That is why we think we can do anything and everything when we have an overwhelming majority in the legislature. But that should not be the case," he said, asserting that people have often punished such incumbents in the past.
"A numerical majority in elections gives you the right to make a stable government. The lack of popular majority forbids you from a majoritarian government. That is the message and essence of our parliamentary democracy," he said.
8:30 am: Internet Services Shut In Bengal's Howrah
It was not just students how protested. West Bengal has also seen violent protests for past week, because of which the internet will be shut in Howrah district till 5 pm today.