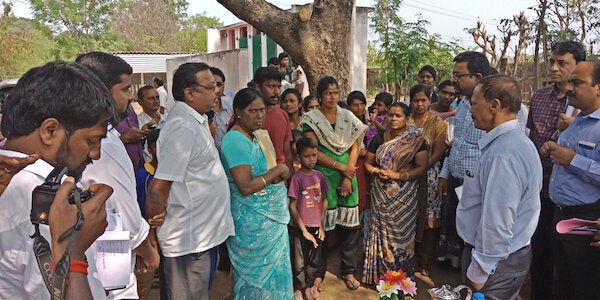 RAMESWARAM/SALEM, Tamil Nadu — On December 16, T. Yanadhan visited the District Collectorate in Salem to express disappointment at the exclusion of Sri Lankan Tamil refugees like him in the Citizenship Amendment Act (CAA) and to request a mercy killing. The 28-year-old, born in Tamil Nadu to refugee parents who fled the civil war in the neighbouring country, said the new law had all but killed his dream of getting Indian citizenship and he was better off dead.
Yanadhan is one of 95,000-odd Sri Lankan Tamils living in Tamil Nadu, according to data available with the state home department. His frustration with the new law may be deeply personal, but it mirrors the anger of tens of thousands of Indians who have rejected the Act as discriminatory, communal and exclusionary. In nationwide street protests that are growing more vociferous by the day, these ordinary Indians from all walks of life have accused Prime Minister Narendra Modi and his Bharatiya Janata Party (BJP) government of making religion an eligibility criterion for citizenship in order to single out Muslims—who constitute 15% of India's 1.3-billion population.
The Act, which is an amendment to a 1955 legislation, allows Indian citizenship for "persecuted minorities" from Bangladesh, Afghanistan and Pakistan. It mentions Hindus, Sikhs, Buddhists, Jains, Parsis and Christians, but not Muslims. The previous law did not include religion as a criterion.
This means the 2019 Act excludes the 18,000 Rohingya Muslims living in camps across India after fleeing persecution in Myanmar. In this article published on December 18, HuffPost India recounted how Rohingya refugees dared not speak out against this unfair law for fear of a violent backlash.
The Tamil refugees are not Muslims. Most of them are Hindus. This has prompted some to point out that their non-inclusion is yet another example of the exclusionary nature of the law.
"The Citizenship Amendment Act gives Indian citizenship to non-Muslim migrants from Afghanistan, Pakistan, and Bangladesh. But the government has excluded Eelam Tamils from the list. They deserve justice,'' said human rights activist Kolathur Mani. (Eelam in Tamil means a separate Tamil country bifurcating Sri Lanka).
In camps and beyond
As the war between the Sinhalese majority and the Tamil minority raged in Sri Lanka for 26 years till 2009, Tamil refugees flooded Tamil Nadu. Today, more than 65,000 of them stay in 107 camps run by the state government. Some 25,000 of them are children. According to the UNHCR, they are India's largest refugee group residing in camps. The remaining Sri Lankan Tamils live on their own across the state and periodically report to the police.
Camp inmates get a meagre monthly allowance from the state—women get Rs 1,000 each, men Rs 750 and children Rs 400. The state enrols children in nearby schools. Non-camp refugees do not receive any allowance.
"In the camps, we live in the shadow of fear and insecurity. We are not allowed to move around in town. There are restrictions on talking to the media. All our basic rights have been curtailed. Three or four decades in a camp means you are incapable of doing anything worthwhile in life. We are always discriminated.""
Being a stateless people, they cannot get marriages or births registered. The government prevents them from acquiring valuables worth more than Rs 2 lakh. And there are few job opportunities for them, in the camps and outside. A small number of women in the camps have been trained in weaving and tailoring by NGOs. Most of the refugees eke out a living doing menial jobs. A few have found employment in the tea estates of Ooty, Yercaud and Kodaikanal. Government jobs and employment in the private sector are a distant dream.
"Most of the refugees work in the unorganised sector. They are exploited but do not complain. Discrimination against them is highly prevalent," said C. Lakshmanan, associate professor at the Madras Institute of Development Studies.
K. Makikkavasagam (name changed on request), an inmate of Mandapam camp near Rameswaram, told HuffPost India, "In the camps, we live in the shadow of fear and insecurity. We are not allowed to move around in town. There are restrictions on talking to the media. All our basic rights have been curtailed. Three or four decades in a camp means you are incapable of doing anything worthwhile in life. We are always discriminated."
The Q branch of the state police is keeping a close eye on the Mandapam camp, the largest in the state. This police wing is in charge of inland security with a focus on terrorism and was deployed in the 1980s to watch Sri Lankan terrorist groups active in Tamil Nadu.
In a similar move, the police in Telangana had visited Rohingya camps in the state to warn inmates not to speak out against the Citizenship Amendment Act.
'I am living as an Indian'
Many of the Sri Lankan Tamils insist they are Indians at heart despite their refugee status.
"In all these years, we have obeyed Indian laws and followed Indian culture. I may be a refugee by birth but I am living as an Indian, with commitment and dedication to the country," Yanadhan told HuffPost India.
Yanadhan still lives in the camp in Pavalathanur, some 45 km from Salem, where he was born. His parents and an older brother live with him. Explaining why he had requested a mercy killing, he said, "I feel the government cheated us. So I preferred a mercy killing for myself."
He has sent copies of his petition to President Ram Nath Kovind and Tamil Nadu governor Banwarilal Purohit.
Yanadhan said the 800 inmates of his camp, who had believed they would get Indian citizenship some day, shared his sentiments. "My request reflects the collective mood of all Sri Lankan refugees," he said. "We are going through mental agony after the law was enacted. Now we belong nowhere and are a liability to both countries."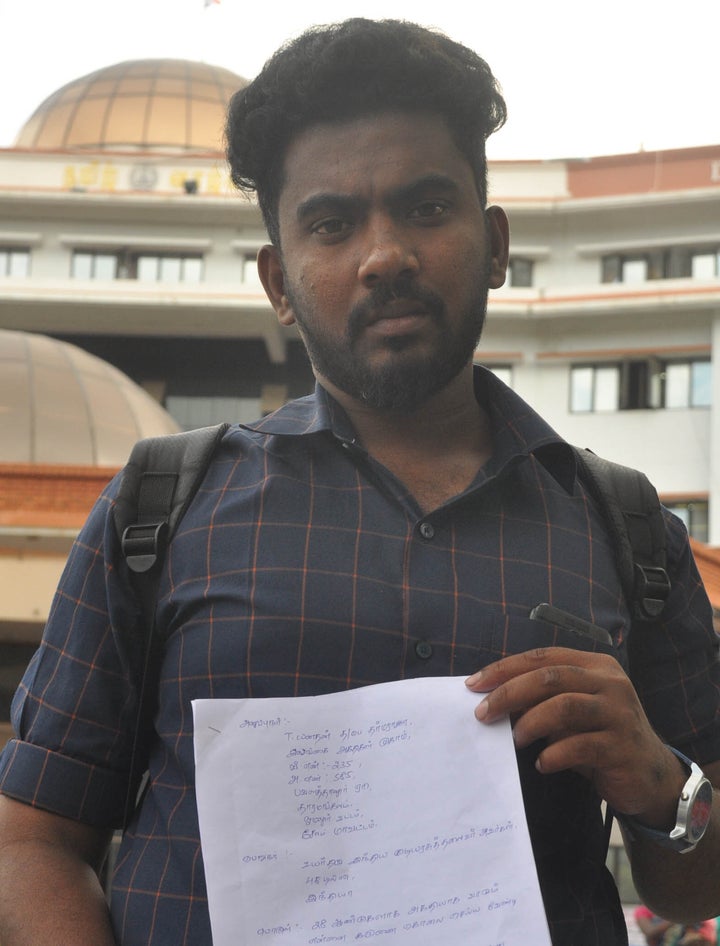 R. Amutha was barely three in 1990 when she and her mother escaped to Tamil Nadu on a boat. Her father died in the war. "We are hopeless now. An upbringing in India with loyalty to the country is not helping us get citizenship," said the computer science graduate, who lives with her family in Nilgiris district.
S. Kanthasamy, another non-camp refugee, lives in Thenkasi district and works part time at an eatery in Thenmala, a hill station just across the border in Kerala. The 39-year-old father of two was seven when he came to India. He said he had hoped to get citizenship, which would allow him to get a ration card and Aadhaar number. All this would have meant a better life for his children.
'Going back is impossible'
Since the Citizenship Amendment Act was passed by Parliament and ratified by the president on December 12, the biggest fear in the camps is deportation.
Dinakaran (name changed), who is 46 and lives in the Mandapam camp, says he has no family left in Sri Lanka and would not know how to start a new life there if he were ever sent back.
Amutha agreed. "There is nobody to welcome us back in Sri Lanka now," she said. "We lost everything in the war. And we started life from scratch here. This is our land and going back is impossible."
Dinakaran said the new law had ensured that his children would face the same insecurities he had. "They are being denied better education and job opportunities because of the citizenship issue," he added.
The inmates also pointed out that the camps were never meant to be permanent homes but had become just that. "When we came here, we treated it as a temporary arrangement. We never had the intention to live here permanently. We all wanted to return to Sri Lanka after the situation improved," said Kanthaswamy. "But now, 30 years have passed and our children feel they belong to this land. Our parents, who brought us here, have died. What can our children do?"
According to data available with the Tamil Nadu government, only 3,000 refugees returned to Sri Lanka after the war ended in 2009.
The refugee community saw a glimmer of hope in June this year when the Madurai bench of the Madras High Court permitted a group of 65 Sri Lankan Tamils to submit a fresh application for citizenship to the concerned district collectors. Now, with a comprehensive law in place, these hopes have been dashed.
While deportation is the last thing they want, a few refugees have started thinking about going back to Sri Lanka. S. Harichandran is one of them. He was 10 when he came to a camp in Chennai. Now 42, he plans to return to Jaffna in Sri Lanka's north as he has been able to make contact with some relatives there. With the CAA in place, he says he longer sees a future in India.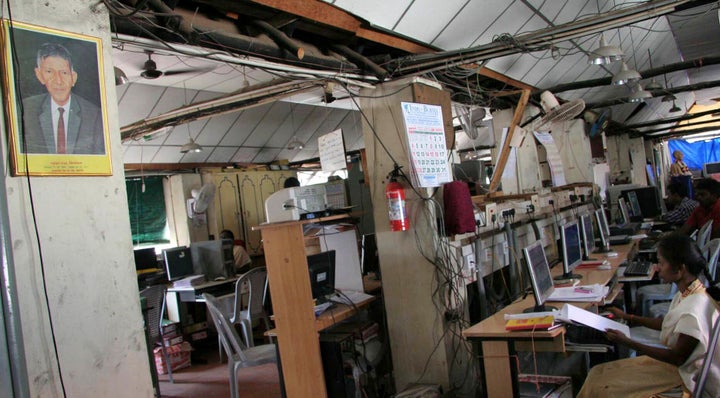 Promises not kept
The refugees feel let down not just by the law but also by the All India Anna Dravida Munnetra Kazhagam government in the state.
In the run-up to the 2016 Assembly elections, the late J. Jayalalithaa, who was then the state's chief minister and the party's top leader, had promised to press the central government for dual citizenship for Sri Lankan Tamil refugees. But earlier this year, the party joined the BJP-led National Democratic Alliance. And it became the only major party in Tamil Nadu to vote in favour of the Citizenship Amendment Bill in both Houses of Parliament. The AIADMK's support for the Bill in the Rajya Sabha, where it has 11 members, was crucial as the final vote tally stood at 125 for and 105 against. The party has one member in the Lok Sabha.
"The BJP says the law paves the way for the entry of non-Muslims from countries such as Pakistan, Afghanistan and Bangladesh to India. Why should the government single out Muslims? Why did the law exclude Sri Lankan Tamils from citizenship?" asked Dravida Munnetra Kazhagam chief M.K. Stalin.
The Opposition leader accused the state government of betraying Sri Lankan Tamils. "Why are the BJP and AIADMK not treating Sri Lankan Tamils as Hindus?" he asked. "Though they are Tamils, they follow Hinduism. Wouldn't their exclusion amount to rejecting Hindu Tamils?"