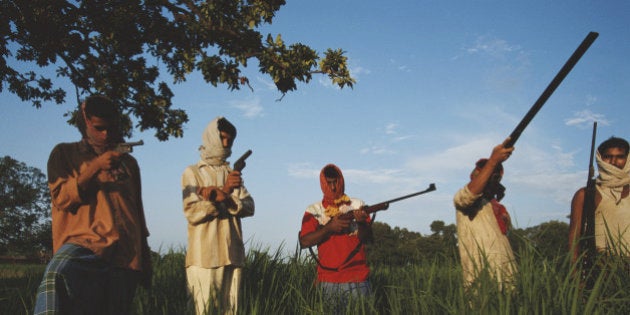 NEW DELHI -- A former Indian Prime Minister and a Finance Minister of India supported the Ranveer Sena -- a group that's been linked to murders of several Dalits in Bihar since 1997-- with political patronage, money and arms alleges Cobrapost, an investigative-journalism outfit that frequently uses undercover- and stealth-reporting tactics for its stories.
Cobrapost says it has recorded six commanders of the Ranveer Sena, admitting their complicity in the murder of 144 Dalits between 1995 and 1997. Two of the six have been declared innocent and set free by the Patna High Court for lack of evidence. The Ranveer Sena is classified as a terrorist group by the Bihar government and is proscribed by the Centre as well.
Cobrapost, which calls its investigation Operation Black Rain, has said on Twitter that it will publicize its findings as a documentary film on Monday.
A lengthy news-report on the Cobrapost website exhaustively details its reporter's conversations with members of the Sena, who claimed to have carried out several cold-blooded murders. Cobrapost says that it has reached out to political leaders (who are mentioned in the story) for comment, but none have yet responded.
#OpBlackRain: Ameer Das also added few other names like Sushil Kumar Modi and others from the same group.

— Cobrapost (@cobrapost) August 17, 2015
(Ameer Das refers to a Ranveer Sena commander and Sushil Kumar Modi is a BJP leader from Bihar)
The Ranveer Sena is a private militia funded by landowners in the Bihar in the early 1990s. It was a 'response' to the emergence of the communist cadres, who were frequently involved in violent clashes with the major landowning groups in Bihar. Dharicharan Singh of Belaur village in Bhojpur district formed a private army of the landowners and christened this outfit Ranveer Sena after his kin, Ranveer Chaudhry, a retired army man.



Popular in the Community