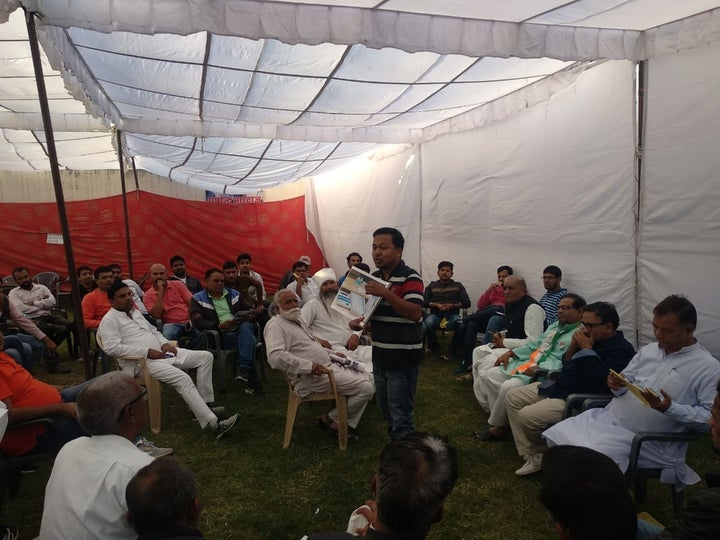 Before the results of the Assembly elections were declared last week, analysts had widely expected the Congress to sweep Rajasthan, which has never chosen the same party for two terms in a row since 1993.
The Bharatiya Janata Party (BJP) and incumbent chief minister Vasundhara Raje, however, put up a tough fight. The Congress finally emerged the single-largest party in the state, but with a slimmer majority than expected.
In 2014, the BJP swept to power at the centre because of a combination of reasons—one among these was its intelligent deployment of social media, data analytics and cadre strength to target both sympathisers and fervent supporters. Since then, the party's use of its IT cell and army of volunteers has only become more intrusive and innovative.
The run-up to the high-stakes general election next year, which will decide whether Prime Minister Narendra Modi will get a second term or not, will see both parties battle it out both on the ground as well as from their "war rooms".
A Reuters report on the two parties' online campaigns says that more than 450 million Indians own smartphones now, more than double the number during the 2014 election. This means that even the Congress, which was late in understanding the power of social media, has no choice but to try and beat the BJP at its own game.
A look at the backrooms of the Congress's campaign for assembly elections in Rajasthan, where a group of earnest, ideologically motivated youngsters helped trained party workers on everything from using social media to booth management, shows both the advantages and limitations that the Congress will have in fighting elections against a bruised but formidable BJP.
A group of 16 young men from Maharashtra, led by 32-year-old researcher Jinda Sandbhor, was roped in early this year on the behest of Avinash Pande, the Congress's general secretary in charge of Rajasthan, to work on the party's campaign in the state.
Among them, four including Sandbhor trained the party's booth workers, campaigners and social media team to prep for the election, while the others worked on analysing and processing data.
"The team taught party workers how to seal EVMs, what EVM certificates were, how to conduct mock EVM drills and why it was important to be at the polling booths at 6 am on election day"
Sandbhor says he was fascinated by the electoral process since he was in junior college in Pune. He claims to have picked up his skills by travelling across the country and observing political parties at work. But he began taking election management seriously only after the Modi government came to power in 2014.
Sandbhor and the team met state Congress president Sachin Pilot in June and gave a presentation on the work it intended to do for the party.
"The main focus of our work was on geographical analysis of booths in every assembly segment and how demographic shift takes place. When a voter votes, he carries certain religious, social or collective approach but the geographical approach is also important," Sandbhor told HuffPost India.
Impressed, Pilot invited the team to conduct a "Chunavi Karyashala" (election workshop) in Jaipur in August. The attendees included senior leader and current chief minister Ashok Gehlot.
Sandbhor also made a detailed presentation on campaigning through social media.
The workshop was a success and the team was asked to train polling agents and develop new strategies for the election.
26-year-old Manas Pagar, who was tasked with social media management, trained party workers on how to deal with polarising issues on social media and build the narrative in favour of the Congress.
Sandbhor's team galvanised the party's "Mera Booth Mera Gaurav" campaign which was already running in the state. The team prepped junior level-workers, assembly-level polling agents and booth-level workers.
Mahesh Sharma, Congress's organisational secretary in Rajasthan, told HuffPost India that he was amazed by the contrast in their work to the party's traditional approach. "I have never seen such micromanagement of elections in the past. They were active 24 hours until the last vote was polled. They taught us how the electoral system works and how the trends are identified. It was like developing a new system," Sharma said.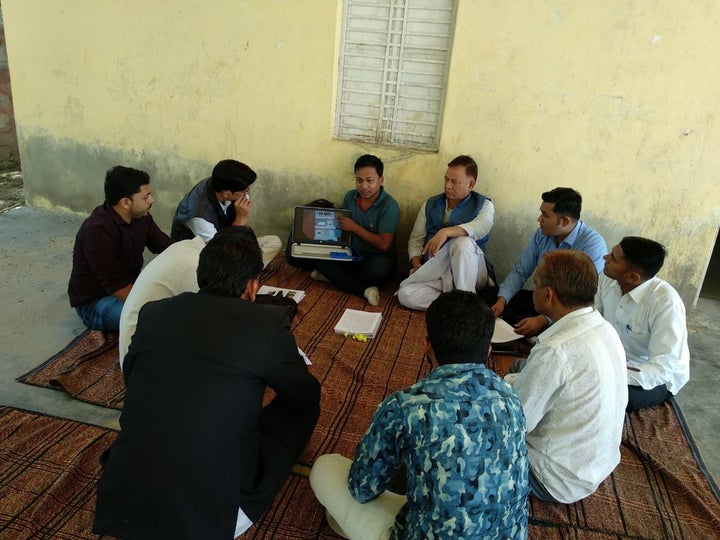 A Congressman associated with the team said on condition of anonymity that the party may not have achieved its narrow victory without the team's work.
The team taught party workers how to seal EVMs, what EVM certificates were, how to conduct mock EVM drills and why it was important to be at the polling booths at 6 am on election day—signalling that the Congress's cadre is still much behind the BJP in terms of running a successful campaign and managing elections.
Political consultants agree.
"Congress should have won Rajasthan hands down. One of the big reasons that did not happen was because the BJP's outreach in last two three days (in every election) is massive. They are very good at getting voters out to vote and this is where the Congress lacks even now. There are many people who want to vote for the Congress but the Congress doesn't have a mechanism in place to bring them out… Everything else is useless if you can't get voters out to vote," political analyst Shivam Shankar Singh, who worked with the BJP until recently, told HuffPost India.
As reported earlier by HuffPost India, the BJP recruits workers from various sections of society, from social workers to local cable TV providers, and uses these volunteers to gather information, ranging from Facebook pages to addresses and phone numbers. Data from these and other sources can then be used to identify caste and religious sympathies, and used to bombard people with messages on WhatsApp and other platforms, a former campaign manager had said.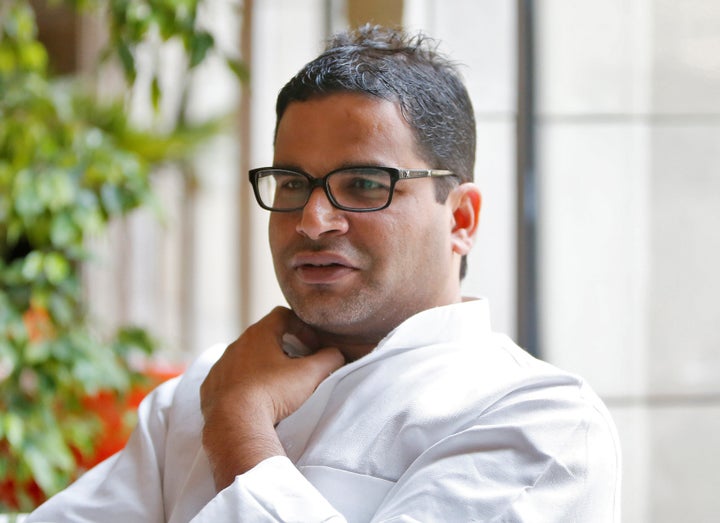 Election management became a familiar term in India after former UN official Prashant Kishor and his Citizens for Accountable Governance were credited with helping Modi and the BJP win in 2014. Kishor's association with Modi began in 2010, and he had been a poll strategist in the 2012 Gujarat assembly election as well. He later formed the Indian Political Action Committee (IPAC), which worked with then-BJP rival Janata Dal (United) in the 2015 Bihar election. Kishor is now a vice-president with the JD(U).
"The challenge was to ensure unbiased and impartial voting and to ensure voters have confidence in EVMs because many now doubt its impartiality," said Sandbhor.
The team also trained two workers from each assembly segment to educate voters about EVMs. These people were then tasked with teaching others.
A hotline, a control room, WhatsApp groups and various other communication channels were set up for Congress workers to communicate with the team if they faced any problems and to help the team monitor the campaign.
In the week before polling, Sandbhor, Pagar and their teammates Amar Jadhav and Sadanand Naik worked almost 22 hours a day.
Political consultant Anand Mangale underlines the importance of understanding that elections in India are not only about caste equations and door-to-door campaigning anymore.
"It is important to set up a war room for election. Booth management is important. It is important for the workers to inform the war room if the voters are not turning up even at favourable booths. This changes the final margin which you need to win," Mangnale, formerly with Kishor's IPAC, told HuffPost India.
Would a team like Sanbhor's have helped shift the outcome of the election?
"(Such a team) would have played a major role because the education in terms of booth management and last-day poll management is really important now. The BJP is way ahead in this, in terms of training, data and volunteer training," he said.
Both Naik, who works for an IT firm in Pune, and Jadhav, a doctor, took leave to work for the Congress.
This was Naik's first experience working on an election campaign.
"Rajasthan was a big opportunity for us. I was mostly doing data analysis, working on geographical patterns, analysis of previous results, tabulations and trends," Naik said.
Both Jadhav and Pagar are primary members of the party, while Sandbhor is an "AICC trainer".
The team faced some tough questions from senior Congress leader Ahmed Patel, when he reviewed their work. They say the MP was happy with their answers and has asked them to visit him in New Delhi after the election.
The team says that unlike an election management firm, they will only work with the Congress.
"We don't work for commercial benefits because when you work for monetary returns, there emerges a relationship similar to trade," said Sandbhor.
They have already been flooded with calls from other state Congress units who want to work with them.
"Our main motto is to throw this Modi government out of power. We won't keep quiet till then. If the party gives us a chance, we are ready to work in all Lok Sabha seats in 2019," he said.