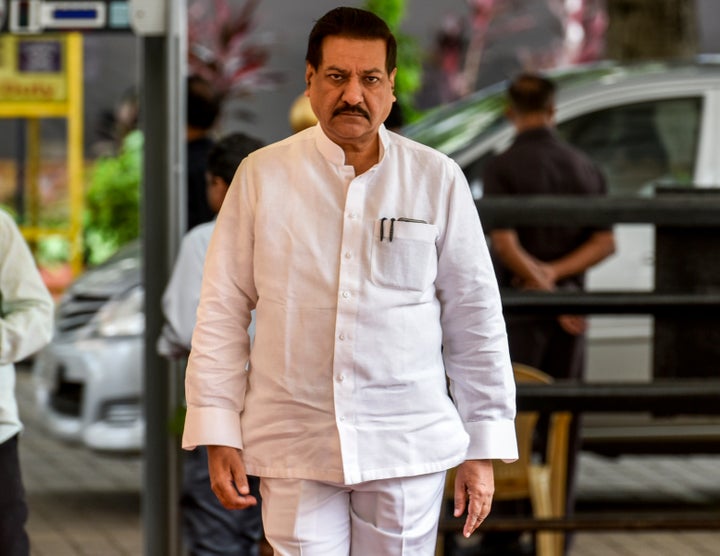 While the heat and bustle of the election campaign was going on in Maharashtra, former chief minister Prithviraj Chavan was quietly busy, campaigning in his assembly segment Karad, in Satara district in the western part of the state. Chavan's tenure as chief minister was an eventful one, with the fissures between the Congress and ally Nationalist Congress Party (NCP) deepening. Chavan was accused of targeting his own ally. Eventually, that led to the fall of his government and the end of the alliance with the NCP just before the election.
Since the 2014 election, which brought the Devendra Fadnavis-led BJP government to the helm, the Congress has sunk to new lows in the state once considered its bastion. While Fadnavis, NCP chief Sharad Pawar and Shiv Sena leader Aaditya Thackeray have already crisscrossed the state with multiple yatras, Congress leaders are barely visible, having confined themselves to their own regions and constituencies.
In an exclusive interview with HuffPost India, Chavan, who was also the minister of state in the PMO during the Manmohan Singh government, claimed that he was aware that Radhakrishna Vikhe Patil, the Congress party's leader of opposition in Maharashtra assembly who recently joined the BJP, was comprised from "Day 1" and that he had warned both Sonia and Rahul Gandhi about him.
Chavan also spoke extensively on the problems with the NCP leaders, whether there is a possibility of an NCP-Congress merger and why he refused to contest the Lok Sabha by-election from Satara seat despite an open invite from Sharad Pawar.
You are the former Chief Minister of this state. You are also among the star campaigners of the Congress. Why have you kept yourself restricted to your own constituency only and why have you not been travelling to other parts of the state for campaigning?
First of all, you must understand the manipulation of BJP. They set the election dates in such a way that the Durga festival and Kojagiri Purnima fell right at the beginning of the campaign. The Durga festival is a big thing here. In this city of a voting base of around 60,00, there are 265 Durga Mandals set up by youth groups. Every youth group wants you to visit them, then there is aarti. In one evening, you have to visit about 10-20 mondals. The entire time is masked out by this religious fervor and there is a deliberate attempt to create a Hindutva atmosphere in the area. Very little (campaigning) is possible except morning meetings. So in this entire six-day period, nobody was willing to do any public meetings. Due to the returning monsoon, even the evening meetings, which we attempted, were washed out. The campaign actually began only three days back. This was a deliberate plan because last time, the code of conduct kicked in on 12th September. This time they have delayed it by 11 days, just to factor in the Durga Puja. But that's fine. We utilised that time to make personal contacts. Nobody was willing to take any public meeting at that time (during the Durga festival), nobody traveled. Mr. Sharad Pawar was traveling—he is not contesting, but all of us are. Yesterday I went to Mumbai for the first time, but then there are constraints of helicopters as I have to travel back by night. I have some invitations for campaigning, particularly in my area. We are not traveling across the state. We have only taken regional responsibility. I will be touching Pune, Sangli, and Kolhapur if they want, depending on the candidate's need. Just to say why am I not crisscrossing the state, that's not right. Even Ashok Chavan and Sushilkumar Shinde are primarily focused on their regions. That's very clear this time and everybody is contesting elections, so the majority of the time will be spent in the constituencies or nearby. Here (in Satara), we are also contesting Lok Sabha (by-election). So my assembly segment being one of the six, others are also important. So I am covering those areas which are outside my constituency, so it's basically a regional focus.
Doesn't this indicate that the Congress is facing a tough election this time?
Look at BJP leaders as well. Chandrakant Patil is their chief ministerial candidate but he is stuck in his constituency in Pune, where else has he gone? Mungantiwar (Finance Minister), where has he gone (outside his constituency)? Except for the CM, none of the BJP ministers are traveling anywhere. This is a highly localised election. There is no state-level issue. We are trying to make the economy, farm distress and joblessness a state-level issue but they are trying to shift it back to (Article) 370. But the economy is in a mess. The CM has not delivered on any of his promises. If things continue the way they are, the nation will face a serious crisis. The media is not covering us. The observers must understand that the election process has moved on. We never had such a massive impact of social media on every single voter. Big rallies are becoming only a television spectacle… The time of large public meetings is over, even the candidates don't want it because of expenditure limits and all. One can draw conclusions about the Congress party's campaign if you want. Yes, the fund crunch is there. In advertisement and hoardings, we have been outspent by the government and the ruling party, which is a fact. But there is a groundswell current (against the government) that you must sense.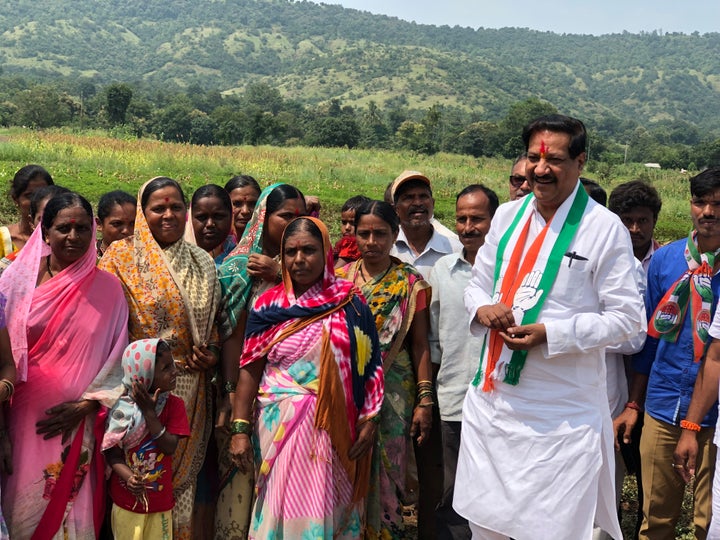 Why did you not contest the Satara Lok Sabha election? Your name was being considered from this seat.
There was a suggestion. This Lok Sabha seat is with the NCP. The NCP's incumbent MP deserted them. Mr. Pawar himself called me saying they are willing to give this seat to the Congress provided I contest. I said I will have to discuss it with my leadership and my people in Karad. He said he will call Mrs. (Sonia) Gandhi and then Mrs.Gandhi called me and I went to Delhi. We had extensive discussions. I discussed it with my people and they were very reluctant. There was even a violent protest and they told me 'Don't leave us'. Then I discussed the other five assembly segments where I had not campaigned for the last 20 years. They were generally favourable and there was huge anti-incumbency against the MP who had recently quit. There was a feeling of betrayal and anger because he had suddenly left. The Satara Lok Sabha election, I think, is over as everybody has decided what to do. The campaign is just a formality now. It is not difficult to win that. But I could not have left my people.
When you were made Maharashtra CM, there was this belief that you have been sent to rein in the NCP. Even the bank scam in which Ajit Pawar and Sharad Pawar have been named was first investigated under your tenure as the CM...
That was propaganda and I didn't pay much attention to it. When I took over as the chief minister in November of 2010, the then governor of RBI Raghuram Rajan came to meet me. He told me there is a problem with your apex cooperative bank. Its the mother bank of all cooperative banks. I said I will look into it. Two days later, there was a meeting between some of my ministers and the RBI officials who dealt with cooperative banks in March 2011. The RBI officials told me that your apex bank is working for the last 50 years without a banking licence. Then I said, we will apply for the license. Then he said that licence can't be granted because the bank was in Rs1,100 crore loss. That bank has directors from every district of Maharashtra and people belonging to all parties. There were very light regulations by the government and the RBI, which led to a huge loss. The RBI gave us two options. First, to let it work as a credit society and not as a bank and second, to merge it with the Gujarat State Cooperative Bank, which would have been political suicide. I said that's not possible and this bank has to be saved. The RBI said that the only option is to supersede the board and to appoint administrators to bring it back to health. They issued a letter immediately. I appointed two secretaries (as administrators), one was working with Ajit Pawar and the other was working with the cooperative department. That event was read as an attack by me on NCP's powerbase. Was there a problem with the bank? Yes, and there was a need to nurse it back to health which I would do again. Everybody knew that it was NCP's powerbase and an inference was drawn that I, the new chief minister, was sent from Delhi directly to control NCP, which was unfortunate. There was no political vendetta, but perception is there and I am very sorry about it. But these two administrators I had appointed, nursed the bank to health and the bank reported a profit of Rs 700 crore in three years. The bank is very healthy today. I did not even order an inquiry.
In the Lavasa issue, there was clear irregularity which (the matter) was being controlled by Jairam Ramesh (the then environment minister). I had nothing to do with it. But an impression was created that Mrs.Gandhi particularly directed all forces to control NCP which was not true at all. Did Lavasa violate, it did. So should we have looked the other way or let the law take its own course? This was the Lavasa story.
What about the irrigation scam? You asked for the white paper.
When I took over as CM, I reviewed the delayed (irrigation) projects. One project, the Gosikhurd project in Nagpur, was inaugurated by Rajiv Gandhi. The project cost was Rs 384 crore, to be concluded in five years, but it had escalated to Rs 16,000 crore and it was still pending. I asked the people what was happening. They were mum. I looked at a couple more cases and asked for a status report of all incomplete irrigation projects. I used the word 'white paper'. A white paper is nothing but communication from government to people. But unfortunately, the white paper has a connotation of an inquiry of sorts here in Maharashtra, which was wrong. It was perceived that I was targeting Ajit Pawar because he was the irrigation minister at that time. Not at all. I was coming from Manmohan Singh culture and they said that I was targeting. The white paper was an excellent document. But these two-three incidents caused NCP to pull my government down last time and we fought election separately.
In the run-up to this election, the CM crisscrossed the state in his Maha Janadesh Yatra, Aaditya Thackeray also traveled and so did Sharad Pawar and NCP leaders. Why was the Congress missing from the action? It looks like NCP is fighting this election and not the Congress.
No. Nana Patole, our agriculture unit chief, took out a yatra in Vidarbha and Marathwada. Before that, we had organised Sangharsh Yatra. We organized many such events and we forced the government to sanction the farm loan waiver. It was not that we were absent. The main problem was our leader of the opposition (in the state assembly, Radhakrishna Vikhe Patil) appeared to be compromised from Day 1. We should have replaced him but it didn't happen. So our floor coordination in the assembly was not perfect and we could not make an impact inside the house, particularly in corruption cases, plenty of them. Therefore an impression was created that this chief minister is clean and that there are no charges against him. But there was a conspiracy, which we fell prey to. We complained to high command about it.
Are you saying you had an idea that the leader of the opposition was compromised?
I had personally told the Delhi leadership that he must not continue.
Both. The newspaper articles were there, his inviting the CM for programs and all. The leader of the opposition never does that.
You are one of the prominent leaders of the Congress party nationally. What do you think led to this decline of the Congress? You are losing back-to-back elections.
There is a leadership crisis. The Delhi leadership crisis was very unfortunate. We should have resolved it earlier, I hope it will be resolved soon. Mr. Rahul Gandhi did come to address public meetings here. Others will also come.
Has the "Syndicate" (CWC) in Congress got anything to do with this crisis the party is facing? Even Rahul Gandhi was overturned by this 'syndicate' in some instances. Some of the candidates pushed for by him were replaced by some CWC members who themselves do not have any electoral merit.
That's not true at all. What about the young people who were selected? Did they win? To say that after a particular age, your electoral winnability reduces is silly. A combined trust is very, very valuable in a political party. Unfortunately, perception went that there is this young-versus-old divide (in the party). That was not true at all. Neither the old nor the new leadership wanted to create that kind of perception.
But organisationally, there has been no change even after the debacle in the 2019 Lok Sabha. The same district leaders, who were rejected by people, are contesting elections.
It is not easy to replace them immediately. There are already voids in many districts where people have left. And it is not easy to find a person to work at the organizational level. We have a problem. Both NCP and Congress have been physically damaged under this Congress-Mukt plan of Amit Shah. Because they can't answer us on performance. If you want to debate with the CM on performance, he won't do it. If you ask New Delhi about the economy, they won't answer. In the Maharashtra election, they are singing the Article 370 tune. They want to avoid discussion on real issues.
Why is the opposition failing to raise issues like the economic crisis? Why is the ruling party dominating the narrative?
After all, it's the government. The government has all the media support, muscle power and money power. They are trying to set the agenda but we are not letting them succeed. This election is being fought constituency by constituency.
You said this election is being fought at the local level. But some of your candidates this time had lost deposits in the last election. Those who could not win municipal elections have been given the ticket to contest this assembly election. The same people are being repeated despite back-to-back losses. Why should the people vote for them? Is there any disconnect between the ground level and the people who are deciding on tickets?
Last time, when we contested election separately, 125 people were fielded who had never contested an election in their lives. All of them lost. The point is there is no fixed formula that if you give the ticket to a young person, he will win and an old one will lose. In certain cases, there are some caste equations and ground realities that you can't defy. There are attempts to field fresh faces but most often that doesn't work. That person becomes a senior leader five years later. So to say 'don't give the ticket to him because he lost the last election', that's not correct. You need to fight a couple of elections before people start accepting you as an electable leader.
In the 2019 Lok Sabha elections, 33 out of 48 tickets were given to candidates from dominant communities by Congress-NCP. The BJP seems to be utilising the non-dominant OBC and non-dominant SC communities extremely well. But you people are trodding the same old path. Your party chief in Maharashtra also comes from a dominant community and so do most senior leaders.
BJP's state chief is a Maratha. Maratha is a fairly large single community, about 30 to 35 % (of the state's population). The next big community by population is about 7 to 8 % of the state's population and OBC communities are only about 1 and 2 %. If OBC communities had been united as one block, then you could have said give tickets to them. Very rarely does a micro minority leader emerges as a state leader. Mr. Munde (Gopinath Munde) and Mr. Bhujbal (Chhagan Bhujbal) did emerge, but these are very rare examples. Mechanical solutions to politics don't work. Maratha community is divided into all four parties. It's not united. Had they been united behind one party, that party would have swept the polls. OBCs and Dalits are not united. Vanchit Bahujan Aghadi created a lot of problems last time.
Has the process of Congress's revival begun? When do you expect to see your party in a powerful position again?
Mrs. Indira Gandhi lost the election but came out of it. BJP had only two MPs at one time but they also revived. The Indian electorate has a tendency to go from this extreme to that extreme and I hope people will choose Congress party in state elections because state issues are involved here. Just like Chhattisgarh, Rajasthan and Madhya Pradesh, where people threw out a strong dominant BJP and gave Congress party the mandate. Even in Andhra and Orissa, people chose non-BJP parties. Even Jagan's party is Congress's offshoot. There was a call by Mr. Shinde (Sushilkumar Shinde) that NCP and Congress should merge, which was more like wishful thinking and hope.
Do you agree with Mr.Shinde?
The issue behind NCP and Congress's split was the issue of leadership. Unless the question of leadership is resolved as to who would lead the combined party in the state and what will be the role of NCP leaders in Delhi, unless that is resolved in a drawing-room, this question (of NCP Congress merger) is completely irrelevant. Because the entire reason for the split was the personal ambition of leadership. It had nothing to do with ideology. We are ideologically one. In this election, we worked together as if we are one party. Except there are different leaders.
How do you evaluate Fandavis's government performance in the past five years?
Actually we had great hopes because, after almost 30 years, this was the most powerful office of the chief minister because it did not have a deputy CM. All the important portfolios like home were with him. This happened after 1991. If he had really delivered, we would have nothing to say about it. Let us take infrastructure. Not a single infrastructure item, which I had conceived, planned and taken initial steps about, began or was completed (during Fadnavis's term). Our government launched Mumbai Metro 1 and I laid the foundation of Mumbai Metro 3. Five years and nothing has happened. Nothing happened with the projects like Trans-harbor link, Mumbai coastal road, Navi Mumbai airport, MIHAN (Multi-modal International Cargo Hub and Airport at Nagpur), Nagpur International Airport, second airport for Pune. Not a single public sector industry has come. I had laid the foundations of two public sector industries of Rs 4,000 crore, nothing has happened. He only makes slogans. I have been asking him details of which project has come to which district and investment. He has not given it. He claims the state is getting the highest FDI. Where is it? In sky? Nothing has happened. His dream project Samruddhi Expressway. What has happened?... It's a very shocking state of affairs. They want a one-party rule so that nobody questions them. They want to destroy the Constitution. But we will fight back. The Congress party is too big a ship to sink.